Attractions in Pai – Pai District
Pai, located 111 km. from Mae Hong Son, is a quiet, relaxed little town set amid superb scenery and popular as a base for exploring the natural attractions of the area. Enclosed in a lofty mountain range, Pai districtis endowed with many forms of natural wonders such as waterfalls, gorges, caves and hot springs. The famous destination for adventurous travellers is Pai River, the longest river in Mae Hong Son which welcomes its visitors with a series of rapids dancing along its scenic gorges.
Attractions in Pai
Maenam Pai
Maenam Pai is the longest river in Mae Hong Son, originated at Thanon Tongchai and Danlao mountain ranges through Pai which flows to the south passes by Mueang Mae Hong Son and eventually joins the Salawin river in Kaya, Myanmar, a total distance of 180 kilometres. Its depth is one meter in Summer. In rainy season the tide is very strong so tourist should have a professional guide for rafting. Rafting trip is very popular during July to December either bamboo rafts or rubber rafts. Many travel agents provide such a trip. The best time for rafting is from October to March.
With its approximately length of 180 kms., 30 m. width and 7 m. depth, the Pai River is the biggest and longest river in Mae Hong Son. This challenges the adventurous lover to raft along this river, and three most suitable points are recommended. They are:
Source of the River to Amphoe Pai: Starting from Hua Chang Kaeo, 16 kms. Amphoe Pai to Wiang Nua Bridge or Ban Chumphon near Amphoe Pai, taking about 6 hours. Most suitable time to raft is between October – March, and 2 weeks prior contact for the raft is recommended.
From Amphoe Pai to Amphoe Muang Mae Hong Son: Starting from Ban Mo Tang, 30 kms. from Amphoe Pai to Ban Pang Mu in Amphoe Muang. The distance of this route is about 70 kms and takes at least 5 days of rafting, and dug to much difference in water level at one point of the Pai River along this route therefore, two rafts setting are required to change at this mentioned point.
From Amphoe Muang to Thai – Myanma Border Starting from Ban Huai Dua, Tambon Pha Bong, about 6 kms. from Amphoe Muang, to the border at Ban Nam Phiang Dir. Normally this section of the Pai River is more enjoyable to cruise along by the long – tailed motor boat which only takes 2-3 hour returned trip or trekking on elephant back instead of rafting since the nature and scenery are fascinated and beautiful.
Wat Nam Hoo
Wat Nam Hoo is at Mu 5 Tambon Wiang Tai, located 3 km. from Pai hospital. This temple housed Phra Une Muang, sacred Buddha image in Lanna style, 500 years of age, in the attitude of Subduing Mara (victory over Mara). The image's top knot can be opened and contained holly water, revered by local folk.
Wat Phra That Mae Yen
Wat Phrathat Mae Yen is at Ban Mae Yen, Tambon Mae Hee en route Pai-Mae Hong Son. The Chedi located on a hill with a good panoramic view of Amphoe pai.
Mueang Paeng Hot Spring
Mueang Paeng Hot Spring is 28 km. from Pai's town. Take Highway No.1095 Pai-Mae Malai route, then, turn right at km. 85-86 to take Highway No.1065. This is a big hot spring with average temperature of 95˚c.
Huai Nam Dang National Park
Huai Nam Dang National Park is at Km. 65 on the Pai-Mae Malai route Highway No.1095, there is a turning leading to the headquarters of the Huai Nam Dang National Park. Visitors can spend the night in tents to wait for the spectacular views of sunrise and mist-shrouded mountain views in the morning. Cherry blossom during January adds charms to the attraction.
Pong Dueat Hot Springs
Pong Dueat Hot Springs is a geyser type hot spring which rises up 2 metres high. At Km. 42 of Route 1095, there is a six-kilometre road leading to Pong Dueat hot spring.
Tha Pai Hot Spring
Tha Pai Hot Spring is another attraction in the area of Huai Nam Dang National Park. The Pai hot spring is two kilometres off Route 1095 at Km. 87. It has an average temperature of 80˚c. Steam from the spring permeates the site in the morning creating fascinating sights. The area is also rich in teakwoods and suitable for overnight camping.
Pai Canyon
Along highway 1095 before reaching the World War II Menorial Bridge, there is a road sign to Pai Canyon on your left. Pai Canyon or Kong Lan is another interesting tourist attraction in Pai. The steep cliff has been eroded for a long time ago, creating the 20 meter-deep valley amidst the scenic settings of the red hill of dry dipterocarp and pine forest. It is best to visit this place in early morning or late evening, because in the afternoon the area could be extremely hot.
Tha Pai World War II Memorial Bridge
Tha Pai World War II Memorial Bridge is located at the kilometer marker 88 on highway 1095 (Mae Malai-Pai Road). This bridge was built in 19424, during the World War II. At that time the Japanese troops chose Pai to be their military base since Pai was completely surrounded by mountains and rivers, and therefore served as a very advantageous spot. So a bridge made of rion over the river was constructed in order to transport weapons and provisions to Myanmar. Although this bridge was only nearly complete when the war was over, it has become one of many fascinating tourist attractions of Pai.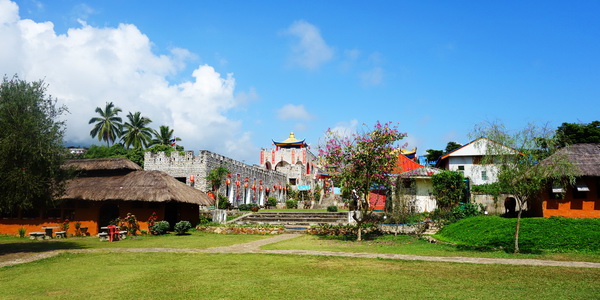 Santichon Village or Chinese Yunnan Cultural Village
Santichon village is a village of descendants of migrants from Yunnan who still cherish many aspects of Chinese culture and traditions. The tourists can see the conservative cultures and traditions of the Yunan People such as the language, dressing, and specially the Yunnan foods that is admired among the tourists.
Land Split
The Land Split is a geological feature caused by seismic activity, an earthquake in 2008. Subsequent quakes including those of 2009 and 2011 have further produced severe rifts along the main line. To date, the ground movement and their consequential geological evidences have confirmed that "The Land Split" is indeed an active Fault line.
Pam Bok Waterfall
Pam Bok Waterfall itself is probably not the most impressive waterfall you've ever seen but as it is surrounded by high cliffs it still looks pretty amazing, this waterfall offered a great place to cool down on a hot day. If you feel adventurous enough there is a small dirt path which leads to a cove from where you can jump down into the pool.
Kho Kuu So Bridge
Kho Kuu So is a bamboo bridge running through rice fields. If you see it from the top view, you will see that the bridge is very long and, also, the fields are all large and look so beautiful in fresh green colour. The name of the bridge, 'Kho Kuu So' originated from Shan word 'Kho Kuu So'. 'Kho' means 'bridge' and 'Kuu So' means 'merit' .
Wat Sri Don Chai
Wat Sri Don Chai, Located northeast of the district center, this temple has the most sacred ancient Buddha statute in Chiang Sean style. There are blessed medals that are highly believe to make miracles blessed at this temple.
Thom's Pai Elephant Camp
Thom's Pai Elephant Camp is the Oldest Elephant Camp in Pai and the first camp that wants to let you interact with these beautiful, sensitive animals in an ecologically responsible fashion. Thom's elephants live in the mountains of Pai. Every day, they are taken to the river to bathe and brought to the pens for feeding and for the enjoyment of the tourists.