Huai Nam Dang National Park : The Spectacular sea of mist
Huai Nam Dang National Park covers on area of 1,252.12 square kilometers in Amphoe Mae Taeng and Wiang Haeng of Chiang Mai and in Pai of Mae Hong Son. The National park is a scenic splendour located amidst the rugged high mountains of the Thai-Burmese border. It is well-known as one of the most picturesque seas of mist in Thailand. If visitors choose to go there in the cold season when the temperature drops and the sky is crystal clear, they will have the opportunity to enjoy innumerable, twinkling stars in the celestial sea.

Blessed with scenic mountains, Huai Nam Dang is one of the country's favorite tourist attractions. The Kio Lom scenic area is the most popular place during December-February, when tourists love to stay overnight to witness the impressive sunrise and the soft white sea of mist enshrouding entire vast valleys. On a sunny day the majestic Doi Chiang Dao mountain wonderfully emerges from the sea of cloud and can be seen vividly.

The mist is the result of the distillation of fine particles of water vapour in the air. During the daytime the soil absorbs heat from the sun before gradually cooling down at night. When air of a higher temperature flows past the area it is cooled, distilled, and then turns into mist. Normally mist is formed at night, or on a cold morning, when the sky is clear and the wind is mild. The impressive misty sea of Huai Nam Dang appears in the vast valleys where a stream of mist flows down and gathers, creating this picturesque natural wonder.
Geography
The mountain, which is mostly ranged highlands, has verdant forests that are the source of tributaries and various streams. The National Park offers a number of streams such as Huai Mae Yon Klang, Huai Mae Hi, Huai Mae Ping, Huai Mae Chok Luang, Huai Nam Dang and later join to Mae Nam Pai, Mae Nam Ping Noi and Mae Nam Dang.
Climate
Rainy season is from May to October. Winter season is from November to February and summer is from March to April.
Flora and fauna
Mixed deciduous forest, deciduous dipterocarp and evergreen forest blankets the National Park with various plants such as Hopea odorata, Dipterocarpus alatus, Michela floribunda, Toona ciliate, Mangiferasp, Ailanthus triphysa, Lagerstroemia tomentosa, Alphonsea glabrifolia, Xylia xlocarpa, Pterocarpus macrocarpus, Lagerstroemia calyculata, Vitex canescens, Bombax anceps, Pinus merkusii, Shorea obtusa and S. siamensis.

It is also home to wild animals such as Elephant, Sambar Deer, Bear, Tiger, Macaques, Mongoose, Porcupine, Civet, Palm Civet, Common Wild Boar, as well as different kinds of birds such as Thick-billed Green Pigeon, Vernal Hanging Parrot, Richard's Pipit, Rufous-throated Partridge, Hill Myna, Ashy Bulbul, Black Bulbul. Striped-throated Bulbul, Eagle and Hawk.
Attractions in Huai Nam Dang National Park

Doi Kio Lom Viewpoint
Doi Kio Lom, Most nature lovers are fascinated by the spectacular scenery of the sea of mist at Huai Nam Dang National Park. The whole area is blessed with a pure, natural beauty which is rarely seen nowadays. On any clear sunny day visitors can capture a panoramic view of the entire area in the distance and enjoy watching sunrise and sea of clouds in the morning especially in winter season.
Doi Chang Viewpoint
Doi Chang is located 20 kilometres beyond the Doi Kio Lom Viewpoint, 1,962 metres in height is Huai Nam Dang's highest point. And it is only accessible by four-wheels drive vehicle. It is an interesting destination since there is a sightseeing spot for tourists to capture the marvellous scenery of the mountain ranges, amidst the sea of mist. It is equal to Kio Lom in its beauty.
Huai Nam Dang Waterfall
Huai Nam Dang Waterfall, This 4 level waterfall originates from Huai Nam Dang stream and there are a number of rocky outcrops in the fairs basin. The water is 50 metres high and 40 metres wide and is generally covered by rainforest vegetations.
Mae Yen Waterfall, a large waterfall, has water all year round. It originates from Huai Mae Yen Luang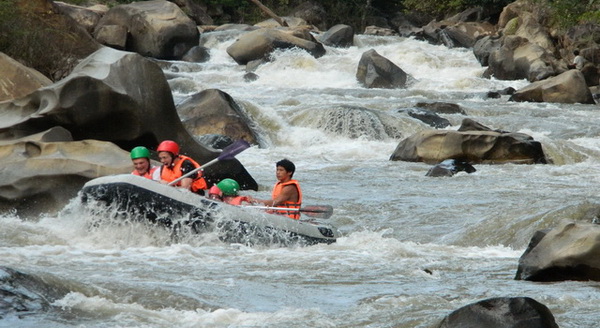 Rafting on Mae Taeng river
Rafting on Mae Taeng river, Along both side of Mae Taeng river offers various plants and different kinds of birds such as Kingfisher. Wagtail, Coucal. Malkoha. Minrvet Bulbul. Swallow, Sunbird and Raptors. Visitors can take a rafting trip along the river. Total rafting period is about 3-4 hours, beginning at Ban Pang Pa Kha or Ban Pa and end up at Ban Sop Kai
Mae Lat Waterfall, With its 40-50 metres high, the waterfall is located in Tambon Mueang Haeng, Amphoe Wiang Haeng. Chiang Mai.
Pong Nam Ron Tha Pai or Tha Pai Hot spring
Tha Pai Hot spring, This warm pool is located in Amphoe Pai, Mae Hong Son province. The 80 degrees Celsius temperature pool is far from the National Park office about 30 kilometres.
Pong Nam Ron Pong Dueat or Pong Dueat Pa Pae Hot Spring
Pong Dueat Pa Pae Hot Spring, The warn pool is located in Amphoe Mae Taeng. Chiang Mai province, in area consists of 3-4 large hot springs fed with hot underground water. Sometimes the hot springs emit a jet of hot water about 2 metres high. The gentle smell of sulphur fills the air. Normally the temperature of the hot springs is between 90-99 °C. Hot spring bathing is also available at the site. Nature Trail or natural study route is approached for a 1.550 metres distance.
Mae Hat Waterfall, With its 40-50 metres high from the ground, the 4 levels waterfall is located in Tambon Mueang Haeng. Amphoe Wiang Haeng, Chiang Mai.
Huai Nam Dang National Park Map