Unveiling the Hidden Beauty of Wat Luang Khun Win in Chiang Mai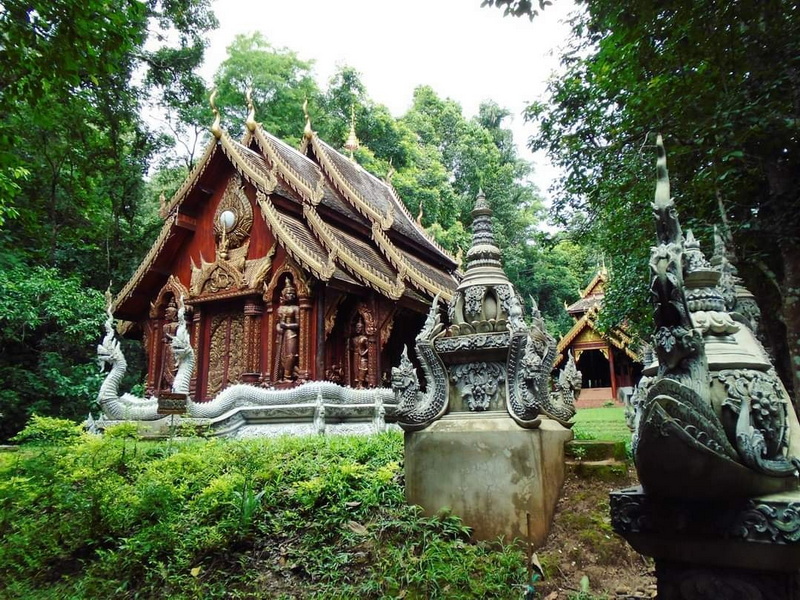 Dive into the elegance of Lanna artistry, nestled deep within nature at Wat Luang Khun Win in Chiang Mai. This stunning temple, situated amidst an alluring forest setting, is an absolute must-visit for nature-loving tourists. Blessed with captivating architecture, this sacred place exhibits a unique interplay of faith and intricacy. The temple enshrines an imposing glass Buddha image, carved from a colossal tree, which adds to the serene and tranquil ambiance of the location.
Sited in the Don Pao Subdistrict, Mae Wang District of Chiang Mai Province, Wat Luang Khunwin is an ancient temple standing tall in the heart of the forest. Over 700 years old, the temple showcases the exquisite beauty of Lanna style wooden buildings. It houses a grand Buddha image and a pagoda containing the hair relics of Lord Buddha. The temple's remoteness from the city and lack of electricity, relying solely on solar power, contributes to its charm and tranquility.
The temple's intricately crafted carvings are a sight to behold. The Standing Buddha image in Pang Jong Krom Kaew, towering at 9 meters and spanning 2 meters wide, is the largest wooden Buddha image in the world, carved from the wild champee tree. The reclining Buddha ubosot, symbolizing nirvana, and numerous carved wooden Buddha images add to the temple's splendor.
The Serpent Stairs, which appear lifelike with scales etched all the way up, are a treat for lovers of detailed carvings. Wat Luang Khunwin, a forest temple with no electricity or running water, relies on solar energy. Though reaching the temple is a bit of a challenge, it's definitely worth the effort and is a hidden gem in Chiang Mai waiting to be discovered.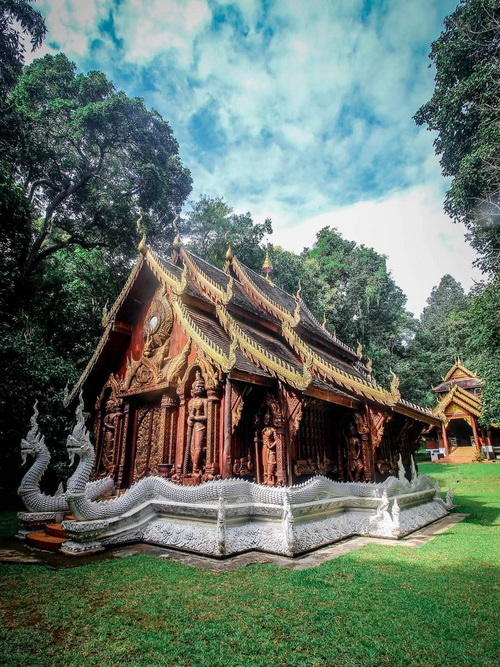 How to get there
Getting to Luang Khun Win temple can be a bit tricky due to the steep, narrow, and sometimes slippery roads. Nonetheless, the journey is worthwhile, and the temple's serene and cool atmosphere, encircled by nature, is enchanting. Walking around the temple and admiring the architecture, crafted with deep reverence and devotion, is a peaceful and calming experience.
Given the temple's location on a hill deep within the forest, the journey is filled with rugged paths. It is recommended to use a four-wheel drive or park at the Wat Luang Khun Win Tourist Center – Ban Huai Yuak and hire a car from the villagers. The round-trip charter cost is 600 baht per car.
Wat Luang Khun Win, an unseen wonder in Thailand, is truly worth a visit. If you're planning a trip to Chiang Mai, do not miss the chance to experience this magical place.
Note : Not accessible for wheelchair user