Which the best choice for Elephant Training Camp in Chiang Mai ???
There are many parks which make me so confuse. Help me, please!!!!! ….…. Don't be worry! We can help you for getting more information in each Elephant park company with some the commendation from the tourists who used to have a mahout training experience at Elephant park.
1. Patara Elephant Farm
Patara elephant farm is a 100% Thai owned and managed farm focusing on health-care and breeding management for friendly, beautiful and special elephants to produce healthy elephants to live on Earth for long term elephant conservation.
Below are 9 facts of whom you are considering to support from Khun Pat, the owner.
1. We adopt/rescue elephants from unsuitable living condition such as circuses,and illegal logging camps.
2. We focus seriously on health recovery for elephants and natural breeding management to increase elephant population.
3. 14 elephants were born in the last 7 years and most of female elephant are now being pregnant. (4 babies born in 2011)
4. 10 years operation with 0 dead record of elephant accordingly to our healthcare program and daily activities for elephants.
5. 8 elephants from us were set free into the natural habitat and all are living fine. (www.elephantreintroduction.org)
6. We provide more open land for elephant than any other places. (highest space per elephant population)
7. We are the only elephant place in Asia that, everyday, have less number of visitors than number of elephant population.
8. we provide upper scale of interaction with elephants in term of quality and flexibility in length of time for our guests.
9. Our presentation is 100% self created while many other elephant places are just recently set up and try to imitate.
Established in 2005, the Thai Elephant Home is the most eco-friendly elephant home in its area. Our elephants are well cared for and happy, and this shows in our visitor experience. At this home, you do not just get a chance to ride an elephant, but to really spend time with it in its natural environment. The profits made from the home are invested into saving the local jungle. We buy areas of the jungle that have been destroyed by elephants left to forage for their own food. We replace the dead vegetation, and protect it while it grows. Almost every customer that comes to our home gets the opportunity to plant a tree in the area to contribute to our reforestation project. This home also involves the wider community by educating local school children about the environment and why it is important that we preserve our local forest. We want our children to grow up understanding global warming and doing their bit to save the planet.
Here at Thai Elephant Home you will learn to ride and command elephants, bathe with them and play in the mud with them. Unlike other similar program in the area we guarantee your own elephant for the day. Learn the quirks and behaviours of your own elephant. Joe and the staff will help you learn to command the elephant and after a day you will feel like a professional mahout as your elephant responds to you and takes you safely back to the Thai Elephant Home. After a long day of riding in the jungle, come back to the house and relax, enjoy a shower and fresh fruit, and learn how you can help with the reforestation project or elephant rescue! You can also try our new Thai herbal spa, a traditional foot and hand soak that heals the whole body through reflexology. Proceeds go to help our young university students continue their education.
If you want to get more involved with the elephants see our Mahout volunteer program. Spend a week with us and become a part of our familly. This will give you a chance to really understand these beautiful animals and the hard work that needed to look after them.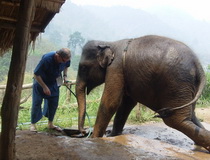 Elephant Nature Park is an elephant rescue and rehabilitation center in Northern Thailand where you can volunteer and visit to help. We have been involved in dozens of rescues to create our thriving elephant herd.
The park provides a natural environment for elephants and other animals under our care. Volunteers and visitors contribute to the healing while learning about their lives past and present.
Hands on Elephant conservation trips directly contributing to the survival of these highly endangered creatures. All visits to the park encourage understanding of the natural plight and environment of elephants.
Our park is also home to numerous other animals including rescued dogs, cats and buffaloes.
Unique and unforgettable trips organized by a National Geographic EarthPulse "Hero of the Planet", US Humane Society "Genesis Awards" guest of honour, Time Magazine Hero of Asia.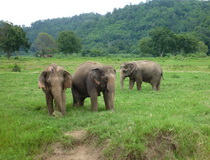 4. Elephant Jungle Santuary
Elephant Jungle Sanctuary is an ethical and sustainable eco-tourism project located approximately 60km from the city of Chiang Mai, Northern Thailand. Founded in July 2014, it is a joint initiative between members of the Karen hill-tribes and Chiang Mai locals who were concerned about the welfare of elephants in Thailand.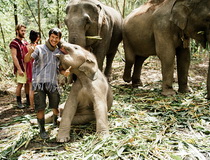 Currently comprised of 3 spacious locations (Mountain Village, Tranquil Valley, & Waterfall Grove Sanctuaries), Elephant Jungle Sanctuary is home to almost twenty formerly mistreated elephants, who are now free to enjoy their lives.
Our mission is to provide as many elephants as possible with the good health, freedom, and happiness they truly deserve. We use our progressive and ethically responsible approach to elephant eco-tourism as a platform to raise awareness and educate people from Thailand and around the world about elephant care and the plight of the Asian elephant.
Our hope is to lead by example, and contribute to a positive change in the perception of elephants; to witness a future where elephants are not ridden, poached, overworked, or abused, and are instead treated with care, love, and respect.
The Elephant Jungle Sanctuary project also provides many Karen people with employment, education, and financial support.
5. Elephant Carer Home
Elephant carer home is based in Chiang Mai in the north of Thailand. Our family has cared for elephants for many generations, always treating them like one of us. We organise day trips to see what it takes to care for these beautiful animals and get an insight into their lives here.
Current people are interested in technology or business and they do not look over surrounding maybe because globalize. I'm going to talk about the story that happened between human and animal. It's like you pet a dog at home but it's bigger. It's the elephant. Most people think that the elephant is not interesting but it's very interesting for me.
The elephant is like a member of my family. We live together since the past until now. For me, as a modern administrator who look after elephant. Some things may have changed from the original but it change for better. The people know that the elephant is the symbol national of Thailand since ancient times. The king used the elephant as a vehicle to travel and also use it in the war.
Elephants have been revered in Thailand for many centuries. Famous as the strongest beasts of burden, in Thailand they were important in battle, with kings mounted on Elephants fighting the Burmese to defend Thailand on many occasions. There are not any machines in the past that is strong and violent. At the moment, the elephant is very important variable in battlefield. They also help people do other work such as build a house or drag timber. I think it is fantastic history between elephant and people.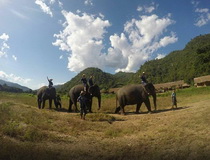 The elephant is amazing animal. They quickly learn and obey the words of command. They get to know their driver (mahout), and get used to being mounted and dismounted. When I stay alone, it can be friend. I have seen elephant sine I was born. My father told me that He would ride elephant to take a bath every morning with me. (He always give me a lot of work ha ha ha ) I have been being a mahout since that time. I look after elephant instead my father and spend all of my time with them to learn their habit. I took many lesson and practice hardly in order to teach another people who interested lifestyle of mahout. This is our elephant culture. There are so many activities a day and so many things that you never know before. If you are a person who interested in elephant or mahout lifestyle please, come to visit and come to be our family with concept "ELEPHANT CARER HOME" together.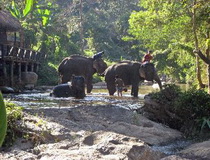 A fantastic chance to get to know the real professional mahouts – find out what they do every day for their elephants and learn the secrets of becoming a mahout.
" Basic Mahout Course at Baan Kwan Chang "
The mahout training course begins with an introduction on elephant health and biology as well as elephant body language before starting the "Hands On Practice"
Additional highlights in the programme include painting, bathing, riding and handling elephants.
During a memorable farewell ceremony, all participants will receive a certificate of achievement to take home and cherish. Group photos with your elephants will complete your day.
The Mae Rim Elephant Home, located in the picturesque hills of Northern Thailand, is a sanctuary for elephants in need of rest and relaxation. Unlike other elephant camps, our elephants are not worked or forced to perform for tourists. Instead, they are free to roam and live in a nearly natural environment.
At our elephant home, we pride ourselves on the care and kindness we show to these magnificent animals. Our team of experienced caretakers is dedicated to ensuring the well-being of each and every elephant in our care. Visitors are welcome to come and interact with our elephant family, spending the day feeding them, walking with them, playing with them, and even bathing them.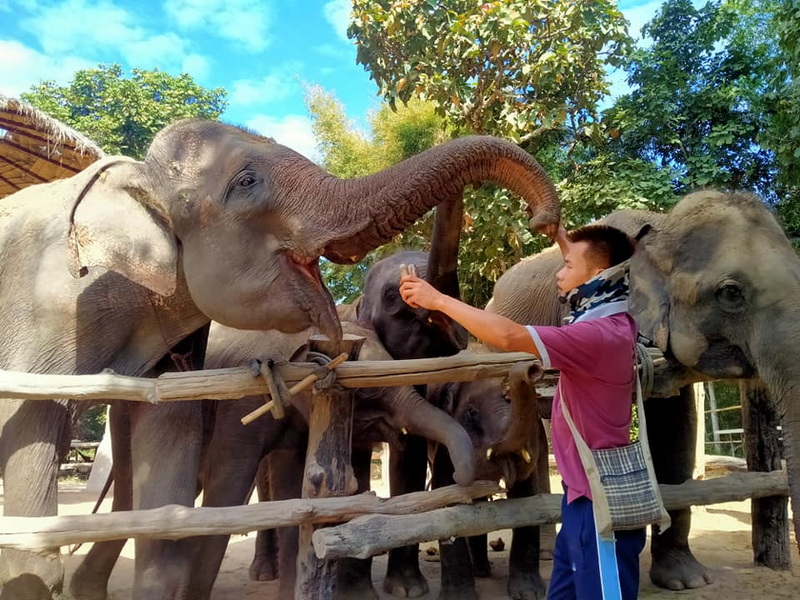 For the others company from trekking companies like the earth eco tour (Ban Bang Kud Elephant Camp). They suit for who need having fun with elephant, learn about a mahout training and combined with trekking activities such as rafting, hiking, elephant riding with inexpensive cost.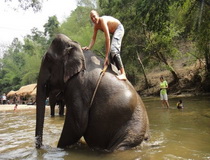 Background information :
The elephant the largest of land mammals, has evolved over more than sixty million years. Yet if the species current declines remain unchecked in Asia, sixty million years of evolution will be wiped out in just fifty years. In the modern world, one place where elephants can still have a close relationship with humans is right here, in Thailand.
Mahout and elephant training :
The Mahout and Elephant Training School also participates In controlling of a mahout person have an experience long time ago.You will have studied about training is a mahout, elephant bath; arrangement seeks the food, feed the elephant and the communication and ordering with the elephant. The instruction education has many the courses; you can choose study to follow inside detail.
Mahout and elephant training :
1. Study the life cycle of Thai elephant.
2. Study how to control elephant (Basic elephant language).
3. Study a mahout's lifestyle.
4. Study nature conservation.
5. Elephant bath and elephant riding.
6. Growing plant for elephant food.