Maesa Elephant Camp super place for adults and kids
Maesa Elephant Camp Brilliant experience, well run tourist attraction
In the lush tropical jungle of Chiang Mai's Maesa Valley , a big family of elephants lives side by side with their mahout caretakers. "Maesa Elephant Camp" is home to one of the largest assembly of elephants in the north of Thailand.
Maesa Elephant Camp has been around since 1976, as a conservation centre for domesticated elephants acquired from across the country. Once employed in the logging industry, these elephants found themselves 'out of jobs' once heavy machines were brought in to replace them and, as a result, ended up roaming the streets with their mahouts to beg for food.
Our philosophy is to create a natural and healthy environment for the elephants while working to conserve and breed them,due to the dwindling number of Asian elephants left in the wild.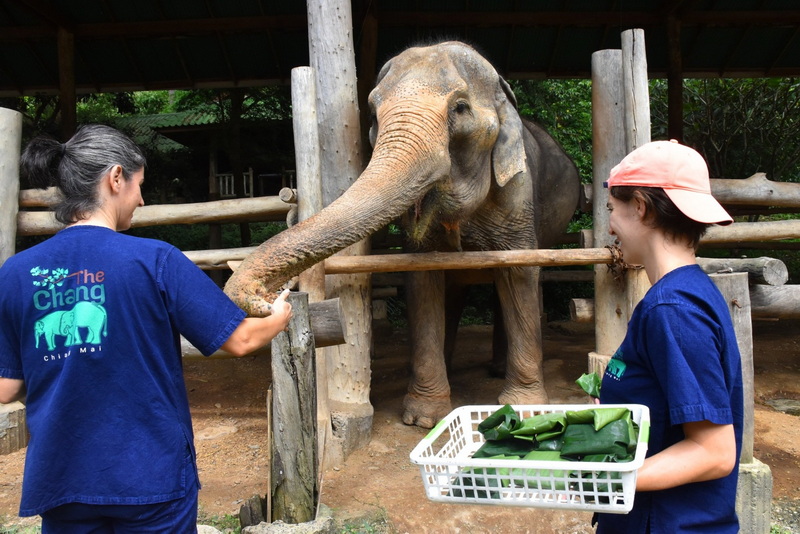 The camp underwent radical changes in 2019 when the new owner, decided to see the elephants living a more natural life. The Thai Elephant Care Center and the Maesa Elephant Nursery were merged and renamed The Chang. Nineteen of the more elderly elephants were immediately retired, moved to The Chang, and now live chain-free, spending their days eating, bathing in the stream, taking mud baths, or resting. Gradually, more elephants have been relocated to The Chang, and approximately one third of Maesa Elephant Camp's 78 elephants reside here.
Mae Sa Elephant Camp, now known as The Chang, is a sanctuary for elephants located in Chiang Mai, Thailand. With a natural environment of forest, grass fields, a stream, and mud pits, the camp provides an ideal area for elephants to live a more natural life. The Chang is home to 14 elephants, mostly elderly, but with some younger ones too, who are living free from chains, no longer being used for activities like riding or painting pictures.
Visiting The Chang is by appointment only, and you can reserve either a full-day or half-day activity program. The programs are not only fun, but also educational. You can learn about the herbs that are used in medicinal preparations for the elephants, and help prepare special foods. There's also an opportunity to learn about the elephant's body with the aid of a skeleton. Visitors can walk in the forest with the elephants and observe them playing in the stream or mud pits.
Mae Sa Elephant Camp, now known as The Chang, offers visitors an opportunity to observe and learn about elephants while enjoying a fun and educational experience. The changes that have been made have transformed the camp into a sanctuary where elephants can live a more natural life free from chains and activities like riding or painting pictures. It's an excellent place to support and appreciate the beauty of these magnificent animals.
For private tour you can be combined with a trip to Tiger Kingdom and many activity as they are in this area.
Visit beautiful creatures in a nice environment at Maesa or The Chang Elephant Camp
Note : Wheelchair user is accessible
Our services :
The Chang or Mae Sa Elephant Camp Map