Maesa Elephant Camp super place for adults and kids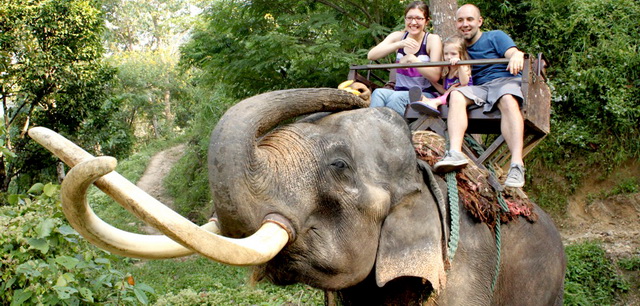 Maesa Elephant Camp Brilliant experience, well run tourist attraction
In the lush tropical jungle of Chiang Mai's Maesa Valley , a big family of elephants lives side by side with their mahout caretakers. "Maesa Elephant Camp" is home to one of the largest assembly of elephants in the north of Thailand.
Maesa Elephant Camp has been around since 1976, as a conservation centre for domesticated elephants acquired from across the country. Once employed in the logging industry, these elephants found themselves 'out of jobs' once heavy machines were brought in to replace them and, as a result, ended up roaming the streets with their mahouts to beg for food.
Our philosophy is to create a natural and healthy environment for the elephants while working to conserve and breed them,due to the dwindling number of Asian elephants left in the wild.
Opening Times 08:00 am. 04:00 pm.

Show Times 09:40 am. and 01:30 pm.
Visit our showground to and enjoy a variety of fabulous shows of elephants who love to show off their skills and have a good time. Once you enter the show ground, 20 elephants will parade to welcome you to their show. Don't miss a chance to observe the elephants bathing at the two bathing areas on Maesa River before each elephant show.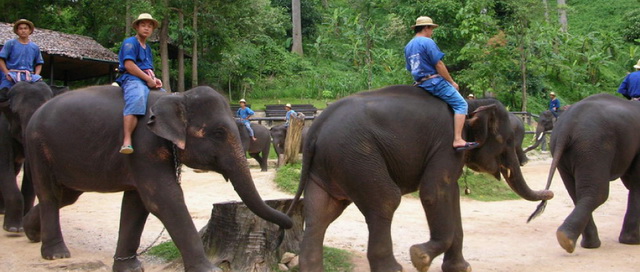 The shows are as following :
– Demonstration of how to get on and off an elephant by experienced mahouts
– Musical performance and dancing by the talented elephants
– How the elephants sleep at night (lying on their side)
– Football matches consisting of many talented elephant players like Play Lankam, Kongkam and Khamsan
– Painting of many abstract and realistic pictures by the eight elephants – Kongkum, Wanpen, Kamsan, Lankam, Duanpen, Songpun, Punpetch and Pu Ood.
Maesa Elephant Camp is the only place in the world showing the painting of realistic pictures by elephant artists.
– Demonstration of how the elephants massage their mahouts by using their trunks
– Elephant stick picking competition.
– Dart Game show by little elephants.
– Logging and lumber dragging show.
Admission costs :
Entrance and elephant show 250 Thai Baht

E

lephant rides cost 1,500 Baht for 45 mins. 1,000 Baht for 25 mins. and 800 Baht for 15 mins.
One of the best experiences ever- sign up for Mahout training. A fantastic chance to get to know the real professional mahouts – find out what they do everyday for their elephants and learn the secrets of becoming a mahout. During a memorable farewell ceremony, all participants will receive a certificate of achievement to take home and cherish.
Maesa Elephant Camp is an amazing experience place to see how cute and intelligent of the gentle giants. You will love and enjoy watching the show and how they painting beautiful pictures. It's unbelievable. And learn more how mahouts teach young elephants. The camp is in a beautiful spacious, picturesque setting so give enough of time to enjoy the place.
For private tour you can be combined with a trip to Tiger Kingdom and many activity as they are in this area.
Visit beautiful creatures in a nice environment at Maesa Elephant Camp
Note : Wheelchair user is accessible
Our services :