Tha Ton temple 'See the pagoda on mountaintop.'
credit: https://www.facebook.com/watthaton.org/
Temples are ones of Chiang Mai's highlights. There are many ancient temples in fine condition. Each one contains its own story. Most of them are located on mountains, as there are many mountains in Chiang Mai.
Same as this following one. Tha Ton temple
Tha Ton temple is an ancient temple and the symbol temple of the county, which has been existing and being abandonded for centuries. It's surrounded with mountains and forests. There aren't stories that can tell the exact date of the establishment.
Tha Ton temple is so stunning, due to its scenery. You can step up on the high terrace to see the overall view of the mountains. Then you can visit other parts of the temple. Every parts of the temples were built on different mountains, which are close to each other. There are totally 9 levels of these.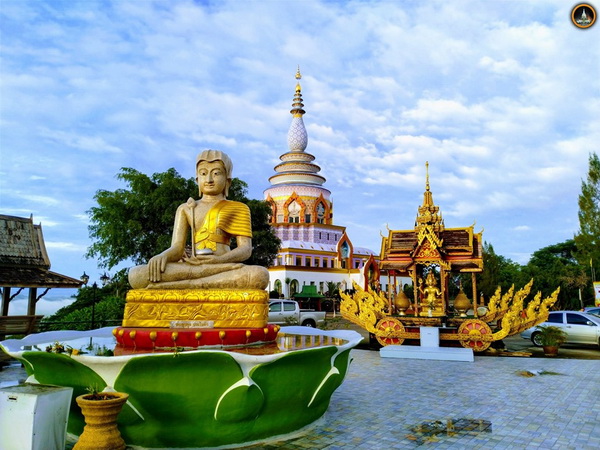 Level 1 = Consists of Phra That Chom Kiri Sri Ping Khok, Goddenn Guanyin, the office of Chiangmai's vice monk dean, Suntorn Pavillion, Phra Pariyat School.
Level 2 – This is where the ubosot is located. If you want to pay respect to a Lord Buddha statue, just go up there.
Level 3 = There located Phra Buddha Niranchai and Phra Sang Kajjaya.
Level 4 = There is a Nak Prok Lord Buddha statue.
Level 5 = Makavihara and Kuttakammatthan are both there.
Level 6 = Roong Niran Monk House and Phra Pariya Witan Kosol Auditorium.
Level 7 = Dhamma Panya Badee Monk House, Buddha Samut Monk House, Mahatthananchai Monk House, Prawit Rang Goon Monk House, Chin Wong Warakul Monk House and Singapore Monk House are all there.
Level 8 = The most beautiful thing of the temple is there. It's 'a glass pagoda'! Go and see it for yourself. Beside of this, there is a big pavillion, golden and silver dragon stutue s, and the monk house of octagon shape.
Level 9 = You will find Sri Chiang Toong Monk House, Phra Im Talod Kal, Maha Ratchamang Monk House, Ratcha Saman Bridge, and the golden bark.
For a full experience, you should see every single of these architectures. Get your camera ready too.
How to get there
You will follow the Highway 107. If you're in the right direction, you should pass Mae Rim County, Chiangdao County, Chai Prakarn County, Fang County, and Mae Ay County. From Mae Ay County, you drive for another 5.5 kilometres. Then you will find the entrance of the templel. There is a large sign telling its name. You can still keep driving even you enter the temple. You will want to have a leisure sightseeing around every architecture, including the marvellous pagoda or you can book the car rental with driver to go there.