Nantaram Temple 'Get closer to Tai Yai art.'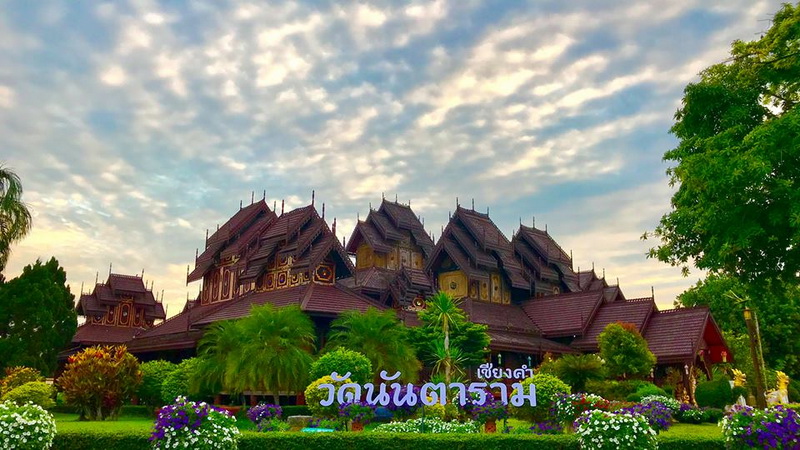 The best way to visit temples is to visit various types of them. It will help a lot with your learning and will get you to open your eyes for new things.
In Thailand, there are many types of temple, as many foreign people and ethnic groups have inhabited in the country for so long. Their cultures have spreaded to Thai people. Sometimes, this expresses as temples. Temples are heart-gathering for people, no matter what types of nations they are.
Nantaram Temple is a great example. It was built by Tai Yai People, which is an ethnic group. It was once known as Wat Chong Kha, as its roofs were decorated with Kha grass.
However, some villagers call it Wat Chong Nua, as it's located on the north of Chiang Kham County. The temple is basically for Dhamma and religious practicing.
In 1925,a wealthy elderly person named Nanta Wonganan donated his money, in order that the temple would be renovated. At the same time, a new vihara was built in the place of the old one with Kha grass roofs. The design and construction were done by Burmese craftmen.
The vihara of the temple doesn't just look good because of its design, but also its material. Do you believe that the whole architecture is made of teakwood, one of rare and expensive wood types. The roofs consists of different levels, from low to high. The ceilings are decorated with colorful glasses.
For the principle Lord Buddha statue, it was brought from Wat Chong Mai Ta in 1933 by villagers hired by Nanta. The statue is gorgeous, as it's made of golden teakwood. There are still some other Lord Buddha statues in the temple. Just go and see them all.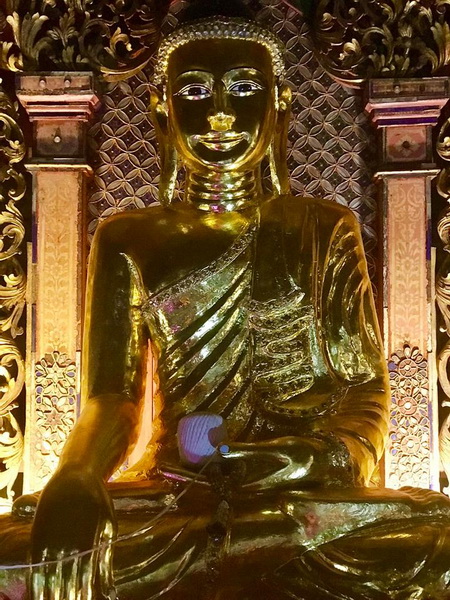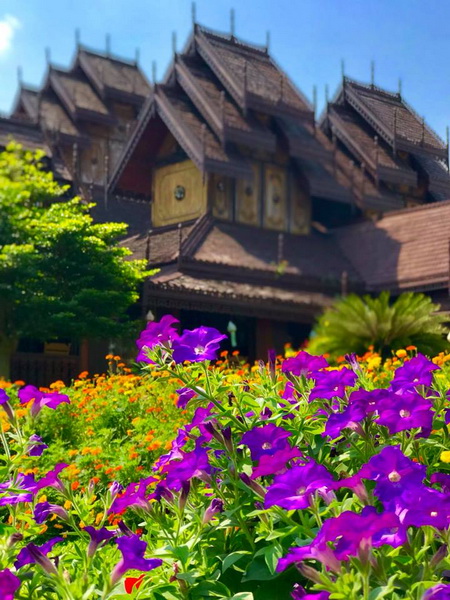 Beside, there is also a museum of antiques in the temple. If you've never seen old things from old days before, then walk for a little bit and get to it.
At the museum, many rare items like old money, old fabric, old utensils, are displayed. They're real. You will miss your old days, if you're now quite old. If you're still young, you will be surprised that there were really these things in the past. Then let's visit the large white pagoda, which is located near a white architecture.
Nantaram Temple is surrounded with green gardens and beautiful trees. There will be lots of beautiful spots for you to take photos.
Art of decoration in this temple is extraordinary. It doesn't miss a single part of detail. That means, all works, from floor to ceiling, are made with true heart of art and requires high patience.
Here is the conclusion of all important architectures within the temple. Be sure to admire them all.
The wooden vihara of Tai Yai style
The principle Lord Buddha statue
The brick-and-lime chedi of Tai Yai style
The ubosot made of lime and brick and decorated in Tai Yai style
The pollen Lord Buddha figure made of various species of aroma plants from Myanmar. These plants were dried in the sun and mashed with modelling lime brick. This is unusual. Go and see this for yourself.
Phra Chao San Sae, which is a bronze Lord Buddha statue from the period of Chiangsaen. Grandma Bua bought it from her brother for 80 Baht and gave it to the temple. Then the statue has been registered by Fine Arts Department as an ancient item. You should pay respect to this too, for your own good fortune.
Before becoming a beautiful temple like you see nowadays, the temple has been renovated and developed for over 10 years. In the year 1934, Nanta held a grand opening event for the temple. In the event, there were traditional shows, food bestowing, and merit making.
Find yourself some time to take photos of this beautiful temple. Keep it in your memory and never forget it. Teach your children about its history. Upload your photos to your social media sites.
How to get there
Nantaram Temple is located in Chiang Kham District, Phayao Province. It's located near Chiang Kham Municipal District Market. Just get to the market first and you will find it in no time.
Our services :