Sri Khom Kham Temple 'An important temple of Phayao Province'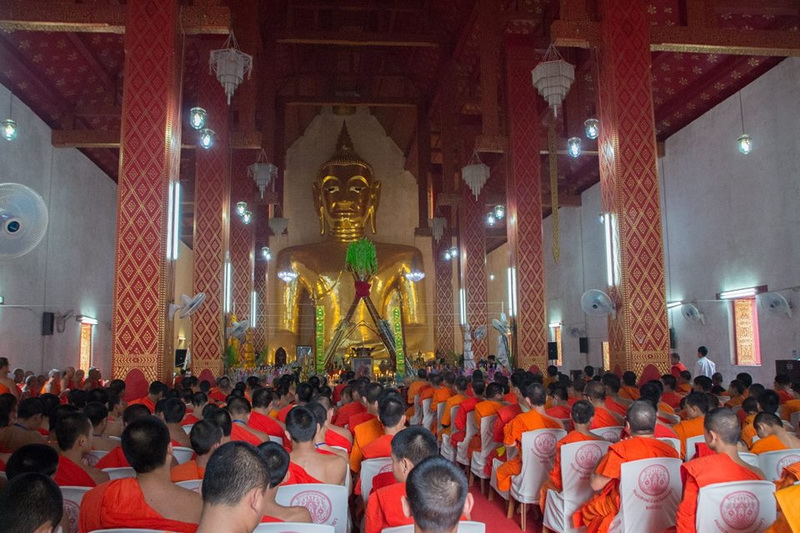 When you visit some town in Thailand, one thing that you should definitely visit is a temple. Especially in northern Thai provinces, there are a lot of beautiful temples, mostly old and ancient ones.
Now, for Phayao, a northern Thai province, it also has a lot of temples like many other provinces. One of its most important temple is Sri Khom Kham Temple.
Sri Khom Kham Temple is also known as Wat Tung Aieng and Wat Phra Chao Ton Luang. It was built in the year 1524, which was during the period of Phra Muang Too, a ruler of Phayao Province.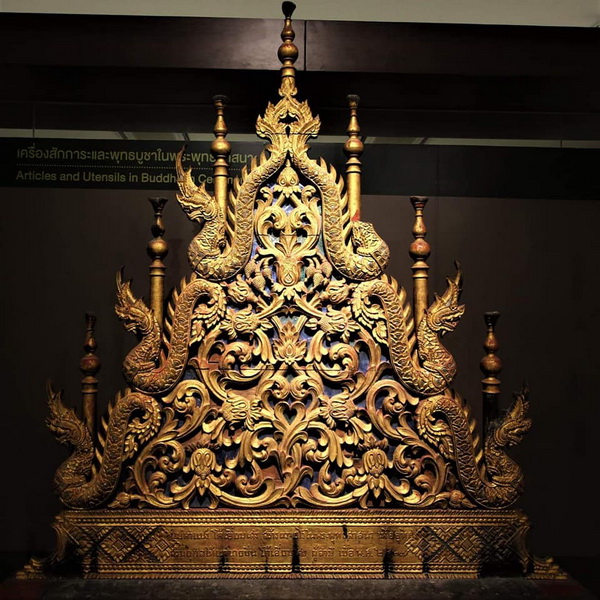 In 1922, during the period of the Phraya Phradet Udornthit, the last ruler of Phayao, Kruba Chao Sri Wichai was invited over to establish the vihara. There are still many other architectures in the temple that were built during the same period.
Let's get to the temple to see how gorgeous it is. As soon as you step inside, you will see the vihara for the very first thing. The vihara is the largest architecture of the temple and also the highlight of it.
The vihara is decorated in golden and reddish-brown color. There are carvings of gods and animals on the main roof, which look absolutely stunning and glorious. The main roof is covered in folden color and its carvings will be sparkling in the middle of sunlight.
Don't just stand outside, let's get inside the vihara too. There, Phra Chao Luang Ton, the largest Lanna Buddha statue, is located. You will want to pay respect to this, as there is a long history. It says, Lord Buddha and his followers once travelled to Phayao. The Lord stayed at a mountain near Ngong Aieng pool. Then a goldsmith realised that the Lord arrived. Therefore, he bestowed food upon the Lord and his followers. Then the Lord saw that the area was perfect for Buddhism. So he gave some of his hair to the goldsmith, in order to put it in a 7-level casket and bestow it upon Phaya Asok. And then it was stored in the cave under Chom Doi.
Also, it's believed that, Lord Buddha tortured a Naga in Nhong Aiang and said that after 2500 years of the arrival of Buddhism, the Naga was supposed to built the base of Buddhism in Nhong Aiang and also a large Lord Buddha statue of Phra Buddha Chao Kakusantha's size.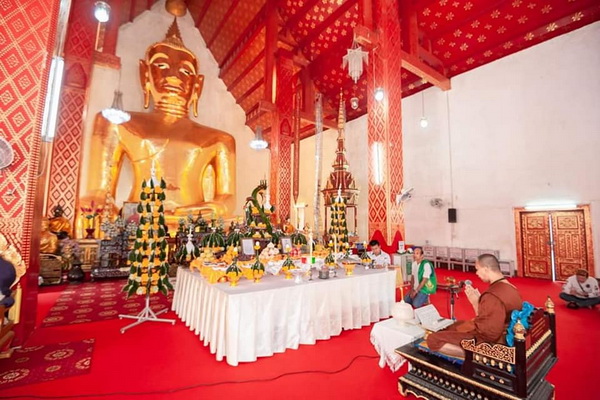 When Lord Buddha passed away, the Naga brough the gold from the land of Naga to Nhong Aiang before transforming into a man in white costumes. Then the Naga(in disguise)went to see an elderly couple and gave to gold to them, in order that they can built a large Buddha statue as the Lord had wanted. And that large statue is 'Phra Chao Ton Luang' that you see nowadays.
After paying respect to Phra Chao Ton Luang, let's wander around the temple for a little bit. There are still many other interesting things in the temple, including Lord Buddha's footprints, which are believed to be a Sukhothai artwork.
There are also murals inside the temple, including Bhodhi Tree mural by Mr.Angkarn Kallayanapong, a national artist who passed away, Miss Phaptawan, Miss Kabkaew Suwannakut, and a group of Tossachartchadok artists.
There is also another vihara in the temple. It's the vihara of Kruba Sri Wichai. It's a small one, but is decorated in glorious colors and patterns. However, the vihara wasn't built in the period of Kruba Sri Wichai, but was built after that. Inside the vihara, there is a statue of Kruba Sri Wichai, his hand prints and footprints, which he stamped them as a memorial of Phayao villagers. You should get inside and pay respect to all these too.
How to get there
To get there conveniently, you should start from the city hall of Phayao. Then head for Wiang District by using the Road1(Phahonyothin Road) until you reach Rong Ha Junction. Then turn right, following the sign that tells you to go to OTOP Centre of Phayao. Just keep going. You should pass Phayao Provincial Court, Phayao Highway District, and Phra That Chom Tong. Soon you will reach Wat Sri Kham Khom. It will be on your right side.
Our services :