Phu Langka forest park 'Have a sightseeing on mountaintop.'
Speaking of tourist attractions in Chiang Kham County, surely you can never skip this one.
Phu Langka Forest Park is a famous tourist attraction of Chiang Kham County and Pong County, Phayao Province. It takes place in Nam Puei National Preserved Forest, Nam Yuan Forest, and Nam Lao Forest.
The whole area is quite large, about 12,480,000 square metres. It's about 900-1,720 metres higher than the sea level. Kalai River, Tom Brook, Roo River, Kanaeng Brook, and Payang Brook are important river resources.
There are also lots of rare plant species. For animals, there are squirrels, tigers, bears, birds, warthogs etc. All natural resources are very plentiful.
You're gonna love the atmosphere there. There are lots of forests and mountains. You can see lots of mountains from great distances. But the highest one is Phu Tewada, which is about 1,720 metres higher than the medium sea level. Thie one is also a perfect spot for fog seeing. You should get there during winter.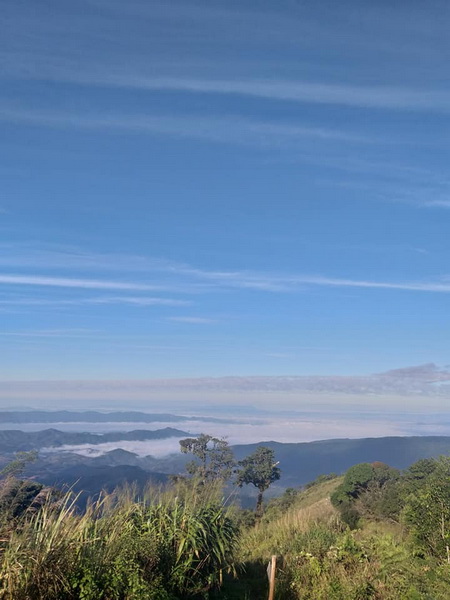 There are still many other interesting spot in Phu Langka forest park.
Doi Phu Nom

: This is a narrow mountain ridge, which starts from Doi Lanka. It's covered with grass mostly. Perfect for sunrise seeing, fog seeing, and sunset seeing. This is good to go with your love one.

Doi Phu Langka

: Here is another narrow mountain ridge. There is a forest on the west. But there are high cliffs on the east. The best part of it is that as soon as you get up there, you will be able to see Laos.

Doi Hua Ling

: Hua means 'head' and ling means 'monkey', together means 'monkey head'. If you look at the mountain from the north or the south, you will see that it looks like a head of a monkey. Sounds interesting?

Phu Langka Waterfall

: This waterfall is not very large. There are two levels of it. The first level is 30 metres high. The second level is 20 metres high. You may want to have a little picnic on the shore.

Million-Year-Old Stone Lot

: This stone lot is located on the ridge of Doi Phu Langka. It's not an empty, lonely lot. Instead, it has many beautiful flowers all over it. This is perfect for visiting during winter. The flowers will be extremely beautiful and the weather will be comfortable. You will leisurely take photos of these beautiful flowers.

The Sky Stone

: This is a very high stone sticking up to the sky. It's on the peak of Doi Phu Langka. Go and feast your eye with this. It's so high.

The Ancient Forest

: This is a very plentiful montane forest. This is where you can admire many species of herbs, wild plants, and birds. Get your binoculars ready.
If you want to admire all of these, you have to spend a few nights at the park. You need to prepare your own tent, as there aren't shelter available. Food is also necessary. You need to prepare yours. For further details, you must contact the office of the park.
How to get there
There are 3 different ways of getting there.
You start from the heart of

Chiang Rai

. Look for the Highway 1148 and keep driving until you reach Toeng County. Then keep driving until you reach Chiang Kham County. Then get to Ban Tung Lom Mai for about 8 kilometres. Then turn left to Ban Hae. After that, just turn right and continue straight for about 5 kilomeres. Be patient at this point. You turn left for the last time and you should reach the park within 12 kilometres.
Starting in Phayao will also work. You just have to pass Pong County. After reaching the junction of Chiang Khan County with the Highway 1092, you switch to the Highway 1148 and continue straight for about 3 kilometres. Then turn left, head north until you reach the park.
The third way is to start from Nan. Keep driving along the Highway 1080. Try to head north and turn right to the Highway 1148 to reach Song Taew County. From Song Taew County, you drive for about 71 kilometres and you will reach the park soon.
Phu Langka Forest Park Map