Lam Nam Nan national park 'Enjoy canoeing in the lake.'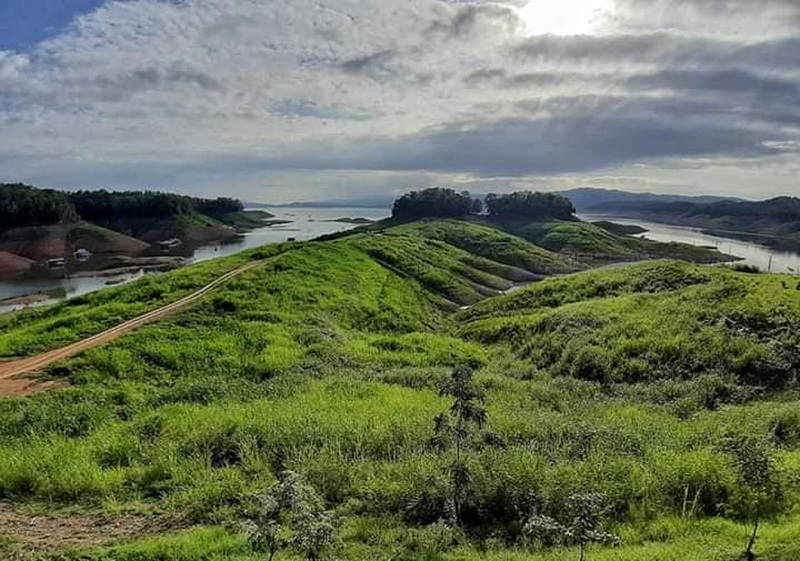 Pack your luggages and go out for a canoe trip at Lam Nam Nan National Park.
Speaking of Lam Nam Nan National Park, this is a beautiful one in Uttaradit Province.
Lam Nam Nan National Park consists of high mountains, which are even higher than Sirikit Dam. There are two main parts of it: reservoir and forests. The reservoir originated from Sirikit Dam. The forests are where high mountains are. These mountains consist of Doi Sanphakhiak, Doi San Pha Mhoo, Doi Pang Muang Kham, Doi Pha Theep, Doi Cha Kan, Khao Had la, Khao Huai Chan, Phu Mon Kratai, Phu Khon Kaen, and Phu Phaya Pho. The last one is the highest one of all, as it's 1,350 metres higher than the medium sea level. Beside, it also seperates Uttaradit Province and Phrae Province.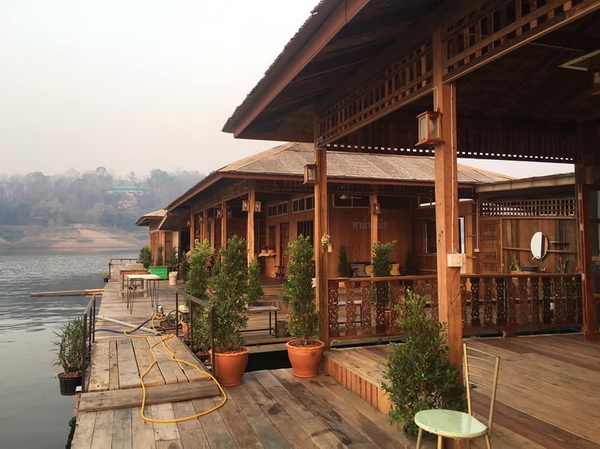 Geography
The area is the source of water of Nan River and Sirikit Dam, and consists of productive forest, such as mixed deciduous forest, deciduous forest and hill evergreen forest, which has economically valuable plants, and many kinds of animals.
Climate
The area is in the area of monsoon climate which is damply hot and sultrily hot, the hottest is on daytime. The rains is from May to October, approximately 1,440 mm. of rain per year. The winter is very cold on the top of the mountains and mountain range which are suitable for traveling.
Flora and Fauna
Forest areas are where you should set foot in most. There are mixed forests, semi-evergreen forests, and deciduous dipterocarp forests.
About semi-evergreen forests, they are around brooks and also connect those 3 provinces: Uttaradit, Phrae, and Nan.
Mixed forests can be found within the national park, especially around Sirikit Dam. There are bunches of valuable and rare tree species in those forests, mixed deciduous forest, deciduous forest and grass forest.
At last but not least, deciduous dipterocarp forests. Those forests can be found on the left side of Lam Nam Nan Lake. There are economically valuable plants such as teak wood, Makhaa Mong, Burmese ebony, rosewood, ironwood, Siamese sal, ingyin etc.
The animals found are mammal, reptile and bird, such as, deer, mountain goat, wild boar, Asiatic black bear, Malayan bear, palm civet, monkey, porcupine, fishing cat, pheasant, jungle fowl, mountain turtle, many kinds of snake and more than 200 kinds of bird.
Of course, there are many animals in those forests, mostly medium-size ones to small-size ones. You may see them during your trip.
What can you do at the national park? 
Of course, you can't possibly miss an activity like camping. Lam Nam Nan National Park is perfect for camping. There are camping grounds and shelter for you. You're suggested to choose a camping ground, if you want to get close to the nature. By setting a tent in the middle of mountains, you will enjoy cook your own food, sit and sing around a fire, and many kinds of entertaining things. But the best is, you can get up early in the morning and inhale the sweet air into your lungs.
The activity that you don't want to miss is 'canoeing'. There is a lake named 'Lam Nam Nan' at the national park. You will want to go to the lake and paddle a canoe. The atmosphere will be extremely relaxing. You will get stunning photos to upload to your IG, and the cool water drizzle will make your heart fresh. You will be happy with a sightseeing.
Let's spend a few nights at Lam Nam Nan National Park. You will have fun so much that you probably don't want to leave at all.
Accommodations and facilities 
A bungalow room is available at the headquarters area. Camp ground, visitor center, and rest rooms are provided.
Service Fee
Thai tourist: 20 Baht(Adult), 10 Baht(Child)
Foreign tourist: 100 Baht(Adult), 50 Baht(Child)
How to get there
From Bangkok, you must look for the Highway 1. Follow the highway, then switch to the Highway 32 and 11. By doing so, you should reach Uttaradit.
As soon as you arrive at Uttaradit, you have to look for the Highway 1045(Uttaradit-Sirikit Dam). You will also have to pass Ruam Chit Intersection(Ta Pla County) and keep going for about 45 kilometres. Pass Huai Charoen Village and you will find the entrance of Lam Nam Nan National Park. If you do not have car, you can contact us to arrange the private to package which suitable for your group or you can book the car rental with driver to manage your own plan.
Opening hours : Opens daily from 8 am until 5 pm.
Admission fee :
– Thai citizen : 20 THB for Adult and 10 THB for child.
– Foreigner : 100 THB for Adult and 50 THB for Child.
Note : Not accessible for wheelchair user
Lam Nam Nan Nationa Park Map