Mae Puem National Park 'A convenient camp in the middle of nature that you need.'
In this article, we will suggest a nice national park for camping to you.
Mae Puem National Park is something that you're gonna love.
Its story 
Mae Puem national park has been explored and developed since 1994. Everything started from deforesting. As many forests were destroyed, government had an idea to preserve some other forests and turn them into a national park. Chiangmai authorities launched a document, telling the initial result of forest exploration. They also asked Royal Forest Department to see whether Mae Puem Forest, Mae Pung Forest, Huai Ton Yang Forest, and Huai Mae Kaew Forest were plentiful enough to be transform into a national park or not.
The result turned out to be positive. That means, according to the meeting on March and April, 1994, the Board agreed to the idea of turning those forests into a national park.
The national park has been developed since then. It's about 356 square kilometres large. There are 2 different areas of it.
This area takes place in Doi Pui National Preserved Forest, Muang County, Chiangrai Province, Huai Ton Yang National Preserved Forest and Huai Mae Kaew Forest, Pan County, Chiangrai Province. The whole area is about 108 square kilometres large.
The area takes place in Mae Puem National Preserved Forest and Mae Pung Forest, Pan County, Pa Daed County, Chiang Rai Province, Mae Chai County, Muang County, Phayao Province, Mae Puem River National Preserved Forest and Dong Pradoo Forest, Mae Chai County, Muang County, Phayao Province, and Mae Hong Pho National Preserved Forestf, Huai Kaew Forest, the left of Mae Ing Forest, Phu Kham Yao Sub-district, Phayao Province. The whole area is 248 square kilometres.
Geography 
Mae Puem National Park mostly consists of high mountains. The north connests to Ta Sai District, Muang County, Chiang Rai Province. The south connects to Mae Puem District, Muang County, Phayao Province. The east connects to Sri Pho Ngoen District, Pa Daed County, Chiang Rai Province. The west connects to Charoen Muang District, Pan County, Chiangrai Province.
The forests there consists of semi-evergreen forest, mixed forest, deciduous dipterocarp forest, and pine forest. There are many rare plant species. Some animals can be found too, but they're mostly small sizes to medium sizes, for examples, birds, warthogs, falcons, squirrels etc.
Climate 
Since the area of the National Park is affected by the southwestern monsoon in the rainy season and affected by the northeastern monsoon in winter, the weather at the National Park is considerably cool, with the average temperature of 25C, and the lowest temperature of 9-12ฐC in December. Normally, there are heavy rains during May-October. And the average rainfall within the area of the National Park is approximately 1,550 mm/year.
Flora and Fauna
There are 4 different kinds of forests within the areas of the National Park, including arid, evergreen forests, mixed forests, timber forests, and pinery. Major plants include teak, Xylia Xylocarpa (redwood plants), Leguminosae (Pradoo), Afzelia Xylocarpa Roxb., Dalbergia Oliveri Gamble (Ching Chan), timbers, Shorea Siamensis (Rang), Dipterocarpus Intricatus (Hiang), Pinus Merkusii Jungh (two-leaf pines), Lithocarpus Cantleyanus (Kor), etc. Due to the varieties of plants, there are more than 40 kinds of birds and other wild animals such as Muntiacus Muntjak, wild boars, tigers and etc.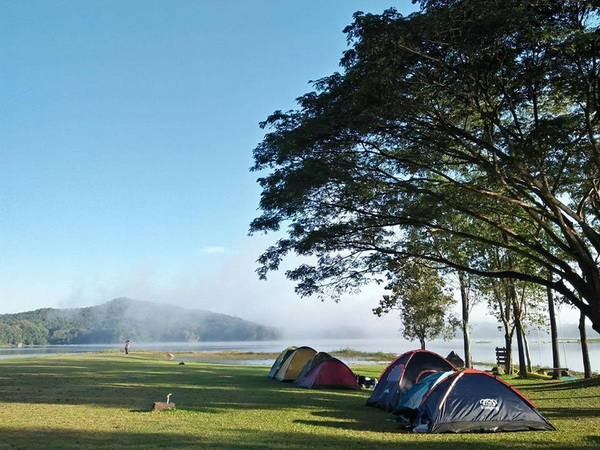 A Heaven For your Camping
Mae Puem National Park can be called 'a heaven for camping', as the place is so beautiful. There are confortable shelter ready for you. They will be small houses. But you can choose to use your tent instead. There are camping grounds. Using a tent will give your trip a better taste, in case you are adventurous.
You will be happy with your camping there. Sleep well in the middle of nature. If you choos a camping ground, your tent will be surrounded with mountains. No matter which direction you look at, you will always find greenery and fresh air. Don't you worry about pollution.
For facilities, there are shower rooms and toilets, resting lots, and pavillions. There aren't shops or restaurants. Therefore, don't forget to prepare some instant food before getting to Mae Puem National Park.
During your camping there, you can just arrange your program for each day. For examples, you may get up early and watch the sunrise every morning, have break fast outside of your tent, take an exercise walk around, play some leisure sport like badmintion etc. The national park is so leisure that you can almost do any activities.
Get your family out on holiday and arrange a camping together. It will be a happy memory of yours.
Perfect For Sightseeing and Photography
No matter which season you choose to travel, the national park will always look good. You will get a lot of beautiful photos and will enjoy sightseeing so much. Most every spots of the national park are perfect for sightseeing.
Admission Fee 
:Thai Tourist: Adult: 20 Baht, Child: 10 Baht
:Foreign Tourist: Adult: 100 Baht, Child: 50 Baht
How to get there
You better start from the heart of Phayao Province. You need to get to the Highway 1(Phayao-Chiang Rai) and keep driving for about 17 kilometres. Be careful and reach for the pole of 754th kilometre. From that point, you need to turn right and continue straight for about 6 kilometres. Soon you will reach the office of the national park.
Mae Puem National Park Map