Phra That Chae Haeng Temple 'Admire all architectures of over-600-year age.'
Let's not miss this glorious temple. Phra That Chae Haeng Temple is a respectable place of Nan Province. It's believed that the temple is over 600 years old.
Phra That Chae Haeng Temple was built in 1348 by Phaya Karnmuang, in order to store the relics of Lord Buddha that came from Sukhothai. The relics is stored inside a  golden 55-metre pagoda, which was inspired by Phra That Hiripunchai. If you're lucky, you will be right on time to attend the event that worship the relics. The date of the event is somewhere around the end of February or the beginning of March. The relics pagoda is a very important landmark of the province. Villagers in Nan believe that, worshipping the relics will get you lucky and you will be happy.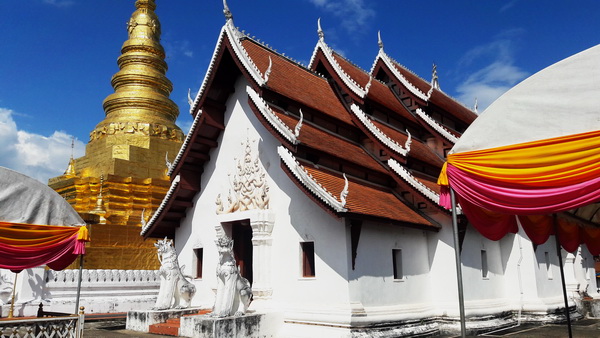 The most interesting feature of Phra That Chae Haeng temple is its mondop, which lies inside the inner enclosure that also houses the chedi (rebuilt in 1454) and the viharn. The roof of the mondop is quite similar to the that of the Grand Viharn-ubosot at Wat Phumin in central Nan, though of a more rustic style.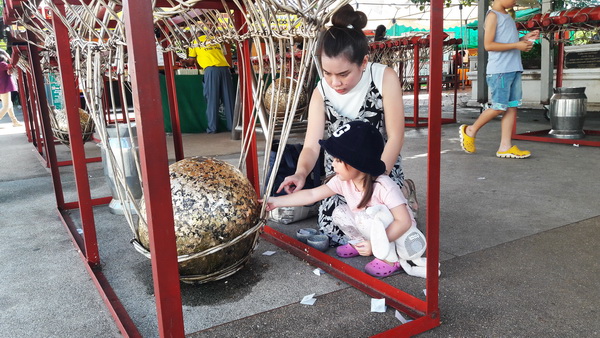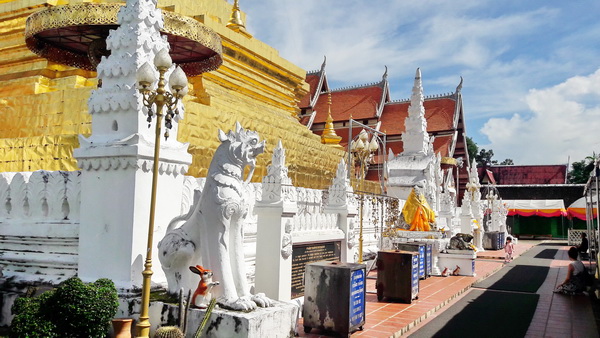 Beside of the relics pagoda, there are still many other architectures inside the temple.
The Grand Vihara : This one is located on the south side of the pagoda. The entrance to the viharn is guarded by two large white lions. Over the main entrance door is a stucco relief of interwoven Naga serpents. It's a large pagoda consisting of 6 rooms. You will find a large golden principle Lord Buddha statue in there. The statue is inspired by Thai Lu style, which looks absolutely gorgeous.
Phra Chao Than Jai Vihara : An artificial Lord Buddha's footprints can be found there.
Buddha Saiyat Vihara : This one has a white Burmese pagoda for you to pay respect to.
The Naga Handrails : See the gorgeous statues of two Nagas. A broad walkway flanked by long balustrades leads up to the temple grounds. The lower end of the balustrades is topped with massive 4 meter high heads of the mythological Naga snake, the body of the serpent extending all the way up to the temple area.
If you're about to have a long vacation, don't forget to add this temple as a part of your schedule. Go with your family will be a good idea.
How to get there
Phra That Chae Haeng temple is located in Ban Nong Tao, Muang Teed District, Phu Piang Sub-County, Nan Province. To get there, you should just use the Highway 1168 or Nan-Mae Chrim Road. For more comfortable, we recommend you to travel by private tour.
Opening hours and Entrance fee : Opens daily from 7 am until 6 pm. Admission is free.
Note : Wheelchair user is accessible for ground temple.
Phra That Chae Haeng Temple Map