Phumin Temple 'Take your love one to make a wish in front of Grandpa Man and Grandma Man.'
Phumin temple is the most famous temple in Nan. Its murals and especially the one called The Whisperer made its reputation. This painting of a man whispering in the ear of his wife is now the symbol of Nan city. You find it on my art pieces and souvenirs. For your special day of love, you may want to travel to this temple with your love one.
The history of Wat Phumin dates back to 1596 when the wat was first built. Wat Phumin entrance stands between two white Singha followed by a staircase with two nagas. If the exterior of the building is quite simple, the inside of the temple really worth a visit. In Thai Lue architectural style with its roof supported by twelve teak pillars decorated with gold and a beautifully wooden ceiling decorated in red, black and gold, the temple houses at its center a big pillar with a Sukhothai style Buddha statue on each side in the pose of Bhumisparsa mudra (Buddha Invoking Mother-Earth). All interior walls of the temple are covered with beautiful paintings depicting everyday life scenes of Thai Lue people painted by Tit Buaphan a Thai Lue artist during the restoration of the temple in the late 19th century. They are the true treasure of Phumin temple.
Phumin Temple is considered to be a lucky temple for loving couples. There is a mural called 'Grandpa Man and Grandma Man' within the temple. The mural was created by Nanbuaphan, an ethnic artist. This is the most outstanding artwork of the temple.
It is believed that if a loving couple confess their feelings in front of the mural, their love will be eternal and super strong. However, before doing so, a couple must walk through the gate named 'Phaya Nak Koo Kwan', which is located in front of the ubosot, first. The direction should be against the normal clock direction. A couple must walk that way for 3 times. Then they can go up to the mural.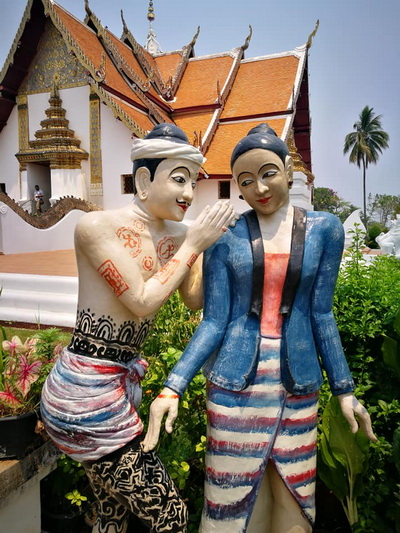 Beside of confessing feelings in front of the mural, a man must state this poem to his wife or girlfriend too, so that the confession will be completed.
'Kham Hak Nong …Koo Phee Chak Ao Wai Nai Nam Kor Klua Nao
Chak Ao Wai Phuen Akad Klang Hao …Kor Klua Mhok Moei Zon Dao Long Ma Ka Lum
Jak Ao Pai Sai Wang Kuang Khum…Kor Klua Chao Pa Sai Laew Loo Ao Pai
Kor Loei Ao Wai Nai Ok Nai Jai Tua Chai Pee Nee…Jak Hue Man Hai A Hi A Hi
Yam Pee Non Sa Dueng Tuen Way Wa…'
After you're done with love confession, you can still take your love one to have a sightseeing around the temple. It's very beautiful. The temple looks relaxing and has many interesting architectures, including the large golden principle Lord Buddha statue and many other amazing murals.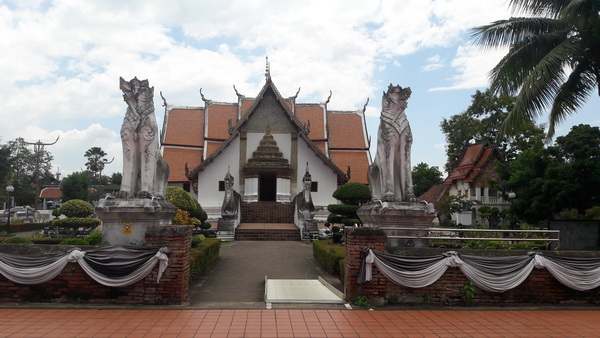 How to get there
Phumin temple is located just in the downtown of Nan Province. To get there, you can just keep driving along the Highway 1080, in order to reach Nan. Try using the road Mahayos. Then, after passing Wat Suan Tan, you must turn right into the road Pha Kong and pass Nan County Office. Soon, the temple will be on your right side. Most hotels or Travel Agency in Chiang Mai and Nan will be able to book the car rental with driver or the private tour package for you.
The temple grounds are open daily from 6 am. until 6 pm.
Admission is 50 THB/person.
Note : Wheelchair user is accessible for ground temple.