Amphoe Muang Mae Hong Son Attractions
Mae Hong Son is named as the city of three misty season (Muang Sam Mok) located in the embrace of mountains. Here is just a small city with a few road. It is all great in many aspects, natural or cultural. The center of the city is starting point of many tour program. Cultural tour in the city e.g. temples with mixed style of Thai and Myanmar. Adventure tour along the river, elephant riding and trekking e.g. Pai and Salawin.
Spending your holiday time here, drive and admire the sights. Taste northern food in many restaurants at your style. Thai Yai, Karen, Myanmar and traditional Thai foods can be found in the city along the main road, Khunlumprapas.
Attractions in Muang Mae Hong Son
Phraya Singhanatracha Memorial
Phraya Singhanatracha Memorial situated at the foot of Doi Kong Mu, this monument commemorates the first governor of Mae Hong Son. Phraya Singhanatracha is a Thai Yai native from Burma (Myanmar). He was regarded by the people as the governor of Khun Yuam Town, which is the south of Mae Hong Son. Later, he was officially installed as the governor of Mae Hong Son by the King of Lanna in 1874.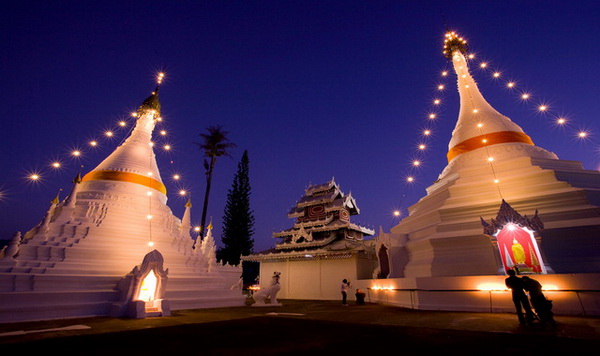 Wat Phrathat Doi Kong Mu
Wat Phrathat Doi Kong Mu erected by the first governor of Mae Hong Son, this temple reflects the strong influence of the Burmese. The highlights of this attraction are the two lavishly decorated pagodas. Also, this hilltop temple affords an exceptional aerial view of the city and surrounding mountains and valleys.
Wat Phra Non
Wat Phra Non is at the foot of Doi Kong Mu houses a 12-metre long reclining Buddha image in the Thai Yai style. The image was cast in 1875 by Phranang Miah, the wife of Phraya Singhanatracha. Another main feature of the temple is the two large sculpted lions lying side by side, presumably providing the passage for those going up to pay homage to the Holy Relic on the hill.
Wat Kam Ko
Wat Kam Ko is opposite to Wat Phra Non, is a Burmese-style temple built in 1890. A special architectural feature is the cover over the passageway from the entrance arch to the chapel. It also stores text in Thai Yai script chronicling the Thai Yai history.
Wat Hua Wiang
Wat Hua Wiang another name is Wat Klang Mueang. This temple is on Singhanatbamrung Road next to the morning market. Built in 1863, the temple houses the Phra Chao Pharalakhaeng, a Buddha statue dressed in beautiful attire. It is a replica of a major statue in Mandalay, Myanmar.
Morning Market
Morning Market is near Wat Hua Wiang on Sihanatbamrung Road, this lively market is crowded from early morning till 9.00 a.m. It is where visitors can see people lifestyle and buy various local food and produces.
Wat Jong Kham
This is an old temple on the bank of the swamp Nong Jong Kham. It was built in 1827 by Thai Yai artisans. The pillars are gilded in golden flakes. The temple houses a large Buddha statue with a lap width of 4.85 metres cast by Burmese craftsmen. Another staue is a replica of the Buddha image in Wat Suthat in Bangkok.
Wat Jong Klang
Wat Jong Klang, next to Wat Jong Kham, is a temple where a replica of the Phra Phuttha Sihing is installed on an altar. There are several interesting items such as wooden figurines of human and animals depicted in the Phra Vejsandon Jakata (pronounced Chadok which means one of odd stories of former incarnations of the Buddha) created by Burmese craftsmen and brought over in 1857,painting on glass about the Jakata and on Prince Siddhartha, as well as on the ways of life of the time. The captions are in Burmese. There are also notations that the paintings were by Thai Yai artisans from Mandalay.
Mae Hong Son Royal Handicraft Center
Mae Hong Son Royal Handicraft Center at 128/2 Khunlumpraphat Rd., is a training center for craftspeople from local and hilltribe under the auspices of Queen Sirikit's Promotion of Supplement Occupations & Related Techniques (SUPPORT) foundation. While demonstrated techniques at work, handicraft products also available such as silk, cotton, weaving works, silver works. The Royal Handicraft Center is a three stories building: Ground floor: Handicrafts Shop, First floor: The Queen's and Royal's project exhibition, Second floor: Mae Hong Son Hilltribe Museum. Open: Monday-Saturday from 8.00 a.m.-4.30 p.m., Tel: 0 5361 1244 for additional information.
Su Tong Pea Bamboo Bridge
Su Tong Pea Bridge the bamboo bridge of faith and success. The bamboo bridge, which is a beautiful aesthetic artefact in itself, is a symbol of the links between the village and the monastery overlooking the rice paddies. It was built by the farmers to enable the monks to visit the village every morning to receive alms. Its a nice place to feel the countyside feeling, very tranquil, paceful, and good object to take photos especially in sunrise and sunset.
Namtok Pha Bong
Namtok Pha Bong located on Highway No.108 about 12 kilometres from town. It is just a bit further from Pha Bong Hot Spring.
Pha Bong Hot Spring
Pha Bong Hot Spring, cover an area of 3 acres, is located about 10 kilometres from town on Highway No.108. There are mineral water bathrooms served.
Pang Tong Royal Pavilion
This is a hilltop pavilion at Ban Mokchampae, some 5 kilometres beyond Namtok Pha Suea. It is open everyday from 8.30 a.m.-4.30 p.m.
Ban Ruam Thai
Ban Ruam Thai is 44 kilometres away from Mueang Mae Hong Son. Take the route to Pha Seau waterfall until reach Ban Na Pa Paek and then turn left and keep go on for another 6 kilometres. Tourists will see variety of hilltribes people. Try fresh coffee from the field. Behind the village is a beautiful lake and evergreen forest area. There are also the place for camping and accommodation to stay. 
Phu Klon
This place is Phu Klon County Club, which is located in Mae Hong Son Province. Phu Klon is one of the world's three natural mud hot spring. This hot spring is rich in minerals good for the skin and blood circulation system. This is a kind of spa and a hot spring, good for everyone especially females. Even if you don't want to mask your face, you can just enjoy the hot spring, which the temperature starts from 60 to 140 degree Celcious. This is a natural hot spring from underground. Hot water should do good to your skin too, and health.
Pang Ung
Pang Ung is especially popular with Thai campers as the campsite in Pang Ung gets very cold. And I can totally get that if you've lived in the heat your whole life sleeping over night in the cold would be a treat. The day is still very warm even though it starts out cold. The air is crisp and you can smell the trees it's a wonderful spot.
Ban Rak Thai
This village is situated 44 kilometres from Mae Hong Son via Namtok Pha Suea near the Thai-Myanmar border. Ban Rak Thai is a village where Chinese people who moved from Yunan state in the South of China. This is a tea producer village also tourist can enjoy the traditional Yunnan foods.
Tham Pla – Pha Suea National Park
This comprises the following attractions:
Tham Pla
Tham Pla is about 17 kilometres from town on Highway No. 1095 (Mae Hong Son-Pai), Tham Pla is a popular attraction of Mae Hong Son. The surrounding areas are brooks and cool hilly forests suitable for relaxation. A special feature is the hollow cave filled with numerous freshwater fish known as Pla Mung or Pla Khang, which is of the same family as the carp. The fish are quite safe from being caught as they are believed to belong to the gods.
Namtok Pha Suea
This waterfall is in Tambon Mokchampae about 26 kilometres from the provincial seat on Route 1095 to Pai district with a left turn at Km. 191. It is a large fall with its water source in Myanmar and runs full during the late rainy season (August-September).
Ban Huay Sua Tao
Long neck village Ban Huay Sua Tao is a refugee camp for the Karenni (Red Karen) people.  The Karenni people are known for two subgroups, the Padaung and the Kayan people.  The Karenni are involved in a struggle (war) back in Myanmar (Burma) for independence.  The people in the camp had fled the violence as well as persecution back in Myanmar.
Baan Nam Phiang Din
Baan Nam Phiang Din, Tambon Pa Bong, is a place to set off Pai river trip by long-tailed boat, 7 passengers. The natural scenery along both sides of the river passed Ban Huay Deua is very interesting. Sometimes, tourists may see the Padaung (long-necked people) who fled to Mae Hong Son. Women wear the brass ornaments around their neck like big rings are actually detachable coils that depress the collarbone, making it look as though unnaturally-stretched neck. 
Pha Bong Hot Spring
The Pha Bong Hot Spring is located in the Pha Bong district, about 10km away from Mae Hong Son city on the way to Khun Yuam. There are facilities for mineral water baths for health purpose.The hot spring rim is built of cement with a pathway around the edge. Visitors can also bathe in the hot spring since the temperature is not too high.
The Microwave Mhong Village sounds really strange. If you have never heard of this place before, you may possibly think that the village produces a mountains of microwave oven and put them on sale. The reason why this village got this name, is that the authorities set up a series of phone and television signal poles in the village. These poles produce microwave, which is a kind of electro-magnet wave of a high frequency.