Phu Klon Country Club 'Get your face masked with natural mud.'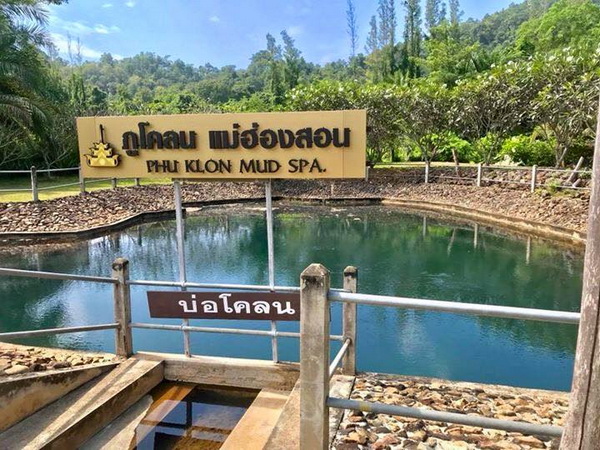 If you don't believe that people can mask their faces with natural mud, then you probably want to visit this tourist attraction. And you will see that it's true. In fact, mud is good for skin beautifying. Feast your eyes for yourself.
This place is Phu Klon County Club, which is located in Mae Hong Son Province. Phu Klon is one of the world's three natural mud hot spring. This hot spring is rich in minerals good for the skin and blood circulation system. This is a kind of spa and a hot spring, good for everyone especially females.
Phu klon has a very remarkable history. In 1995, the mud in Mae Sanga hot spring (now Phu Klon) was discovered by expert geologists. These geologists found this hot spot in the middle of a rice field which the water from this hot spring flows into a creek nearby. Villagers claimed that this hot spring is able to relieve stress and heal the body miraculously. Therefore the water and mud from this hot spring were analyzed by scientists. The scientists found out that there are many beneficial minerals in the water and mud, which are great for our skin. The mud itself is like those from the Dead Sea in Israel and the mud from Romanian dormant volcano. Afterward, this hot spring and the area around had been explored by locals and geologists for many years. In 2000, the "Phu Klon Country Club" was established to develop this area into a full scale health and beauty spa, and becoming both province's and country's tourist attraction in the future.
Even if you don't want to mask your face, you can just enjoy the hot spring, which the temperature starts from 60 to 140 degree Celcious. This is a natural hot spring from underground. Hot water should do good to your skin too, and health. But the best fun is that you can boil eggs to eat by using the hot spring.
But if your mission is to mask your face, this is perfect. This is a very popolar activity for tourists, both Thai and foreign. They will just lie down and let the staffs mask their faces with mud. Or, they can even purchase some of the mud home, just to mask their faces by themselves. The mud can make your skin look healthy and make you feel comfortable.
Beside of the mud and the hot spring, there is also Thai massage service. If you feel kinda sore, then give yourself a chance and require the service. This spa has many health and beauty services such as hot spring bath, mud facial treatment, Thai massage, and oil massage. This place also has health and beauty enhance product from mud and natural spring for visitors to purchase. It also features a view point for tourist to take pictures of the hot spring.
How to get there 
Just start your engine in the heart of Mae Hong Son. Use the Highway No.1095. Keep going along the path for about 10 kilometres. In the end, you should find the way that you can turn left to Koong Mai Sak Village-Ban Huai Khan. Be patient and you will see your destination soon.
In case you have no car, that's not a big deal. There are public trucks at Sai Yood Market for you to hail. But these trucks only depart at 9:00am . to enjoy your trip, we recommend you to book the car rental with driver for your group. the driver will waiting for you until you finished your trip.
Opening hours and Entrance fee : Opens daily from 8 am until 6.30 pm. Admission fee is free.
Note : Wheelchair user is accessible.
Our services :
For this place on the way to Pang Ung, you can combine this program.
Phu Klon Country Club Map