Phraya Singhanat Racha Memorial 'Pay respect to the statue of the 1st ruler of Mae Hong Son.'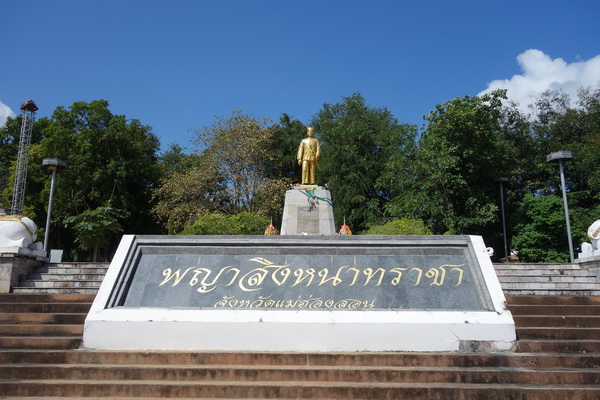 If you don't know where you should go and need a suggestion, then you may be interested in this place, Phraya Singhanat Racha Memorial.
One best way to track the history of a town, is to see some real architectures that reflect the stories. This experience of learning is even more worthy than just reading a book in a room.  And Mae Hong Son itself is another province that contains many historic stories, all of which are interesting. If you want to know what they are, you may want to start touring some tourist attractions yourself. 
This memorial presents you the statue of Phraya Singhanat Racha, the 1st ruler of Mae Hong Son. His story was very impressive.
Phraya Singhanat Racha was also known as 'Chan Ga Le'. He was a descendent of Shan people. His hometown was in Myanmar. However, years after 1856, the year he was born, there was a war in Shan state. That forced him to evacuate to Pang Mhu Village and make a new living there.
The legend says, Phraya Singhanat Racha was a good person. He was honest and brave. He got married and moved to Ban Khun Yuam with his family. By living there, villagers respected and loved him so much that they appointed him for a leader of the village. He was a village leader for about 8 years and caused villagers a lot of wealth and happiness, as he played his role in controling foreign trades.
Finally, after he had moved to Chiang Mai for 3 year, he was appointed as the 1st ruler of Mae Hong Son by Inthawichayanon, the ruler of Chiang Mai at the time. Not only that, Inthawichayanon also honorably provided the name 'Phraya Singhanat Racha' for him. It was all because, Inthwichayanon saw a lot of goodness in himself.
You can feel all parts of this story through the statue at the Phraya Singhanat Racha memorial. It is something like a landmark of the town. If you arrive at Mae Hong Son, you should never miss this. The statue is covered in golden color, looking so glorious and beautiful. There are colorful flowers and oblation items from tourists around. Go and feast your eyes with this for once in lifetime. Go and pay respect to the memorial for your peaceful mind and good fortune.
How to get there 
The momorial is very easily accessible. It is located at Chong Kham, Muang Mae Hong Son County.
Try to go along the same route to Wat Phra That Doi Gong Mu and Wat Phra Non, in case you have a personal car. But if you don't, that won't be a big deal. You can get various types of public vehicle from the heart of the town. There are so many for you to choose. It's not difficult to get to your destination or you can contact travel agency in Chiang Mai and Mae Hong Son to arrange the private tour package or the car rental with driver for you for more comfortable.
Note : Wheelchair user is accessible
Phraya Singhanat Racha Memorial Map