Phra That Mae Yen Temple is the best place for panoramic view of Pai Village.
Phra That Mae Yen Temple is a beautiful temple usually know as White Buddha Statute on the hill is a must see in Pai.
Wat Phra That Mae Yen has a peaceful, serene atmosphere, suitable for admiring a vast panoramic view of Amphoe Pai. The perfect time to appreciate the scenery is during sunrise and the sunset.
Mae Yen temple consists of two buildings and a few small golden chedis. In front of the temple entrance. From the trailhead, the visitors can choose between two methods to go up there. To illustrate, driving is a comfortable way, or climbing up the Naga staircase (353 steps) is also an interesting way of exercise. There is a little market with stalls where you can buy products, mainly hats and scarves knitted by the vendors. They can be very useful because it is cold at night and in the early morning in Pai. There are also two coffee shops.
Behind the amrket, there is another Wihaan housing a reclining Buddha. This Buddha was still in development and there is a steep dirt path to climb to reach it from Wat Phra That Mae Yen below. From this point, visitors can get a whole striking view of Amphoe Pai; from houses to rice fields. If coming here in the evening, you will have a chance to admire the sunset with Doi Jong Jik hill as the beautiful natural background.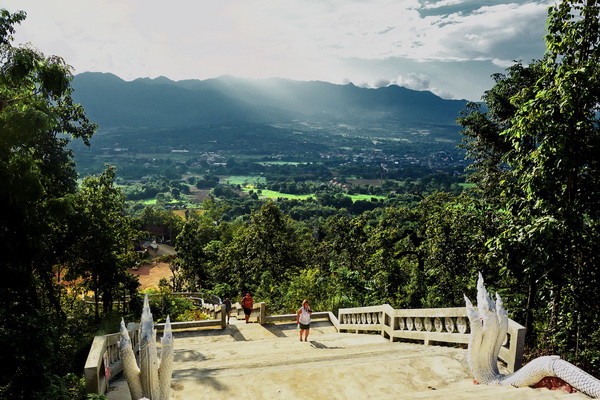 Normally, tourists usually climbed up to Phra That Mae Yen temple in the evening and watched the sun set over the hills. Beautiful to see how the light changes minute by minute over the hills.
It is majestic and beautiful place. It is nice hike to get there and you can get a nice view as reward.
How to get there
Mae Yen Temple is located on the hill, in the east, behind Mae Yen village. This temple has stood in Amphoe Pai for a long time. Located on the hill, in the east side of Amphoe Pai, it is 2 kilometers away from the District Office. Another way, we can provide a private tour for your group with good service and comfortable.
Address : Phra That Mae Yen temple, Mae Hi, Pai District, Mae Hong Son 58130, Thailand
Entracce Fee : There is no entrance fee
Our services :
Phra That Mae Yen Temple Map