Ban La-Up 'See gorgeous silverware'
If you're so into silverware, let's see the silverware at Ban La-Up, Mae Hong Son.
Silverware at Ban La-Up, also known as Ban La-oop, is considered to be one of the most interesting OTOP products. It's so gorgeous that you won't be able to take your eyes off it.
Who could believe that amazing silverware could be made in a village in the middle of mountains like this? Well, you have to believe it, because it's true.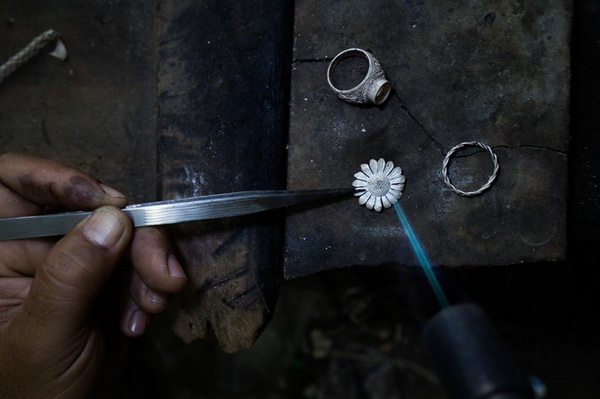 Ban La-Up is a community located in Mae La Noi County. It's well-known for an agricultural tourist attraction. Lawa people inhabit there, mostly, for over a hundred of years. Regularly, these villagers maintain their own culture and intellect. They make their livings out of growing plants within their own lots. However, as different cultures have affected the village, some of them can speak other languages too, for examples, central Thai and Lanna Thai. Sometimes they even follow Thai traditions and dress like regular people.
Their silverware making started a long time ago. Their ancestors started doing so, as villagers wanted some ornaments to decorate their traditional costumes. This intellect has been passed down from generation to generation. Nowadays, villagers also make silverware to support their livings, beside decorating their costumes. Therefore, if you plan to go to the village, you can buy some silverware.
However, there aren't many craftsmen in the village who make silverware nowadays. Every pieces of silverware will be put on sale at 'Learning and Producing Centre of Ban La Up Silverware'.
Beside the silverware, you can also learn about Lawa people's culture. See how they dress and live. Have a sightseeing around the village. Take some photos.
How to get there
Ban La-Up is located in Huai Hom District, Mae La Noi County, Mae Hong Son Province.
You have to start your trip from Mae La Noi County. Follow the direction to Lawa Community (La-Up). The whole trip takes about 32 kilometres. For more comfortable, we recommend you to travel by private tour. 
Note : Wheelchair user is accessible