Nam Hoo Temple is a sacare monastery within Pai
Nam Hoo temple is situated approximately three kilometers from the center of Pai, nearby to Ban Nam Hu, Ban Wat Luang and Ban Mai Saha Samphan. Nam Hoo Temple has been long revered by local Buddhists for its principle Buddha image, Luang Por Une Mueng.
The history of Nam Hoo temple and "Une Muang" Buddha actually related to Thai history. 400 years ago in the era of Ayudhaya, King Naresuan the great moved troops back to Ayudhaya after successfully defeated Burma and already collected the ashes of a cremated dead Princess Supankalaya (elder sister of King Naresuan and was killed by King Nantabureng). When the troops passed Burma's borderland and stopped to rest at Pai town, King Naresuan had a dream that his sister, Princess Supankalaya was crying and saying that "Dum (King Naresuan), I was like a person of 2 lands, my son is Burman and I am Thai. I was bounded to both Thai and Burman. At Pai here, my soul would be happy after all the suffering and please take good care of Chan (cousin of Ayudhaya's side)."
When King Naresuan woke up at dawn, according to his dream, he ommanded the troops to build a pagoda to store the ashes of cremated dead and hair of Princes Supankalaya in Pai. He also erected the Buddha statue to dedicate merit to the Princes.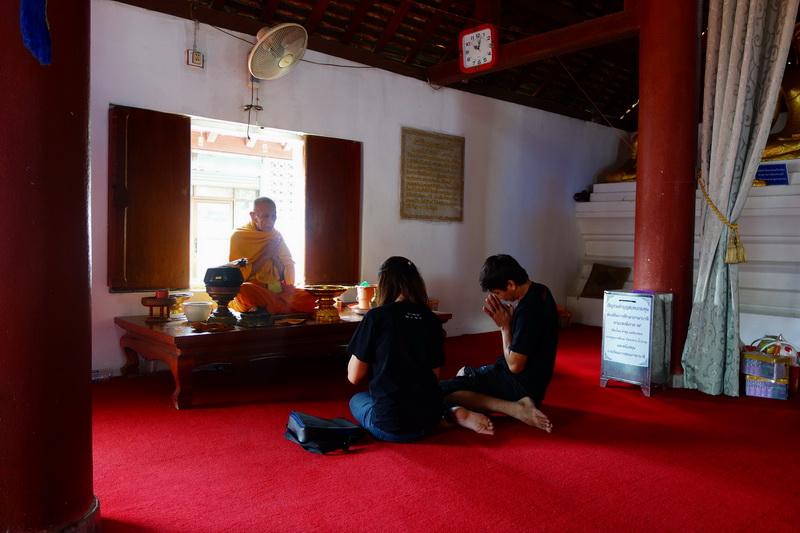 The Buddha image (Luang Phor Une Muang) from the Chiang Saen period located at Wat Nam Hoo in Vieng Tai sub-district of Pai, Mae Hong Son province is highly regarded as one of the most sacred Buddha images in Thailand and well respected by the Pai people. The bronze Buddha is shown seated with his legs crossed measured 88 cm wide x 111 cm high. The image is more than 500 years old and there is no clear history recorded.
Believers come to pray and pay homage to its legendary statue because the head of the image is hollow and contains always full of holly water. Though the ever-flowing water in the hair bun of Une Muang Buddha image is a wonder, locals strongly believe it to be sacred. The water is drunk to get rid of sickness and misfortune, and in turn bring good luck.
Visitors are welcome in the temple every day, but due to the issue of belief and appropriateness, the hair bun of the Buddha image is no longer allowed to be touched. The holy water, however, is bottled and made available. Tourists mostly come to Nam Hoo Temple for pray and combined with Santichon Chinese Village and Lisu villages and Mor Pang waterfall.
How to get to Su Tong Pea Bridge
If coming from Pai town about 3 kilometers westward of Pai administrative office or you can book the car rental with driver for more comfortable.
Opening hours and Entrance fee : The temple opens daily during daylight hours. Admission fee is free.
Note : Wheelchair user is accessible
Our services :
Nam Hoo Temple Map