Mor Pang Waterfall is a great place to relax from the heat and have a swim
Mor Pang waterfall has 3 stages waterfall, full of beauty, its beauty is not less than other waterfalls. The beauty of the waterfall is the pieces of stones that are around to underlay the flowing water. Moreover, the environment around is full of big and small trees to make the place feels calm and more peaceful also it is suitable for relaxing privately.
It consists of a number of steps possibly added together to 50 m height, each step 5-10m. The water flows over flat smooth rocks and are great for sliding.
Mor Pang waterfall is good and clean very cold water but 50 meters high. The rocks were slippery. Climbing to the top can be challenging its well worth the effort. There is also a lower section with shallower water pools.
There is a natural slide that you can go down, which is totally invigorating. In the dry season and it was still great, you can slide down the waterfall like it's a waterpark and it's a lot of fun. Ask the local children to show you the tricks of how to slide down the rocks to the pool on your backside. It is a lot of fun even if you just watch them. Also a big rock to jump off if you're feeling brave. The water is cool and refreshing, and there are loads of rocks to sunbathe on as well.
There is a shop and toilets at the top of the hill before you get there. But the shops will close in low season (April to October).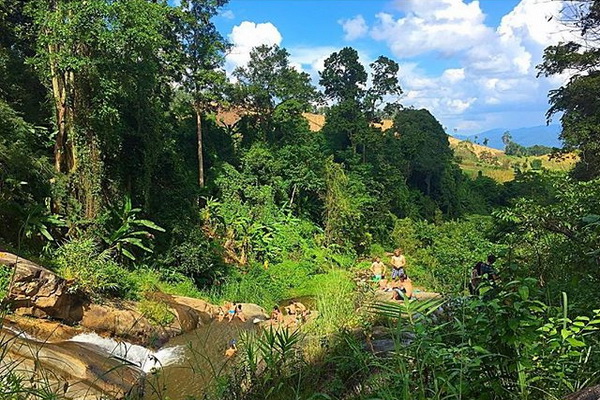 How to get to Mor Pang Waterfall
Mor Pang Waterfall is localed 7 kilometers from Pai and can be reached convenienly by car or motorbike. The surrounding area is shady and beautiful. Near by are Nam Hoo temple, Santichon village and a peaceful Muser ( Lahu ) tribe village. If you do not have car, we can provide the private tour package for you.
Entrance fee : Admission fee is 50 THB for Thai people and 100 THB for foreigner.
Note : Not accessible for wheelchair user
Our services :
Mor Pang Waterfall Map