Pam Bok Waterfall is a beautiful, tall waterfall and a great place to relax and cool down.
Pam Bok waterfall is a nice secluded waterfall with high cliffs surrounding it, making this a very cool place to escape the heat.
The drive up to Pambok is incredibly scenic. The road is very cute but quite bumpy at some points.  There is a parking lot for visitors of the Pambok Waterfall right after you crossed the bridge before the road gets super steep. You have to take a little trek up a staircase to see the beauty of it and you cross a bamboo bridge but once you get to the top it's absolutely gorgeous.
Pam Bok waterfall is less touristy than the others around Pai. In comparison, Mor Pang waterfall is geared towards more like a party waterfall where people can slides off the rocks etc. For Pam Bok, it is just enough mixture of the adventurous vibe and peace and nature vibe. Pambok waterfall itself is probably not the most impressive waterfall you've ever seen but as it is surrounded by high cliffs it still looks pretty amazing, this waterfall offered a great place to cool down on a hot day. If you feel adventurous enough there is a small dirt path which leads to a cove from where you can jump down into the pool. However as it was dry season with much lesser water than usual we didn't dare! It looked too risky.
Great place to swim and jump off the rocks into the water!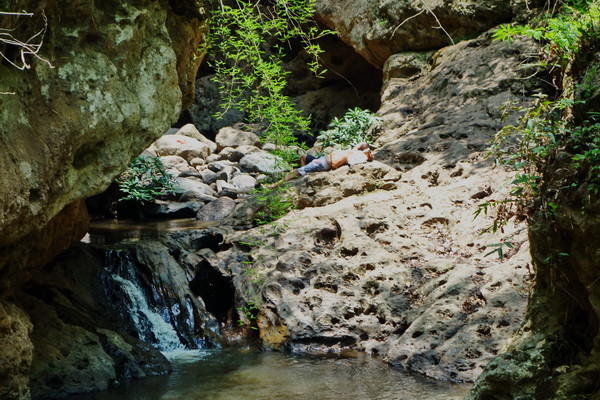 How to get to Pam Bok Waterfall
Getting to the waterfall on car or scooter is very easy. Just take the main road (1095) out of town towards Chiang Mai and Pai Canyon. A clear sign shortly after you passed Coffee in Love on the right will direct you to the waterfall. You'll be continuing on a small and slightly bumpy road for about 5 km (10 minutes).
You will also pass the Land split on your way to the Pambok Waterfall which is a giant chasm that was caused by in earth quake in 2008. It is actually located on the private land of a farmer however he has opened it up for tourists and you can have a little walk around to explore the crack as well as refresh and refuel on some delicious fruits fresh from the garden before continuing to the waterfall.
Note : Not accessible for wheelchair user
Our services :
Pam Bok Waterfall Map