Amphoe Mueang Chiang Rai : Chiang Rai Town
Mueang Chiang Rai is the capital district of Chiang Rai Province, northern Thailand. Chiang Rai was built by The King Meng Rai in 1262 AD along the Kok River with the main industry being in the agriculture of rice, corn, ginger and fruits such as longan and lychee, with pineapple being available all year round. Chiang Rai was part of the ancient Lanna Kingdom for centuries and its traditions and culture still has influence over the customs and lifestyle of Chiang Rai's people.
The King Meng Rai monument is located in Muang District at the intersection of the superhighway leading to Mae Chan District. The monument is a display of respect to the King from the people of Chiang Rai.
There are many sights to be seen throughout Chiang Rai province such as the rich, mountainous valleys and the large number of tribal people that can be found there. They number more than ten groups, including the Akha, Lahu, Yao(Mian), Hmong, Karen, Lisu, Lua, Shan, Chinese etc. Each community has different cultures and traditions with the main attraction being their colourful traditional costumes. They normally settle on the high mountainsides or valleys away from civilization and so are experts on living and surviving in the jungle. For these reasons Chiang Rai is the destination for the tourist who wishes to spend time in a peaceful land.
Chiang Rai City also has Night Bazaar every night in the city centre (near the bus station) and a Walking Street on Saturdays where you can be amazed by the various local products and local food.
Chiang Rai's charm is not only cultural but natural with both its architecture and heritage of its past making it a destination that is worth a look.
Attractions in Town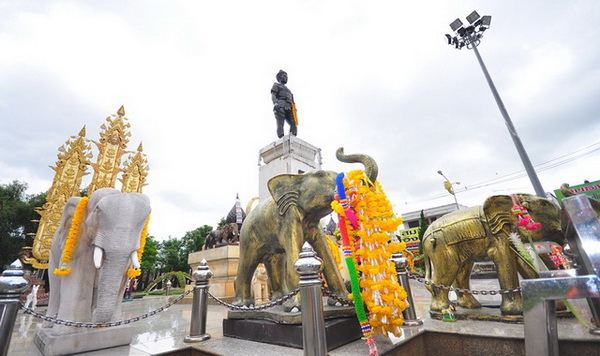 King Mengrai Monument
King Mengrai Monument : Commemorating the founder of Chiang Rai, the monument should be the first place to visit, since locals believe that respect should be paid to King Mengrai before travelling further. The monument is located on the city outskirts beside the road to Mae Chan.
The King Mengrai Stupa : In front of Wat Ngam Mueang atop Doi Ngam Mueang in Mueang district the stupa was built by King Chaisongkhram to contain the remains of his father (King Mengrai).
Rong Khun Temple

Wat Rong Khun is also known as the White Temple. Whereas most temples visited by tourists have a history going back many centuries, this magnificent place of worship was built only recently. It is the realization of a dream for Thailands noted artist, Mr Chalermchai Kositpipat, who designed and is supervising the construction of this beautiful white temple and its many statues of figures based on religious beliefs. The construction started in 1998 and is expected to be completed in 2008. In addition, there is a gallery nearby exhibiting his paintings. To get there from the city of Chiang Rai, drive north along Asia Highway.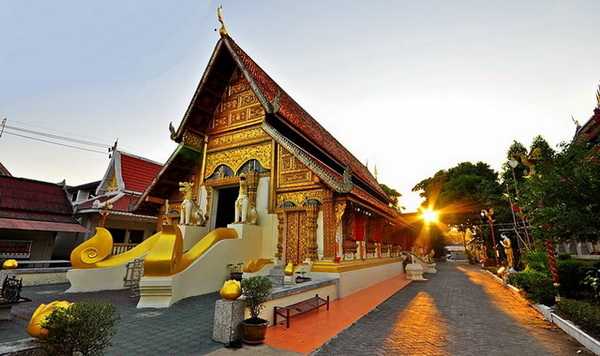 Phra Singh Temple
Wat Phra Sing located on Singhakhlai Road, is a fine example of Lanna Thai religious architecture. The Phra Buddha Sihing image now housed in Chiang Mai's Wat Phra Sing was formerly enshrined here.
Phra Kaew Temple
Wat Phra Kaew located behind Wat Phra Sing, which is located on Trairat Road on the northwest side of town, is the best known of the northern temples. It once housed the Emerald Buddha, Thailands most important Buddha statue which was discovered in 1444. The statue had been moved by various state rulers to be placed in their capitals including Lampang, Chiang Rai and Vientiane before finally being enshrined in Bangkok's royal Wat Phra Kaew. There is now a green jade replica of the image on display. The temple also houses a 700-year bronze statue of Phra Chao Lan Thong, which is housed in the Chiang Saen style ubosot.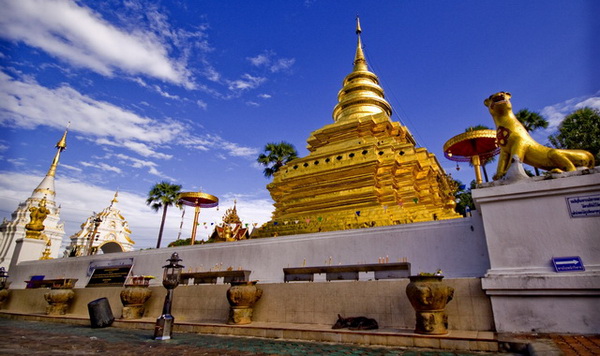 Phrathat Doi Chom Thong Temple (Wat Phra That Doi Thong)
Wat Doi Thong (Phra That Chomthong) sits atop a hill above the northwest side of town, up a steep staircase off Kaisornrasit Road. This location where King Mengrai is believed to have chosen the site for his new Lanna Capital offers an overview of the town and a panorama of the Mae Kok Valley. The chedi of Wat Doi Tong containing what is believed to be the oldest Holy Relic was probably renovated at the same time that the town as being built. The circle of columns at the top of the hill surrounds the city's new lak muang (city pillar), built to commemorate the 725th anniversary of the city and King Bhumibhol's 60th birthday.
Singha Park
Singha Park Chiang Rai is another tourist attraction that you shouldn't miss. Get ready and rush there fast, or you will regret it later!
Singha Park, owned by Singha Corporation Co.,Ltd , is the agricultural tourist attraction in Thailand. The whole park is billions square metres large. It consists of many zones, all of which you can enjoy your days in the middle of nature.
Oub Kham Museum
Oub Kham Museun located near the Den Ha market, 1 kilometre from the centre of town. The collection showcases objects from the areas once belonging to, or affiliated with, the Lanna kingdoms: present north Thailand and some parts of northeast Myanmar, southwest China and Vietnam. Apart from ritual objects the collection mainly consists of objects used in royal courts like lacquerware, silver jewellery, and clothing. A golden bowl once reserved for royals is a masterpiece. It is open daily from 9 a.m. – 6 p.m.
Ho Watthanatham Nithat : The site is a museum exhibiting ancient artefacts and written records on history, literature and local know-how as well as exhibits on royal activities by the late Princess Mother at Doi Tung. It is open to the public Wednesday – Sunday from 8.30 a.m. until 3.30 p.m.
Mae Kok River
This scenic river is a major transportation artery from neighbouring Chiang Mai Province, especially the town of Tha Ton. The river runs some 130 kilometres through the heart of Chiang Rai passing on its way several hilltribe settlements and elephant camps from where jungle treks start. Long-tailed boats are available daily for 3-4 hour tours.
Huay Hmak Lium Hot spring is the hot spring that beside Rim Kok River. This place is beautiful tropical scenery and on summer has Elephant Trekking for cross the river to hot spring. In addition, the home stay is available.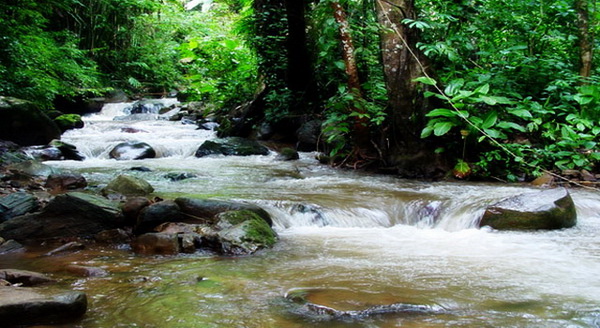 Namtok Khun Kon Forest Park
Namtok Khun Kon also known as Tat Mok Waterfall, is located about 30 kilometres south of Chiang Rai. The 70-metre waterfall is the highest and most beautiful in Chiang Rai. Lam Nam Kok National park
Haad Chiang Rai : Located 4 kilometres from the city, this scenic riverside area and promenade is a recreation area for local inhabitants.
Black House Museum or Baan Dam
Baan Dam have dwellings architecture and a variety of creative design in a total of more than 40 units by Acharn (Teacher) Thawan Duchanee. Each building also on display are works of art to admire and clearly demonstrate the identity of A. Thawan such as buffalo horns art work, animal bones, tiger and snake skin, beautiful woodwork carving, ornate stucco art work that conceals a philosophy and quaint bathrooms. It created a lot of excitement and also gets new concepts through these artworks.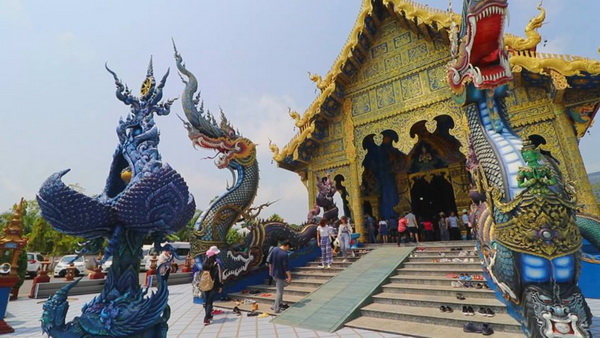 Wat Rong Suea Ten

Wat Rong Suea Ten is also an important religious place of the province. The whole area is quite colorful, which attracts many tourists. All architectures are decorated in many tones of colors, for examples, blue, golden, orange, green etc. The beauty of the ubosot isn't just outside, but you should get inside to see more. There are many murals telling the history of Buddhism. A white principle Lord Buddha statue is also located within, which you can pay respect to, just for your own good fortune.
Wat Huai Pla Kang

Wat Huai Pla Kang is located on a mountain in Muang County of Chiang Rai. The scenery around there is very beautiful. You can see valleys and local communities from a great distance. Wat Huai Pla Kang is decorated in Lanna-Chinese style. Now that is interesting. You know that Chinese art is glorious and quite colorful. Therefore if it is with Lanna style, everything will be absolutely stunning.
Chiang Rai Walking Street

Chang Rai Walking Street is open every Saturday, from 16:00-24:00. It takes place on Thanalai Street in the middle of Chiang Rai downtown. Beside of Chiang Rai Walking Street, there is also another walking street called Chiang Rai Khon Muan Street. This one is as same as Chiang Rai Walking Street, with many foods and sounenir vendors, only that Chiang Rai Khon Muan Street is available on Sunday only. 
Rai Mae Fah Luang
Rai Mae Fah Luang is a cultural centre and centre of Lanna Studies dedicated to the conservation and promotion of Lanna heritage. There are 5 exhibit areas namely
The Botanical Gardens and Nature Park

The Haw Khumm(Golden Pavilion)

The Haw Khum Noi (Small Golden Pavilion)

Sala Kaew-A ceremonial space for riturals

Haw Kaew-Gallery of Lanna Cultureal Arts.
Rai Mae Fah Luang opens daily from 10.00-18.00 hrs. except Monday. Entrance fee: Baht 200