Wat Rong Suea Ten: 'Feel the touch of Thai contemporary ubosot.'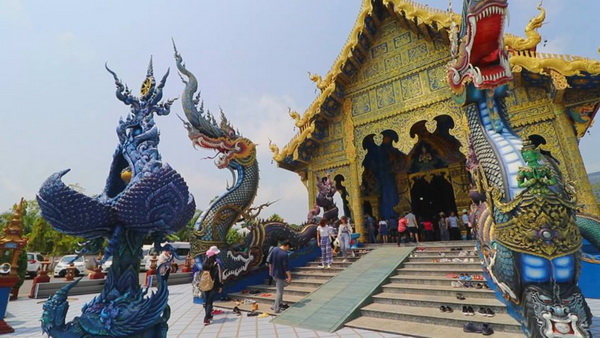 If you don't know where to go in Chiang Rai and don't want to waste your holidays, then perhaps you want to visit a valuable temple and notice its sparkling ubosot.
What temple is this? Of course, this is 'Wat Rong Suea Ten', a temple that you will be surprised at many shiny and glorious architectures.
Wat Rong Suea Ten is located in Rim Kok District of Chiang Rai. This is also an important religious place of the province. The whole area is quite colorful, which attracts many tourists. All architectures are decorated in many tones of colors, for examples, blue, golden, orange, green etc.
However, the most outstanding part of the temple is the ubosot. This ubosot is most well-known, as it was recently built with Thai contemporary style, looking so stunning. The work belongs to Buddha Kabkaew, a former student of the famous artist Chalermchai Kositpipat.
The ubosot of Wat Rong Suea Ten is decorated in various colors, consisting of dark blue, light blue, and golden color. There are countless gorgeous artworks on it, which were inspired by Chalermchai's decorative work of Wat Rong Khun. Both of the two works are almost same. The only difference is that Chalermchai decorated Wat Rong Khun with white color and glasses.
The ubosot is very easy to notice. You just have to look for colorful Naga-shaped handrails.
The beauty of the ubosot isn't just outside, but you should get inside to see more. There are many murals telling the history of Buddhism. A white principle Lord Buddha statue is also located within, which you can pay respect to, just for your own good fortune.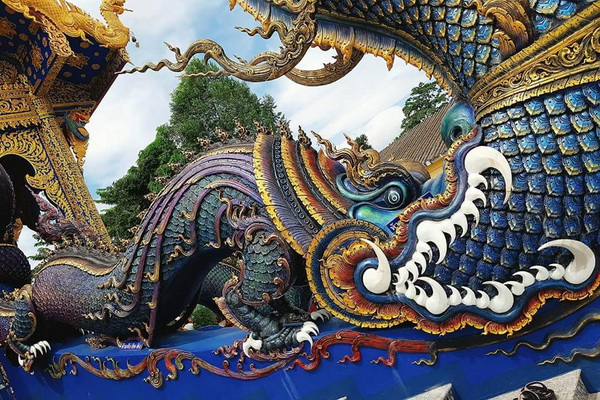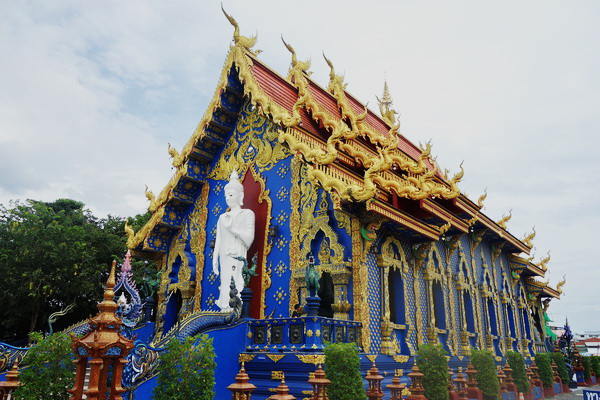 Tour the temple and make yourslef feel peaceful. Do anything you want, but just always respect the place. Dress politely. Don't talk too loud. Don't touch any artwork. Don't step into the ubosot with your shoes on.
You can take photos if you want to, but don't forget to consider the proper time. Lastly, if you have any question, you can just call 082-0269038.
How to get there 
The exact location of Wat Rong Suea Ten is 306, Area 2, Rim Kok District, Muang County, Chiang Rai Province. 
To get there, you can just follow the road Mae Chan-Mae Sai. Then cross Kok River Bridge. After crossing the bridge, you should turn left and keep going along Mae Yao Road. And, finally, just turn left for the very last 50 metres and you will reach the temple.For more comfortable, you can contact Travel Agency in Chiang Mai or Chiang Rai, they can provide a private car with driver or provide tour with air condition for your group.
Opening hours and Entrance fee : Opens daily from 7 am until 8 pm. Admission is 100 THB
Note : Wheelchair users is accessible