Rong Khun Temple or White Temple
The city of Chiang Rai in northernmost Thailand is one of the remaining areas where traditional Thai art and culture flourish. Located near the city of Chiang Rai, about 5 kilometers to the south, is the beautiful Rong Khun Temple or White Temple. The White Temple of Northern Thailand has become a national landmark and, as one of the most recognizable temples in the country, attracts an increasingly large number of visitors every year.
Rong Khun Temple is unique from other temples in that it has been constructed entirely in a radiant white color with sparking reflections from mirrored glass mosaics embedded in the white plaster. The temple is the idea of Mr. Chalermchai Kositpipat, one of Thailand most renowned artists, who wanted to build a temple all in white to signify the purity of Lord Buddha. The artist continues to puts his religious belief and desire to enrich Buddhism in Thailand into his contemporary art design.
The construction of the White Temple is Khun Chalemchai master work, which he refers to as an offering to Lord Buddha and his beloved country.
To approach the main entrance to the main chapel, I assume must signify a kind of passage to enlightenment because this is how I feel approaching the temple. The passage is flanked by two tremendous man-like giants who somehow frighten me until I have to lower my eyes. But this doesn't help me at all, as those grasping hands near the floor shake my nerves again. The hands are in assorted array, outstretched and seem to be pleading. I realize that this piece of art must symbolize hell and how people in hell will suffer from their bad karma.
While climbing the bridge to the main hall, I notice that I am surrounded by a huge pond containing white fishes and fountains that spout up every now and then. The pond, to me, perhaps signifies the river Si Tarndon that divides the mundane world from heaven. As I get closer to the main building I think that this must be a representation of heaven.
Before the main chapel and at the end of the bridge there are several sculptures of meditating Buddha sitting in a lotus circled by spirits of the world. The outer-decoration of the temple hall is all white color representing purity and wisdom of Lord Buddha, however, a dramatic contrast of color is found when arriving inside the main hall. I feel a sense of serenity when looking at a several Buddha altars set inside golden flame.
The walls are painted with a colorful larger than life story related to Buddhist and teaching in a very modern and contemporary style. The artist uses icons from modern culture and through space ships, super man, and even Neo from the Matrix movie he tells of the story of Buddha in this very unique display.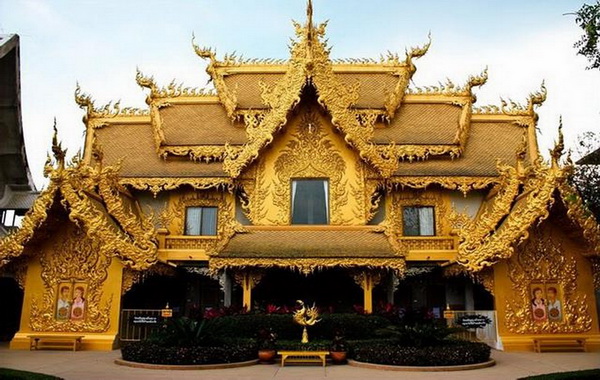 On the left of the temple compound is a golden toilet which Chalermchai seems to also use to transfer some hidden message to visitors. It is as though he is saying, I want this golden toilet to be a symbol of the human response to imagery. I am one of the many who paused to consider what may be the artist message. Perhaps the message is also that there is beauty in all things, just like this golden toilet which impresses people by its beauty rather than the fact that it is just a toilet.
Chalermchai wishes Rong Khun Temple to become a learning and meditation centre for people to practice dharma and gain benefit from the teachings of Lord Buddha.
Rong Khun temple is still a work in progress and will be for years to come. It is planned to comprise nine buildings including the ubosot (chapel), pagoda, hermitage, crematorium, monastery hall, preaching hall, museum, pavilion, and rest room facilities which will be built on an area of 7 rai (about 3 acres).
How to get to the Rong Khun Temple
From Chiang Rai :
Getting to the White Temple in Chiang Rai is very easy. There is a local bus that departs from platform 8 of the old bus station in the town center. Just tell the driver or conductor that you want to get off at Rong Khun Temple, and they will make sure the bus stops there. It's a 13 km journey from town and costs 20 baht per person. They will drop you off on the side of a dual carriageway, and the temple is on the opposite side, around 100 meters away. Be very careful when crossing the road, as there isn't any pedestrian crossing there.
To get back to Chiang Rai, just wait at the opposite side of the road from where you were dropped off, or a bit further along outside the police station. You can flag down any bus or songthaew, as most are heading towards Chiang Rai.
The most comfortable way to get there is by private air conditioned taxi. The ride from town takes about 20 minutes, the fare is between 250 and 300 Baht. Most Chiang Rai hotels will be able to book one.
From Chiang Mai :
The easiest way to get from Chiang Mai to Chiang Rai is by bus. And the most convenient bus is the Green Bus, which runs from Arcade Bus Station. This is located at the far end of Kaeo Narawat Road, near where it joins the superhighway. To get to the bus station, just jump on a songthaew, which should cost around 50 baht per person from central Chiang Mai. The VIP bus from Chiang Mai to Chiang Rai costs 288 baht for a single journey. There aren't any trains running between Chiang Mai and Chiang Rai.
There are two bus station in Chiang Rai – a new station on the outskirts of town, and the old station in the town center near the night bazaar.
The most comfortable way to get there you can contact Travel Agency in Chiang Mai, they can provide a private car with air condition for your group or budget tour to Chiang Rai combine with this temple and important place in Chianr Rai for one day.
Entrance fee & opening hours
Rong Khun Temple is opened every day from 6.30 a.m. to 6 p.m. The gallery is opened from Monday— Friday from 8 a.m. to 5.30 p.m. / Saturday-Sunday: 8 a.m. to 6 p.m.  Admission is 100 THB for foreigner
Note : Wheelchair users is accessible
Our services :
Someone said poor taste, without soul, tasky !!
If you think you will see an ancient temple or old statue, you get wrong idea because this temple is not!

White Temple or Rong Khun Temple was established in 1997 by Professor of art Chalermchai Kositphiphat who is a designer create a unique contemporary painting of Thailand. He does not copy any Reign's art and any art you've ever seen To honor His Majesty King Bhumibol Adulayadej and Buddhism by the spirit of the artist. He and his students built this temple without any return. He use his own money that he earn in his life and don't get a budget from the government and the company's money from the rich man. (But he permit people can donate not over 10,000 baht.) The art of the temple comes from the story that happened in his live.
 "Money and possessions are insignificant. They are not mine but are only make-beliefs. Merits belong to me; therefore, money is of no value to me. Money is valuable only as a way to make merit for further journey of the soul"
~ Charlemchai Kositpipat ~
Why has the painting of a super heroes on the Ubosot wall ?
When you walk into a painting on the back side of Buddha, the meaning is a paradise which shows about the person who be free from evil and virtue person. And the opposite site (Entry gate), the meaning is you walk across from the evil's mouth. There's the Buddha above an evil which be free from the cycle of reborn. Then the other side of the wall, to remind you about the history of violence that occurred in your generation. The story of World Trade Center building was collapsed and there's many lethal power weapons. In the left eye of the evil has a picture of Osama Bin Laden and George W. Bush in the right eye. The artist doesn't want to say that who was wrong but it proposes that both of these had more power and a war was happened that resulted was a large number of people died. And it was presented that although there're many heroes but they cannot help it. Because in the world has not a hero in fact. And humans have a passion and desires but there are people who can get be free from a devil which you can see from the painting of a persons who sitting in a lotus that releasing from the eyes, nose and mouth of an evil and soaring to the Buddha. It means, if you need this world is possible to be in peace, you should get the teaching of your religion (Not only Buddhism, every religions have good teaching) to use in your life.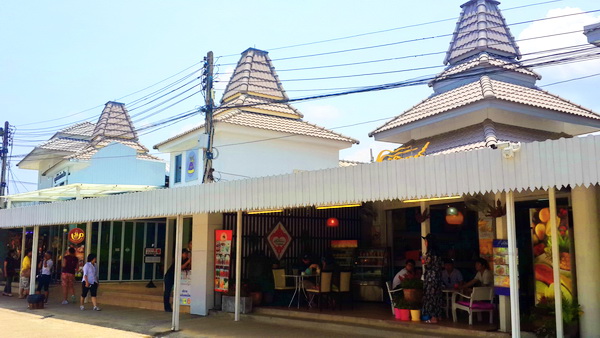 Why many commercialism of all the souvenir shops, ATM points and restaurants ? Someone said tourist trap !!!
Before the temple was established, originally this village was poor. So, the professor Chalermchai Kositphiphat who is the member of this village (His birth place) has created a community store to expect there's not poor people in his village! The payment was collected from the villagers which sharing together to jointly sell the local souvenirs and foods. The professor also designed and built all shops for free. He / Temple does not expect any profit, he just need to requite his community and his villagers as well.