Singha Park: 'Sip a cup of tea in the middle of mountains.'
How about spending your holidays with sipping a cup of tea in the middle of mountains at Singha Park Chiangrai? Won't that be nice? 
Singha Park Chiangrai is another tourist attraction that you shouldn't miss. Get ready and rush there fast, or you will regret it later!
Singha Park, owned by Singha Corporation Co.,Ltd , is the agricultural tourist attraction in Thailand. The whole park is billions square metres large. It consists of many zones, all of which you can enjoy your days in the middle of nature.
In fact, Singha Park was named as 'Boon Rawd Farm' before. It has been open for business since 2011. There are many species of agricultural plants being grown inside, for examples, tea, strawberry, pumpkin etc. There are some animals like cows, giraffes too.
As soon as you arrive at the entrance, you will see a giant-sized statue of golden lion, which is the symbol of Singha Corporation, for the first thing. This is the most  popular photography spot of tourists who visit the park.
If you want to tour the park, you can do it. The service fee is only 50 Baht per person. But children younger than 4 years don't have to pay for anything. Tour service is available everyday, from 9:30-17:00.
By getting a tour, you will be taken around the park to see all marvellous things and do all fun activities, for examples, animal feeding, fruit picking etc.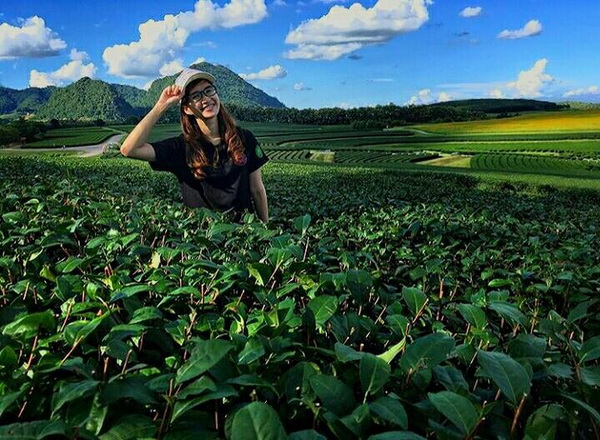 To repeat it again, the park is very very enormous. Therefore your tour will take quite a time to be completed. And here are the zones within the park. You may visit them all if you have enough time.
Cosmas Field&Swan Lake : There you will see colorful flowers all over you. You can pose like a fairy tale princess/prince and take some nice photos. Moreover, there are fruits and vegetables too.
Sunn Hemp and Heart Shaped Tree : See the beautiful yellow flowers and amazing natural heart-shaped trees.
Zipline Platform : If you are quite adventurous, then don't miss this zone. By visiting this zone, you will be hung on a sling and travel along it. You will be able to see nice scenery below. Don't worry. It is safe.
Fruit&Vegetable Garden : You will enjoy picking fresh fruits and vegetables from their lots. Also, let's see how farmers grow these plants.
Barn House Pizzeria(Zipline Tower) : Another spot for those who are adventurous. You will feel exciting with hanging on a sling from a 9-storied building and climbing an artificial mountain. On top of that, you will taste delicious foods and drinks too. The restaurant is available everyday, from 11:00-20:00.
Animal Attraction : Fall in love with all lovely animals like zebras, giraffes etc.
Sports&Recreation Centre : You can purchase some Singha-brand souvenirs at this spot. On top of that, you can rent a bike and ride it around. Drinks and snacks are also ready for service. The centre is available everyday, from 8:00-18:00. But on Saturday and Sunday, it will be open during 8:00-19:00.
Bhu Bhirom Restaurant : Have a nice meal of various types of foods, both western foods and Thai foods.
For further details, you may visit the official website www.singhapark.com . On the website, you will be able to purchase online products from Singha Corporation and see necessary information of all activities. Or, you can like the Facebook page 'Singha Park Chiangrai' to follow all important news.
How to get there 
Singha Park is located in Mae Kon, Muang County, Chiang Rai Province. 
You can get there by keep going along Pahonyothin Road and head for Chiang Rai downtown. Then, turn left into the road 1208, which is next to Wat Rong Khun. Finally, turn right at the junction 1211 and continue for another 2 kilometres. After that point, you will see Singha Park on your left side. The most comfortable way to get there you can contact Travel Agency in Chiang Mai or Chiang Rai, they can provide a private car with air condition for your group
Opening hours : Opens daily from 8 am until 5 pm.
Admission is :
– Cost of bike per hour 100 THB.
– There is no ticket charge for wandering.
– THB50 from farm tour for adult and THB25 for children.
Note : Wheelchair user is accessible