Mae Charim National Park 'Chill out and enjoy paddling a rubber boat.'
Let us introduce you another national park in Nan that is worthy of visiting.
Mae Charim National Park is about 432 square kilometres. It takes place in Mae Charim County and Wiang Sa County.
Its story started in 1994, approximately. Mr.Witthaya Hongwiangchan, the leader of Doi Phu Ka National Park, sent a document to Department of National Park, saying that there were plentiful forests located between Doi Phu Ka National Park and Sri Nan National Park. He said that the forests were worthy of turning into a national park. Department of National Park considered his document and agreed. Then the Department started to sent officers to explore the areas. They found beautiful trees and lots of wild animals and they were confident that there should be a new national park there. After passing reports to the Board and all necessary considerations from government organizations, Mae Charim National Park finally emerged.
Geography
The geographical features of the National Park consist of high mountains, extending from the north to the southwest, and Luang Phra-bang Mountains extending from the north to the south (and being used as the boundary between Thailand and Laos). The height of mountains lowers to the west. Doi Khun-lan, situated in the east of the National Park, is the highest mountaintop (1,652 meters above the medium sea level) where Wa River flows from Luang Phra-bang Mountains passing the west of the area for approximately 7.5 kilometers.
Flora and Fauna
The whole area has plentiful natural resources. There are rain forest, semi-evergreen forest, montane forest, pine forest, mixed forest, and deciduous dipterocarp forest. For animals, there are things like tigers, bears, and peacocks.
The landscape mostly consists of high mountains, from 300-1,652 metres higher than the sea level. The highest one is Doi Khun Lan, which is on the east of the national Park. The first shorter one is Doi Dan Din, about 1,558 metres high. The second shorter one is Doi Khun Nam Poon, about 1,530 metres high. The third shorter one is Doi Khun Khoon, about 1,307 metres high.
For the weather, there are summer, rainy season, and winter. The summer starts from March to May. The rainy season starts from June to October. The winter starts from November to February. Be sure to plan for your holiday perfectly and choose a proper season to travel, so that your trip won't ruined.
Tourist Attractions in Mae Charim national park
When you get there, the activity that you should NEVER miss is 'paddling a rubber boat in Wa Stream'. That is the most popular activity among tourists who get there.
The whole route for the boat paddling is about 19.2 kilometres. Now, that's a long way. Make sure to manage all your personal business, like going to a toilet, before you start the boat trip.
The start point is Ban Nam Poo in Mae Charim County. The end point is Ban Had Rai in Wiang Sa County. The atmosphere will be relaxing. You will wear a life jacket and paddle a rubber boat with your friends or family.(**Each boat can contain 8 people.) That will be fun. You guys will sail along a nice and quiet stream with green trees and mountains around. Ah, what a lovely scenery!
However, if the route is too long for you, there is another route which takes only about 15 kilometres. The second route starts from the office of the national park to The Elephant Camp or Ban Had Rai. It take 2-3 hours.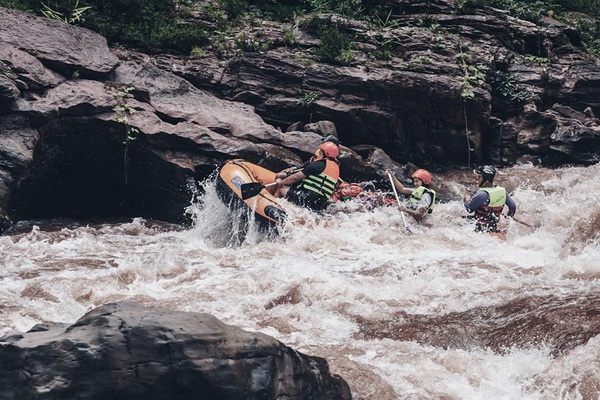 You can get to Mae Charim national park to enjoy the activity anytime, but not during flood season, as it will be too dangerous.
Beside of the boat paddling, another interesting activity is to go hiking. There are some hiking routes around the national park. The first route is 'Yod Pha Nho', where you will walk up to the mountaintop, which is about 824 metres higher than the sea level, and explore the cave. It takes about 8 kilometres and 6 hours.
Another route starts from the office of the national park to the edge of Wa River. It take only about 1 hour and 2 kilometres. It's perfect for those who can get exhausted easily.
The third route starts from Ban Nam Pang to Ban Rom Klao. It takes about 8 kilometres. This route is perfect for you if you want to see little birds of different species, as there are lots of them on the way.
After finishing all fun activities, you probably get sore. Let's get to the restaurant of the national park and find something to eat. It's open daily, from 8:30-16:30.
Admission Fee:
A Thai Tourist: 40 Baht(Adult) , 20 Baht(Child)
A Foreign Tourist: 200 Baht(Adult) , 100 Baht(Child)
Opening hours : Opens daily from 9 am until 5 pm.
Accommodations and facilities
Bungalow houses, camp ground, restaurant, and rest rooms are available.
Contact address
Mae Charim National Park, 5 Mu 5, Ban Huai Sai Mun, Nampat Sub-district, Amphur Mae Charim, Nan, Thailand 55170
Phone: 054-730 040 ~ 1
How to get there
There are 2 different directions to get to the national park.
1.) For the first direction, you can start your trip in Phrae. Try to drive pass Wiang Sa County and continue straight along Ban Lai Nan, Ban Boon Ruang, and Ban Na Sa. Then turn right to get to Ban Ta Kham, Ban Pa Koong, and Ban Huai Son. Then turn left to Mae Charim and reach for Ban Huai Sai Moon. Finally, just turn right again and get into the national park.
2.) The second route is about starting in Nan. You just have to cross Nan River Bridge and get to the Highway 1168. Then turn left and pass Wat Phra That Chae Haeng. Use the Nan-Mae Charim highway for about 38 kilometres. Then, from Mae Charim, you drive along the Highway 1243 for about 15 kilometres. Then you should reach Ban Huai Sai Moon. Turn left to get into the national park.
3) for more comfortable, information and enjoy your trip, we can provide the private tour package or the car rental with driver with the tour guide for your group.
Note : Not accessible for wheelchair user
Mae Charim National Park Map