Si Nan National Park 'See the beauty of mountains.'
Nan Province can never be forgotten, as it's a beautiful tourism town in northern Thailand. Many good spots to go can be reached.
If you have a family and are planning for something nice during your holidays. Then don't hesitate to go to Nan Province. Various tourism places are expecting you.
Si Nan National Park is a suggested place.
Si Nan National Park is a national park located in Nanoi County, Nan Province. Its beauty is well-known due to a series of mountains. There are many stunning nature zones and mountain areas to go and have a sightseeing. The first one you should see is Doi Pha Choo, which you can go to the top and watch the scenery of the flowing river below. The next is  Doi Samoe Dao and Hua Singh Cliff, which is perfect for seeing stars in the evening and camping. The most outstanding and highest one is Khun Huai, located in the north. It's about 1,234 metres high.
The geographical features of the National Park consist of high mountains, extending northwards, virgin forests, and major rain forests of Nan River, which are regarded as major water resources of people within Nan Province. The National Park is the dwelling place for a large number of wild animals and having major plants, tourist attractions and beautiful natural sightseeing spots on both sides of Nan River such as Sao-din and Cok-sua, Pak-nai, Kaeng-luang, Pha-choo, etc.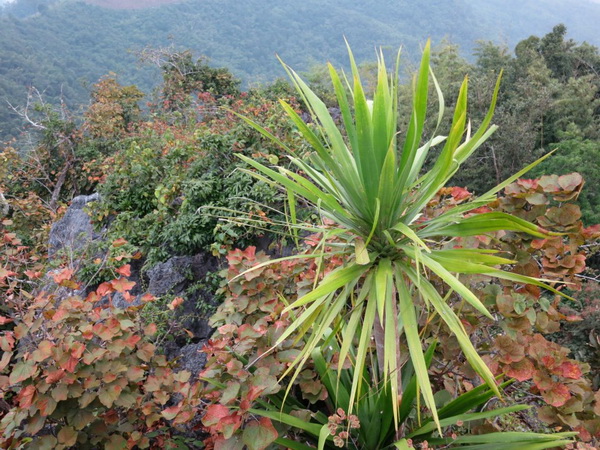 Geography
The geographical features of the National Park consist of high mountains, extending northwards. Major mountains include Doi Prae-muang, Doi Khun Huai Heuk, Khun Huai Ya-sai, and Doi Luang. Doi Khun Huai Heuk, situated in the northern part of the National Park, is the highest mountaintop (1,234 meters above the medium sea level) and being the source of major gullies, flowing southward into Nan River. The National Park has natural water sources and major gullies including Khaning River, Sa River, as well as other small gullies.
Climate
The weather at the National Park can be divided into 3 seasons including summer (February-April), when the weather is extremely hot; rainy season (May-October), when it rains moderately to heavily; and winter (November-January), when the weather is extremely cold. There are thick banks of clouds in the rainy season, particularly during July and September and thin banks of clouds during January and March.
Flora and Fauna
Since the geographical features of the National Park consist of high mountains, there are two major kinds of forests within the area of the National Park, including deciduous forests such as arid, evergreen forests, virgin forests, pinery, of which major plants include Irvingia Malayana Oliv. (Krabok), Anisoptera Costata (Krabak), Malabar Ironwood, rubber trees, teaks, Leguminosae (Pradoo), Afzelia Xylocarpa Roxb., Indian Mahogany, two-leaf pines, three-leaf pines, etc.; and leafy forests such as mixed forests, timber forests, of which major plants include teaks, Xylia Xylocarpa (redwood plants), Leguminosae (Pradoo), Dalbergia Oliveri Gamble (Ching Chan), Millettia Pendula (Ka-jaw), Sathorn, Anogeissus Acuminata Wall. (Takien Noo), Afzelia Xylocarpa Roxb., Lagerstroemia (Tabaek), Vitex Pinnata Linn. (Teen Nok), etc.
Wild animals found in the National Park include deer, wild boars, bears, tigers (felis tigris), leopards, gibbons, loris, Asiatic wild dogs, foxes, mouse deer, masked palm civets, fishing cats, rabbits, tree shrews, squirrels, different kinds of birds, reptiles, and amphibians, which can be found in the natural water sources.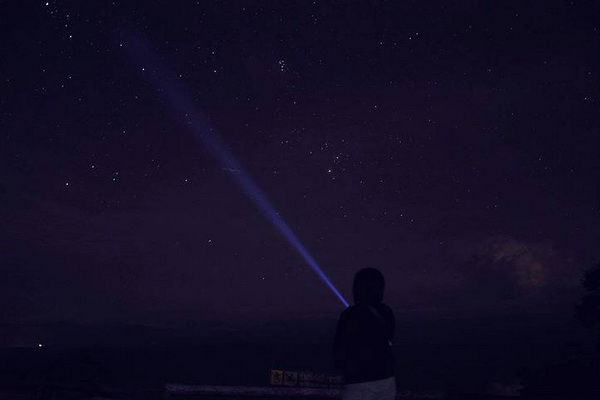 Tourist Attractions at Si Nan National Park
Doi Pha Choo : Doi Pha Choo is a large, towering cliff where you can overlook the forests and Nan River extending tortuously along the lower plains
Enjoying the beautiful Nan River : It is a route intended for being a traveling route in the national park about 60 kilometers. Visitors can enjoy sceneries of mountains, sea of fog, evergreen forest, and many kinds of wild animals.
Kaeng Luang Nam Nan : Kaeng Luang originated from stone lines, rocks, and cliffs along Nan River. In the rainy season, you can hear the roar of streams hitting the rocks. In the dry season, you can see beautiful stone lines and rocks scattering the area.
Pak Nai : Pak-nai is one of the most beautiful sightseeing spots of the National Park, originating from the largest flooded area above the Sirikit Dam in Nan Province, surrounded by freshwater fishermen villages.
Sao Din Na Noi : It occurred from the movement of the earth's crust during the late Tertiary Period and the natural erosion of water and wind.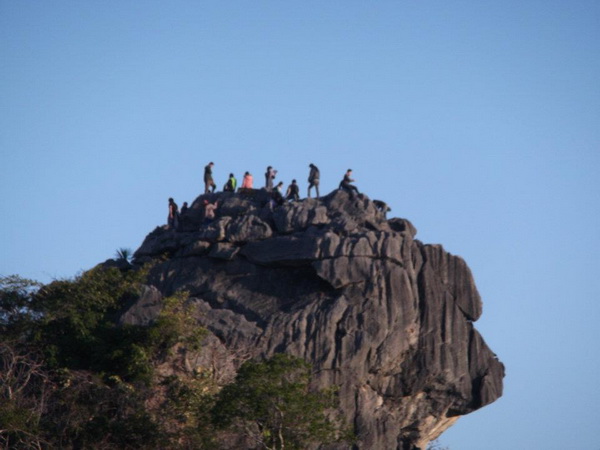 Si Nan National Park is a good place to go camping with your family. Let's set up a tent and sleep in the middle of nature. For further details about camping, you may contact srinan_13@hotmail.com.
Facilities
Camping area is available but tourists have to take their own tent and equipment. There are shops selling foods.
Contact address
Sri Nan National Park P.O.Box 14, Amphur Na Noi Nan Province 55150
How to get there
It will be most convenient to travel there by a car. You just have to pass Nakhon Sawan, Phitsanulok, and Phrae. Then use the Highway 101 until you reach Wiang Sa County. Then switch to the Highway 1026. Finally, switch to the Highway 1083. Keep going for about 5 kilometres and a little further. You will reach the office of the national park in no time or for more comfortable, you can contact us to provide the car rental with driver. Do not worry for getting lost.
Opening hours and Entrance fee : Opens daily from 9 am until 8 pm. Admission is 20 THB for a Thai adult, 10 THB for a Thai child, 100 THB for a foreign adult, and 50 THB for a foreign child.
Note : Wheelchair user is accessible for some place