Wat Phra Yuen 'See the Lord Buddha statue standing there.'
Many beautiful temples in Lamphun are waiting to be seen by you. Temples aren't only religious places that people can practice Dhamma or make merit. But temples are also good learning resource for those who want to to know history better. As most temples in Thailand, including Lamphun, are very old, therefore we should find something that can remind us the stories from the past, more or less.
And Lamphun itself is a popular tourism town. There are plenty of old temples, of course, including this following one. Let's visit Wat Phra Yuen.
In the year 1369, Phra Sumon Dhera was invited by Phaya Kue Na, from Sikhothai to Chiangmai. He spent his nights at Wat Phra Yuen. That's what the legend says.
The word 'phra' here means 'Lord Buddha statue' in English and 'yuen' means 'stand'. Now you may quite understand where the name came from. Yes. There are Lord Buddha statues of the standing manner at the temple, all of which you should pay respect to.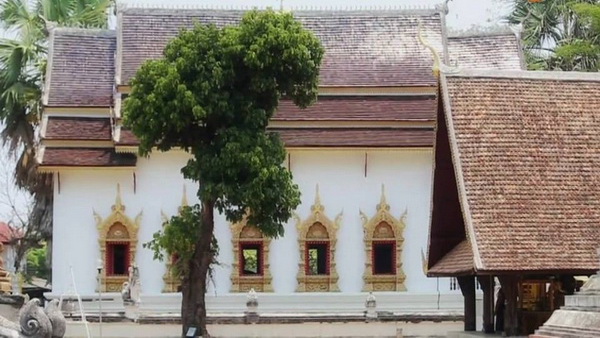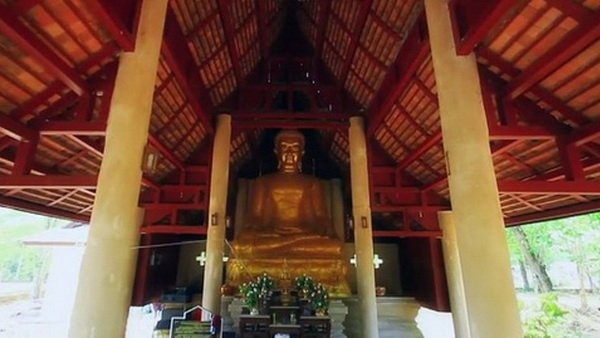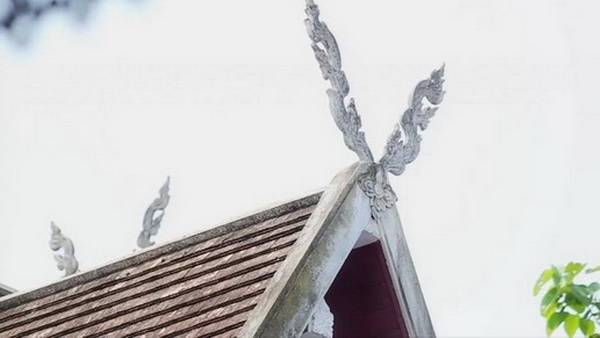 Wat Phra Yuen has a chedi (stupa) with a large square base and four tall standing Buddha images in arched niches. Elderly residents have recorded that the original structure at the site of the present chedi was a mondop(the Thai term derived from Sanskrit maṇḍapa meaning a pavilion and denoting a small square temple building used to house minor images or religious) with a pinnacled wooden roof (themondop in the ubosot or ordinational hall of Wat Phra Singh in Chiang Mai is believed to be a loose copy of this vanished structure).
Wat Phra Yuen is believed to be the former Wat Aranyikaram  built by Queen Chamathewi in 1209 B.E. (666 A.D.). Subsequently, in 1606 B.E. (1063 A.D.), King  Arthitayaraj ordered to cast a standing bronze Buddha image to be established at the rear of the viharn together with changing the name of this temple to Wat Phuttharam.
The structure had four standing Buddha images twice the height of the present ones. The chedi was rebuilt in a Burmese-style at the beginning of last century. Below is the inscription in front of the old chedi at Wat Phra Yuen.
There are 4 of the statue. All of them are located in the rugged white vihara, the one with a pointy roof. You have to walk along the stairway to get up there. The site may look so old, but surely it's valuable and still beautiful anyway.
How to get there
Wat Phra Yuen is located in the heart of Lamphun. If you walk through the covered bridge opposite Wat Phra That Haripunchai and then continue down the road for about 10 minutes. Cross the main road you reach and the temple is straight ahead. This is a pleasant walk or cycle and the wat is well worth a look. You can find that on the opposite side of the town office.
If you have a car, just drive from Doi Tee Junction and continue for about 4 kilometres. That should lead you to the heart of the province. When you find your way to turn to the town office, just do it and keep the same path for about 500 metres and if you do not have car, you can contact us to arrange the private to package which suitable for your group or you can book the car rental with driver to manage your own plan.
Opening hours : Opens daily from 8 am until 6 pm.
Admission fee : free
Note : Wheelchair user is accessible