Wat Phra That Doi Leng 'Panoramic view from a temple on a high mountain'
In case you're looking for a temple in the middle of woodland that is full of relaxing atmosphere, then this one should definitely full-fill your need. It's Wat Phra That Doi Leng in Phrae Province, Thailand.
Wat Phra That Doi Leng is an important temple of Phrae. Why is it good for a family to spend a holiday together? Well, first of all, the temple is located on a high mountain. A nice and stunning scenery is guaranteed for you. You will see a series of hills and the town of Phrae from a great distance.
There aren't legends that can tell the exact date or year of when the temple was established. Anyway, there's a story saying that Phra That Doi Leng was built along with Phra That Cho Hae and Phra That Chom Chaeng. Long long time ago, Lord Buddha himself travelled to a mountaintop and take a look at the town below. With that, he thought that the town looked joyful and worthy of inhabiting. Therefore, the mountaintop has been called 'Doi Leng', as the word 'leng' comes from traditional Thai northern language, which means 'staying and taking a look'.
If you have elderly parents, you can get them out of your house and take them to fill their lungs with sweet air at the temple instead. This temple is totally awesome. Beside of Lord Buddha statues and the white pagodas that you can pay respect to, there are also terraces where you can go stand and sit, inhaling the sweet air, having a sightseeing, and taking lots of nice photos.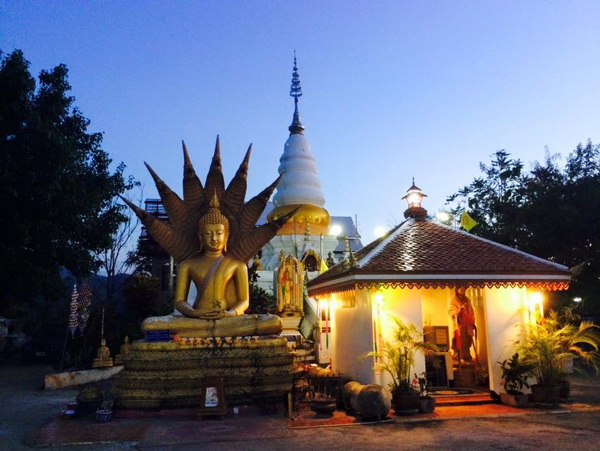 Anyway, this temple may not be good for those who have heart diseases or problems with breathing, as the temple is on a high area and, as we all know, the air is quite light on high areas. Therefore it can cause you to be extremely exhausted.
How to get there
Wat Phra That Doi Leng is located in Cho Hae District, Muang County. To get there, you just have to start from the southeast side of Phra That Cho Hae and keep going for about 3 kilometres. Or you can just start from the northeast side of Phra That Chom Chaeng and keep going for about 4 kilometres instead. You need to drive carefully, as the road should be steep and rough, if you still worry for getting lost, we can provide the private tour package for you.
Opening hours and Entrance fee : Opens daily from 8 am until 5 pm. Admission is free.
Note : Wheelchair user is accessible for ground temple.
Wat Phra That Doi Leng Map