Wat Phra That Intr Kwaen in Phrae 'See the large golden-coloured rock and pagoda.
Speaking of temples with stunning architectures, surely we can never forget Wat Phra That Intr Kwaen.
Yes. Wat Phra That Intr Kwaen may ring a bell to you. That's right. In fact, Wat Phra That Intr Kwaen is a temple in Myanmar, which has a golden large pagoda on a large golden rock. And the rock is on an edge of a cliff.
In Thailand, there are still many Phra That Intr Kwaens, for examples, the one in Lamphun and another one in Phrae, as they just resemble the real one in Myanmar. They all have large golden rocks with golden pagodas on top. But, here, let's focus on the one in Phrae.
Wat Phra That Intr Kwaen in Phrae is a kind of forest monastery, as it's surrounded with a series of high trees. This can make you feel comfortable and relaxing.
You can walk around to have a sightseeing. There are walking paths under tree shades and a small white vihara with Naga-shaped handrails. You can take a lot of photos and admire a series of Lord Buddha statues. It's just perfect. Do you believe that this place is considered as one of the 7 ozone areas of Thailand? That means the sweet and clean air is guaranteed up there! Forget about pollution you've seen before and just inhale deeply instead.
However, to see the golden stone and the golden pagoda, you will have to walk upward along a 200-metre stairway. That may be a little bit exhausted for those who have heart diseases. Therefore, if any of your family members not in perfect health, maybe you should let them wait for you below. That will be safer.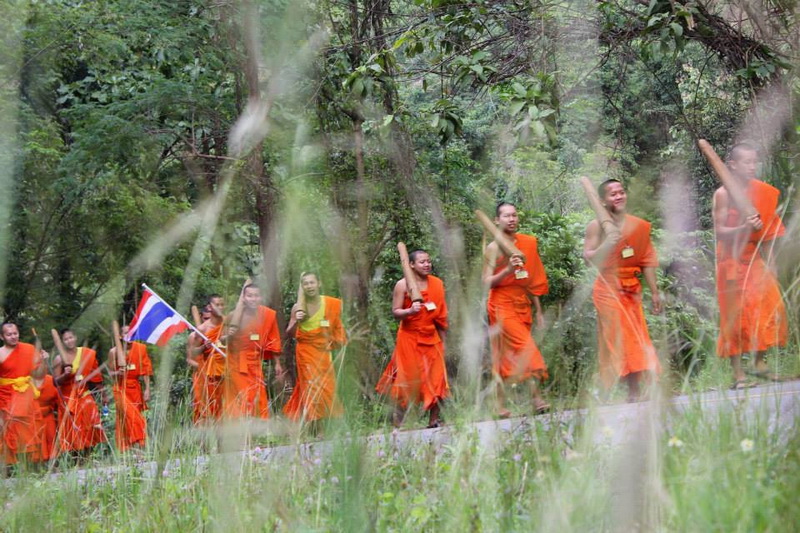 The golden rock and the golden pagoda up there is really stunning. It will be perfect if a whole family get there together. You guys can take photos togethere and make some wishes. Beside, you will teach your children to see how beautiful the site is. That will do good to their learning opportunities.
Beside of the golden rock and the golden pagoda, there is also a footprint of Lord Buddha, which you should take your children to see to. That's very valuable. Nearby the footprint, there is a tablet telling you the praying words for worshipping. You and your family can pray together as your good fortunes.
How to get there
Wat Phra That Intr Kwaen in Phrae is located in Mahabhodiwongsachariyaram Centre, which is a Dhamma-practicing centre, in Muang County. It's not difficult to get there. You just have to drive along the Highway No.101 and switch to 1101. It's just the same route to Phra That Cho Hae, only that you have to turn left to Ban Tung Hong before you reach Phra That Cho Hae. Then turn right to the Highway No.1024. Then just keep following the signs until you reach the temple, for more enjoy and comfortable in your trip, you can contact us to book the car rental with driver to you.
Opening hours and Entrance fee : Opens daily from 8 am until 5 pm. Admission is free.
Note : Wheelchair user is accessible for ground temple.
Wat Phra That Intr Kwaen in Phrae Map