Doi Pha Klong National Park 'Take your children their during their school holidays!'
A national park is a good place to go with your family, including your children. They should love beautiful and relaxing it is. They can stop their minds from stressful studies with trees and mountains.
So, what are you waiting for? Let's visit one. If you don't know which one to go, then take this one. Doi Pha Klong National Park.
Doi Pha Klong National Park is quite large. It's about 188.77 square kilometres. The area mostly consists of high mountains. There are rocks on some parts. Woodlands around there are plentiful. There are two different types of woodlands there, consisting of mixed forest and deciduous dipterocarp forest.  There are many species of trees, mostly important to Thai economy. There are lots of animals too, mostly small ones like birds, fishes, deers, rabbits etc. All of these create impressive images. Be sure to maintain these impressive images when you get there. Be friendly to nature. Teach your children to love nature, so that people of later generations will have their chances of admiring the beauty of nature.
Geography
The landscape is of high steep mountains laying from north to south. Some areas are plains on mountains with stones naturally coming out from the ground.
Climate
According to its high mountain ranges geography and its diversity of plant, the weather climate of Doi Pha Gong National Park is generally cold particularly in Winter Season which average temperature is 8-12 degrees Celsius. In Summer Season, average temperature is about 30 degrees Celsius. Rainy Season started from May to October which everyday is often raining.
Flora and Fauna
Most of the area is mixed deciduous forest inserted with dry evergreen forest and Dipterocarp forest There are rare and nearly extinct wild animals e.g. mountain goat, barking deer, black bear, warthog and various birds. In the streams in the forest, there are many kinds of small fish, reptile and amphibian found.
Tourist Attractions at Doi Pha Klong National Park
Erawan Cave 

: Erawan Cave not far from Kangluang is also a place of interest. Erawan Cave is regarded as a wonderful place. To visit this cave, you must cross the Mae Yom River and go on foot, climbing about 200 metres up the mountain. It is like a wide hall with a high ceiling and beautiful stalactites and stalagmites. One huge rock looks like the Erawan Elephant. Standing at the entrance of the cave, it is cool and comfortable. Apart from Kangluang and Erawan Cave, if you cross the Mae Yom River and walk for 2 kms, threr is a range of hilltribe villages, such as Lisu and Akha. The fascinating hilltribe culture includes costumes, music, dancing, crafts and ghost gates.

Chan Pha Cave 

: It's a huge bat cave with lots of bat's dung, located on the north of stone garden. It's one of the beautiful cave decorated with stalactites

Hin Pakarang Mountain 

: Hin Pakarang Mountain is a very beautiful limestone mountain which the National Park Office builds a route for traveler to enjoy scenery full of Chunpha (Dracaena sp.) along the route. The limestone in the area haas been carved by nature look like Khunming Rock Garden in China but it is smaller.

Kaeng Luang 

: A leading attraction, Kaeng Luang is located in Tambon Ban Pin, Long district. To get there, go on the Phrae-Lampang road for about 50 kilometres, then take a right turn at Km.69 and continue on for another 7 kilometres. The scenery is lovely and amid the Yom river are rocky formations which create fast-flowing rapids. On the other side of the river, which can be crossed by ferry, and with a 100-metre walk uphill, will be found the Erawan Cave adorned with elephant-and-female-shaped hanging and protruding crops of rock.

Suan Hin Maharaj 

: Tham Jan Pha (cave), Phukhao Hin Pakarang (coral mountain) or Rong Hin Taek (cracked rock chanel). There are 2 nature trails: At Suan Hin Maharaj and Phukhao Hin Pakarang. Hiking in the woods, visiting caves, camping, sighting birds, rafting and cycling among the nature are the interesting activities.
Hiking in the woods, visiting the caves, camping, bird watching, rafting and cycling are some of the activities.
Everyone in your family can enjoy a lot of activities at the national park. First of all, there are caves and woodlands, of course. You may want to take some members with perfect health, leading them to an exciting exploration. Don't forget to bring a camera with you too. The scenery at the national park is really great. You can even create a nice VLOG just for fun or for your blog.
You can also have a nice picnic. It will be relaxing to eat your favourite dishes in the middle of lovely nature. But just always keep the area clean.
On top of that, you can even set up a camp. There are camping grounds for tourists. Get your own tent and have fun! There are bathrooms and toilets, don't worry. Restaurants are also ready. For further details, you may contact reserve@dnp.go.th.
Facilities
A bungalow is available at the headquarters area. A camp ground, rest rooms and food services are available near the headquarters. There is another camp ground, rest rooms and visitor center in Hin Pakarang mountains. Please contact the park for a map and information.
Contact address
Doi Pha Klong National Park
Taphamok Sub-district, Amphur Long, Phrae, Thailand 54150
Phone: 054-501 145
Doi Pha Klong National Park is accessible and affordable for your whole family. The admission fee only costs 20 Baht for a Thai adult, 10 Baht for a Thai child, 100 Baht for a foreign adult, and 50 Baht for a foreign child. You can have your best holiday ever there.
How to get there
Doi Pha Klong national park is located about 20 km from the town of Prae. Take the route Phrae – Long (highway no. 1023). The park office is on the highway for more comfortable and information you can contact us to arrange the private tour package 2 days 1 night for your group.
Opening hours and Entrance fee : Opens daily from 5 am until 7 pm. Admission is free
Note : Wheelchair user is accessible for some place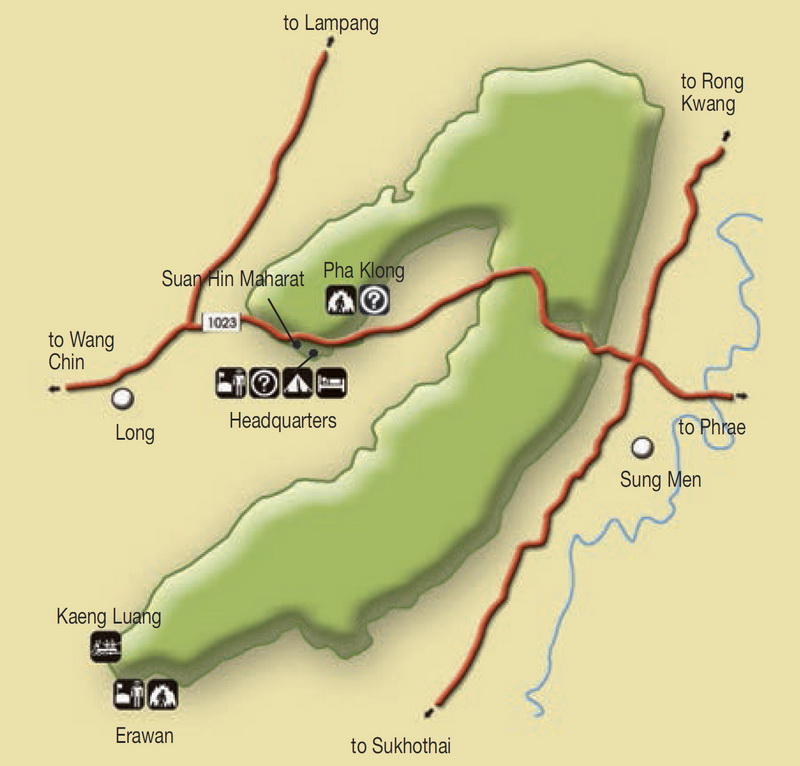 Doi Pha Klong National Park Map