Ban Thung Hong 'Get your family, take off, and shop for Mo-Hom costumes!'
After you have been dressing in modern-styles costumes for many years, are you interested in dressing in traditional costumes for a while? Traditional costumes are cute, gorgeous, and valuable, including this following type of costume.
Do you know Mo-Hom? If you don't, Mo-Hom is a type of traditional blue-dyed  fabric, which has been famous in Phrae Province of Thailand. It's beautiful, unique, and worthy of possessing.
At Ban Thung Hong, it's a place where you will find a lot of artworks made of Mo-Hom. You can never miss it. It's one of the three leading Mo-Hom manufacturers in Phrae: Ban Phra Luang, Ban Wiang Tong, and Baan Thung Hong.
Just go, and you will see a lot of shops selling Mo-Hom costumes, which you and your family should buy some and dress in those costumes together. Don't forget to take photos too. That will be cute. In fact, it's said that, if you don't buy any Mo-Hom fabric when you're in Phrae, then you don't arrive at all.
Mo-Hom is not just the logo of Phrae Province, but it also brings large amounts of income to Baan Thung Hong. It keeps the economy is good state.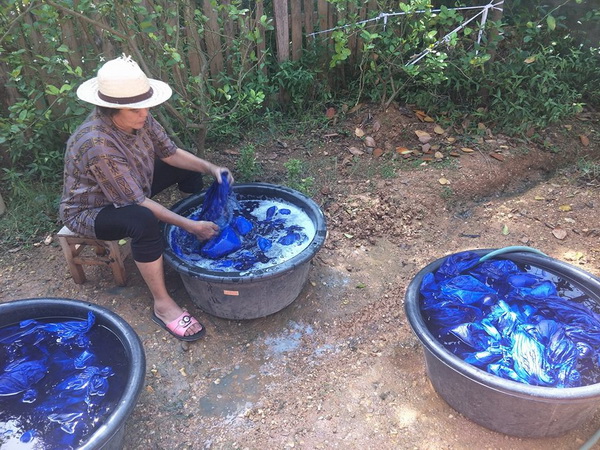 Those shops at Ban Thung Hong contain many styles of Mo-Hom costumes: dress, blouse, shirt, trousers, skirts etc. You can shop for your style as much as possible. Mo-Hom can be worn with modern-styled costumes, as long as you know your way to adapt it properly The prices are also affordable. Don't worry.
How to get there 
Ban Thung Hong is located in Muang County of Phrae. They're just about 4 kilometres away from each other. You just have to drive along the Highway No.101. Reach for Yantrakitkosol Road and keep going for another 5 kilometres, if you still worry for getting lost, we can provide the private tour package for you.
Opening hours and Entrance fee : Opens daily from 7 am until 5 pm. Admission is free.
Note : Wheelchair user is accessible