Pae Muang Pee 'Visit natural phenomenon caused by soil erosion'
If you and your family are looking for some place that is quiet, natural, relaxing, and peaceful to spend a long holiday together, then you will want to visit this following one in Phrae. It's something that you're going fall in love with.
Pae Muang Pee Forest Park, it's just good for people of all ages, even small children and elderly people.
Pae Muang Pee Forest Park is a kind of national park. Well, not exactly as a national park, but it's quite similar anyway. The place is mostly surrounded with rock cliffs and lands of orange-brown color, just like Grand Canyon. There aren't many trees, but the atmosphere is still good.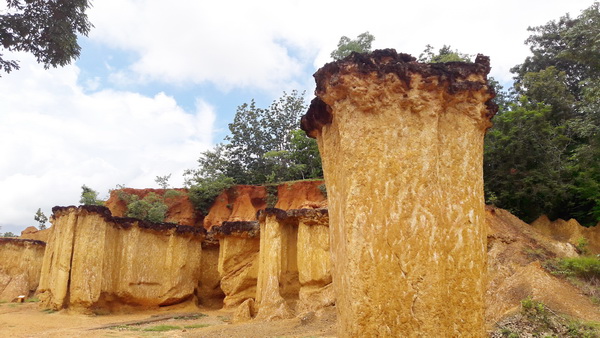 The origin of Pae Muang Pee landscape caused by eroded dirt and sandstone. The landscape appears as many shapes. It's quite large, with about 267,200 square metres area.
There aren't certain historical stories of this place. However, people have been saying, the place was once a beautiful green area, full of trees and animals. There was a grandma named 'Grandma Soom'. Grandma Soom tried to pick some fruits and vegetables as her food, but she lost her way and found piles of silver and gold instead. She put gold and silver in her sack and tried to take them home. But those gold and silver mysteriously disappeared from the sack after she got home. Nobody knew why. Later, the place was named as 'Pae Ya Soom Kad Rao' (***'ya' is the Thai translation of 'grandma'). But it was finally changed into 'Pae Muang Pee'.
If you take your family to Pae Muang Pee, there are many activities that you can enjoy. First of all, you will want to explore those natural surroundings. There are several paths of nature exploring for tourists, provided by the authorities. Anyway, this activitiy is only good if you're in perfect health. It's not suitable for small children and elderly people, as they can get exhausted easily due to their illnesses or physical conditions.
If you don't want to walk a lot, then you can just put your mat on the ground and have a leisure picnic with your family. This is perfect for elderly people and small children. They won't get exhausted. Beside of this one, you can take lovely photos together.
How to get there 
Pae Muang Pee can be reached by following the Highway No.101. It takes about 7 kilometres from the heart of Phrae. After driving for 7 kilometres, you should find your way to turn right. Just turn right and continue straight for about 3 kilometres.
If you don't have a car, you can just hire a vehicle at Phrae Transport Station or a motorcycle or you can contact us to arrange the private tour package for at least 2 days 1 night.
Opening hours and Entrance fee : Opens daily from 9 am until 5.30 pm. Admission is free
Note : Not accessible for wheelchair user