Nong Bua Temple 'See the gorgeous murals.'
Another temple in Nan Province that you should visit, is Nong Bua Temple.
Nong Bua Temple is an old temple, located in Pha Kha District, Ta Wang Pha County, Nan Province. It's in the middle of Tai Lu inhabitances. Now, that's interesting. When you visit thie temple, you're not going to just make merit or walk around, but you should feel the smell of Tai Lu culture too.
It it believe that the temple was built in 1862 by Kru Ba Luang Sunanta and Ban Nong Bua villagers. It's decorated in Thai Lanna style, which is very rare nowadays.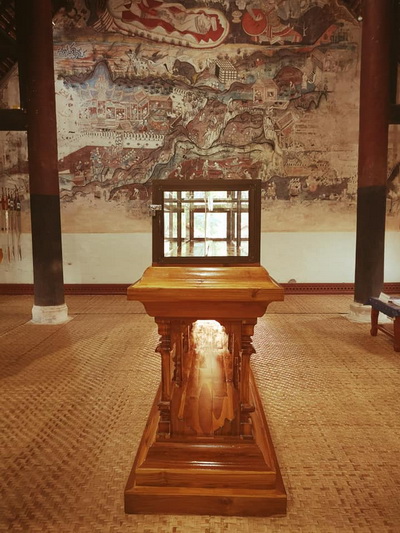 There aren't certain historic stories of Nong Bua temple. However, we may be able to interpret things from the murals in the temple. There are murals of steamboats and foreign soldiers on the northern wall. And, according to the history, steamboats originated in Europe and America. In Thai history, it says that steamboats first came in Thailand since the period of King Rama 4. That means, the murals and the temple itself probably developed around the period of King Rama 4 or King Rama 5.
If you want to see those murals, go inside the vihara and feast your eyes with them. They're gorgeous and rare. They aren't just art pieces, but also mirrors that reflect lives of people in the murals. If kids nowadays have a chance to see these, it will be good to their imagination and learning procedure. The murals may be torn and rugged, but they're still valuable. They're the highlight of the temple. Beside of the murals of steamboats and soldiers, there are also murals of Buddhism.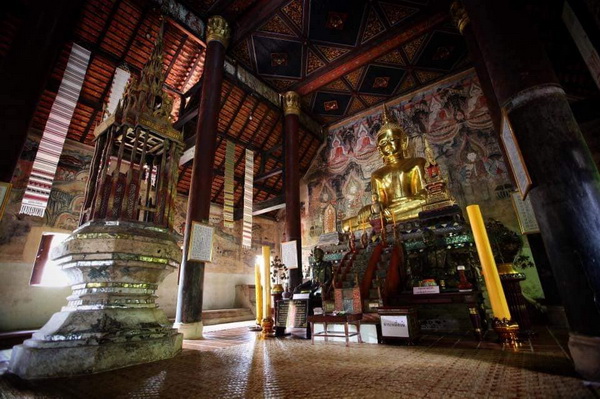 Beside of the murals, you will want to pay respect to the principle Lord Buddha statue, for your own good fortune. Then admire other smalls Lord Buddha statues. Beside, the scenery around the temple is nice. You may wander around and take some photos.
But that's not the end of that. On the backside of wat Nong Bua, there's a Cultural Service Centre, which is well-known for selling hand-weaved fabric of Nan's local villagers and showing local utensils. Therefore, before leaving the temple, you will want to explore the centre for a little bit and buy some products as your souvenirs.
How to get there
If you have your own car, first you should start from Ta Wang Pha Hospital. Look for the Highway 1080. Head for Muang County. Before reaching Nan River Bridge, you should turn right and continue straight for about 1 kilometre. Then turn right again at the intersection. Continue straight for about 500 metres. Finally, turn left and Rong Bom Junction, cross the bridge and keep going for the last 3 kilometres.
But if you don't have a car, you may get a truck that takes you from Nan to Pua or a bus that takes you from Nan to Pon. Get off at Ta Wang Pha Market. Then hire a motorbike to take you to the temple. For more comfortable, we recommend you to travel by the car rental with driver which most hotel and travel agency in Chiang Mai or Nan can provide it for you.
Opening hours and Entrance fee : Opens daily from 5 am until 7 pm. Admission is free.
Note : Wheelchair user is accessible for ground temple.