Khun Sathan National Park 'See how gorgeous the thick fog of Doi Mae Chok is.'
During 1998, National Park Centre in Nan sent a document to Royal Forest Department, saying that they found plentiful areas of Huai Mae Kaning Forest, Nam Sa Forest, Sakorn Forest, and the right-side forest of the southern Nan River. They believed that the areas were able to be developed and changed into a great tourist attraction. After all, the whole area was very large. Therefore, they asked Royal Forest Department to sent officers to the areas, in order to survey and start the development.
Geography
Sloped complex mountainous laying north to south. The mountain ridge of Doi Prae Mueang separates boundary between Phrae and Nan provinces. There are many of rivers and streams such as Nam Sa, Nam Tha, Nam Haeng Nam Mae Sakhon etc. Main Mountain are Doi Ku Sathan with 1,630 m high, Doi Mae Chok with 1,424 m and the highest is Doi Phukha with 1,728 m high above msl.
Climate
There are 3 seasons, summer runs in March to may, rainy season runs in June to October and cold season runs in November to February. Average rain amount per year is 1,194 ml. Temperature reaches maximum in may with 30oC and dropping at 22oC in January. Year average temperature is 27oC
Flora and Fauna
Hill evergreen forest is on mountain ridge over 1,000 m above msl, plant species found as Garcinia speciosa, Michelia floribunda, Symplocos sp.,Styrax sp., and Cycas pectinata. Pine forest spreads on summit of the mountain about 1,300 m high from msl, plant species found as Pinus kesiya, P. merkusii, Dipterocarpus obtusifolius and Shorea roxburghii. Dry evergreen forest spreads mostly of area with moist condition forest, wild and wooly, plant species found as Dipterocarpus costatus, Chukrasia tabularis, Turpinia cochinchinensis, Syzygium aqueum, and Ziziphus oenoplia. Mixed deciduous forest spreads mostly of area which highs 250-1,000m above msl, plant species found Pterocarpus macrocarpus, Dalbergia oliveri, D. cultrate, Terminalia alata, Lagerstroemia spp. etc. Dry dipterocarp forest spreads on mountain ridge in the range of 700-1,000 m above msl, plant species found Dipterocarpus obtusifolius, Shorea obtusa, S. roxburghii, S. siamensis, Buchanania lanzan etc. Moist Evergreen forest found along the edge of streamline through the area but not large area, plant species as Hopea odorata, Toona ciliate, Cinnamomum iners, Knema globularia, Duabanga grandiflora etc. Wildlife found as Indo-chinese tiger, Asiatic black bear, sambar deer, wild boar, civet, birds etc.
Now, it's just what you see. It's a beautiful national park full of greenery, water sources, forest areas, and animals. For forests, there are…
1.) Montane Forest, which will be found along mountain ridges that are about 1,000 metres high. Take Doi Khun Huai Ya Tai and Doi Khun Hua Hok as examples.
2.) Mixed Forest, which is the most common one. It can be found at most areas that are 250-1,000 metres high.
3.) Pine Forest, which can be found on mountaintops that are about 1,300 metres higher than the sea level. Take Doi Chuang Prasat a d Doi Phrae Muang as examples.
4.) Deciduous Dipterocarp Forest, which can be found one mountain ridges that are about 700-1,000 metres high.
5.) Semi-Evergreen Forest, which can be found in regular areas, but not large areas.
For animals, there are lots of them, for examples, wild deers warthogs, monkeys, tigers, wild rabbits, birds, frogs, fishes etc.
Tourist Attractions at Khun Sathan National Park
Doi Ku Sathan : It is the mountain with about 1,630 m above msl. There is an astonishing scenery viewpoint. Chilly temperature trough the year.
Doi Mae Chok : Doi Mae Chok scenery view point and holiday place. It is the summit of the mountain with 1,424 m high above msl, chilly all year long. Complex mountainous is charming, able to see the beauteous of rising sun in the morning with foggy in the large valley.
Khun Li Waterfall : Large sized waterfall with about 100 m high. It is on Doi Ku Sathan, inconvenient to get there, have to walk pass slug before get to the waterfall
La-ong Cave : The large sized cave with the length about 1.8 kms. Inside the cave stream and astonishing beautiful stalagmite and stalactite.
Sirikit Dam : Sirikit dam with beautiful of nature and scenery view of the dam, enclosing with laying straight hill range. Sometimes found the herd of fish among clear water. Able to use a raft to get there
Tat Mok or Bansan Waterfall : Large sized waterfall with 3 levels; total high is 50 m. it is on Doi Mae Chok that is about 3 kms far away from the village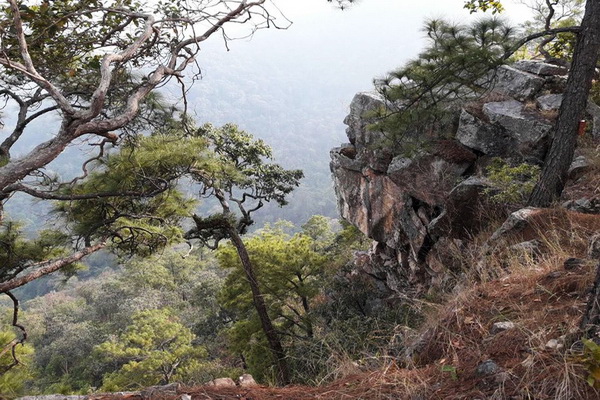 It's a great place to spend your holiday, of course. You will love th scenery of high mountains around you. The mountains' heights start from 120-1,726 metres. The highest one is Doi Phu Ka. The first shorter one is Doi Khu Sathan, about 1,634 metres. The second shorter one is Doi Mae Chok, about 1,469 metres. The third shorter one is Doi Chuang Prasat, about 1,193 metres. With all these, you will get stunning photos.
If you want to know your activities when your arrive at the place beside of taking photos, well, the most suggested one is having a camp. You can set up your own tent or just book a shelter. We repeat, you have to book your shelter, or it will be full-up when your holiday is near. There is  restaurant too, but you have to book your seat ahead.
But, for your best convenience, you should prepare some instant food for yourself too, in case you get hungry in the middle of night. And, we suggest you to set up your own tent, as it will get you closer to nature and you will learn how to live in the middle of nature.
Don't worry about internet signal. There are internet signals from different companies available at the national park: AIS, TRUE, DTAC, and lots more. Don't be afraid that you're not going to be able to upload your photos to social media sites.
Sleep in the middle of mountains and be happy. Don't forget to wake up early in the morning to see the beauty of the thick fog around Doi Mae Chok.
For further details, you may contact ksnp_13phrae@hotmail.com.
How to get there
Khun Sathan national park takes place in Na Muen County and Na Noi County. There are two different routes to get you there.
1.) You need to find the Highway 101(Yantrakijkosol Road) and keep going straight. The road will take you from Phrae to Nan. Within 50 kilometres, you will reach Huai Kad Village. That's where you should turn right to get to the Highway 1216. Then, drive for another 26 kilometres and you will reach the temporary office of the national park.
2.) The second method is to start your journey from Nan itself. Just look for the Highway 101 like the first method. Try to reach for Wiang Sa County. Then turn right to get to Chao Fah Road. Within 35 kilometres, you should reach Na Noi County. Then, after reaching Na Noi County, just turn right to get to the Highway 1216. Keep going for another 31 kilometres and you will reach the temporary office of the national park.
3) Most hotels or Travel Agency in Chiang Mai and Nan will be able to book the car rental with driver or the private tour package for you.
Opening hours and Entrance fee : Opens 24 hr. Admission is free
Note : Wheelchair user is accessible for some place
Khun Sathan National Park Map