Mahathat Chedi Sri Wiangchai 'See the largest pagoda in Thailand.'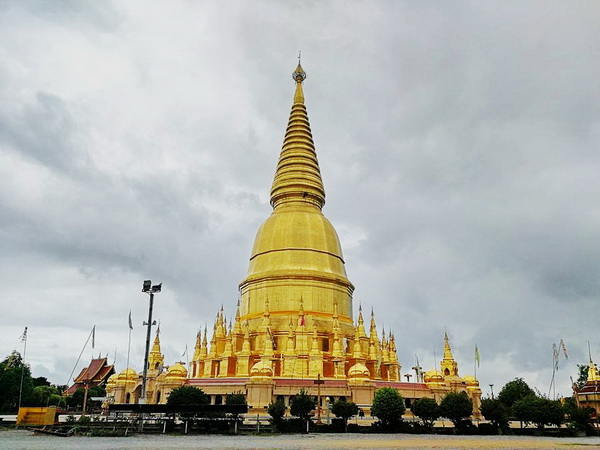 There are many beautiful traditional architectures in Lamphun, all of which contains many stories. If you want to see one and can't decide which one, let's take this one as a choice. Mahathat Chedi Sri Wiangchai, the one that located in Lye County.
Mahathat Chedi Sri Wiangchai is a temple of Lanna style, very gorgeous. Its pagoda, covered in golden color and made of laterite, is the largest one in Thailand, with 1600-metre-sized base. It was built by Kruba Chaya Wongsapattana, a well-known Buddhist monk from northern Thailand, in the year 1995, as he wanted let people pay respect to it. Unfortunately, he had passed away before he could finish the pagoda. Therefore, in the next 5 years, his followers took the job and finished the pagoda in 2006. Later, it was bestowed upon King Bhumibol, the 9th king of Thailand.
The pagoda is located in the large concrete lot. Just find it yourself and take a look at it for the very first thing. Don't forget to take some photos too.
Beside, there are many other architectures at the temple. They're mostly in golden and yellow color. That makes the whole temple sparkling like a shining star.
Seeing this can precisely tell that this temple is a proud image of both Buddhism and Thai tourism. Most tourists who get there have to fall in love with the image they see.
How to get there
Wat Mahathat Chedi Sri Wiangchai is a nearby place of Phra Buddha Bat Huai Tom. Just use the same route, going along the Highway No.106 and reach for Lye County. After you finish walking around the temple, you may visit Phra Bhat Huai Tom and the royal project development centre for the very next thing. Or you may just visit the temple later. That's up to you.
Opening hours and Entrance fee : Opens daily from 6 am until 5 pm. Admission fee : free
Note : Wheelchair user is accessible
Mahathat Chedi Sri Wiangchai Map