Baan Mae Kampong is a peaceful Village where to relaxing your mind
Baan Mae Kampong is a peaceful place to calm yourself down from busy town.
Chiang Mai is an enviable city; you just have to drive out the west end a few miles and you are in the middle of the jungle at Doi Suthep-Pui National Park, nestled among a plethora of natural and cultural sights. If you choose to drive east, you'll encounter the quaint crafts village of San Kamphaeng, explore Muang On Cave and its relaxing at Sankampang hot springs. And if you head a little further, a small village in the woods awaits you.
Yes, this is where you can rappel along a line like a shot from a sling. It is an exciting and spectacular interaction with nature and should be one of the most satisfying experiences of your life.
Ban Mae Kampong is located in Mae On sub-district, adjacent to San Kamphaeng. This village is a popular natural tourist attraction and also hosts an interesting Community Learning Center. Just an hour's drive from the city, Mae Kampong village is abundant in natural resources; it has a stream running through it, and a tea-tree forest surrounding it.
Mae Kampong takes its name from the beautiful yellow and red kampong flowers that grow along the creek. Most people in this community cultivate tea, coffee and grow crops. Baan Mae Kampong is in fact the first model homestay in Thailand where tourists can stay overnight with residents in their homes, a fantastic opportunity to learn their lifestyles and culture, and participate with them in their daily activities.
Things to do in Baan Mae Kampong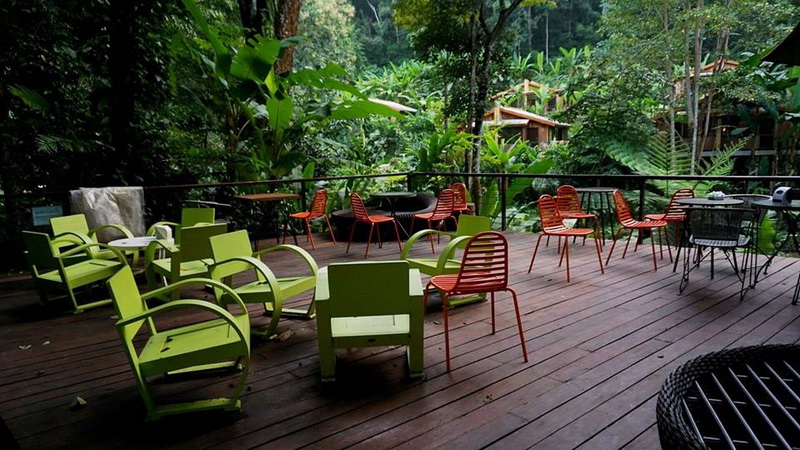 Coffee shop at Teen Tok Royal Project
A lovely spot to sit and relax is this cafe located just before arriving in Baan Mae Kampong. It is an area rich in tea and Arabica coffee, so enjoy sipping a blend or two as you breathe in the fresh mountain air from the veranda.
Kanta Prueksa Temple (Wat Mae Kampong)
This is the only temple is the village and was built together with the community settlement. The chapel is in the middle of the pond; the old temple is made from hardwood, and the gable and roofs are carved from teakwood in a Lanna design.
Admiring the local lifestyles at a homestay
If you would like to get close to a traditionally rustic way of life, you could do much worse than finding yourself in Baan Mae Kampong. Sharing with a local family costs about 800 baht per person per night, including delicious meals and beverages. Visitors will have opportunity to collect tea leaves in the forest with their homestay family, learn the skills of a coffee plantation, and watch how locals make pillows from tea leaves.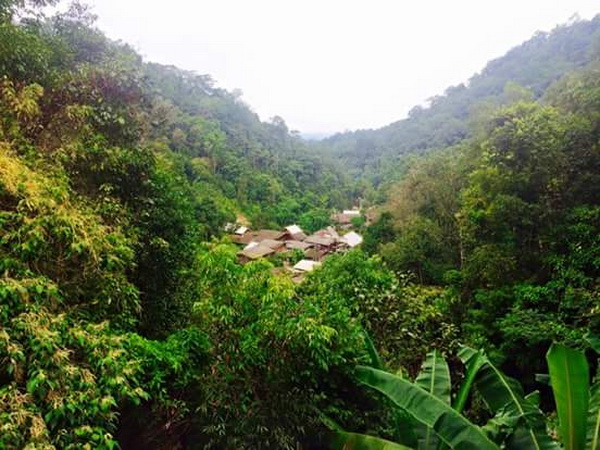 Chom Nok- Chom Mai Coffee shop
Just before you get to Mae Kampong waterfall you'll see this quaint cafe which sells tea, coffee and bakery goodies. lt is located at a good vantage point to look down and take pictures of the beautiful panoramic landscape of Mae Kampong Village.
Mae Kampong Waterfall
Mae Kampong Waterfall is the origin of the creek that runs through the village. Some seven stores in height, it is situated at the far end of the village, and offers clear cold water and banks covered in ferns and moss – a very suitable spot for a picnic.
Flight of the Gibbon :  Satisfaction on a sling
Please, please, please do not miss what is arguably the most popular activity in the country for nature lovers and adventure seekers the amazing Flight of the Gibbon.
Zip-lining through the canopy of the rainforest, rappelling at speed like a slingshot along a washing line, this is the longest zip-line adventure in Asia – some five kilometres, and with single "zips" of about 800 metres.
Flight of the Gibbon offers you a new experience, and it's one that is high in the sky. You can hike, observe the wildlife (including of course the gibbons, who are the mascots of this place), and learn the ways of nature.
Embark on a never to be forgotten adventure with professional guides who will help steer you from tree to tree via all 33 stations, three- suspension bridges and two vertical- rappelling points. All of this activity takes place under the supervision of Sky Rangers and local guides, guaranteeing your safety with their knowledge and experience, as well as the latest in rappelling equipment and protective gear.
Although this activity is not suitable for travelers with heart conditions, it is not a problem for anyone else, regardless of your fitness level or body weight.
If you are keen to face new challenges, if you are fascinated with nature, if you love adventure … you will adore this great day out.
Lunch and drinks are included in the program price; they are provided at the site restaurant situated (back on Earth) along the creek in the middle of Kampong village. You can even listen to some nice indigenous music while you are eating.
The program also includes exploring Mae Kampong village, visiting the residents and observing their life-styles, shopping for handicrafts, and sipping hot local tea.
Most of all, have a lot of fun !