Sankampang Hot Springs, Chiang Mai
Sankampang Hot Springs, Chiang Mai is situated about 23 kilometers away from Sankampang district and about 36 kilometers from the city. The spring is located in the scenic surrounding of the spectacular hills and in the shelter of the large and shady trees. After visiting the factories on Sankampang road, and if you are in love with nature then head away from the tourist trail and visit the Sankampang Hot Springs. 
Sankampang Hot Springs in Chiang Mai hosts a spectacular lush green park spread over an area of 40-acre.The park has been beautifully landscaped and it has a vast range of beautiful flowers. Sankampang Hot Springs, Chiang Mai is opens from 8:00 in the morning till 4:30 in the evening. 
The entry fee was 100 baht and at the entrance you can buy quail and hens eggs in nest woven bamboo baskets to boil in special tanks within the park.  A basket of 4 eggs (with a small vial of soy sauce) for 20baht to cook in the Hot Springs.
The Sankampang Hot Springs is one of the Chiang Mai Parks and Gardens which is an ideal place to go for picnics. The several facilities in the park include camping area, swimming pool, restaurant dining, mineral water bathing room huts and various other amenities.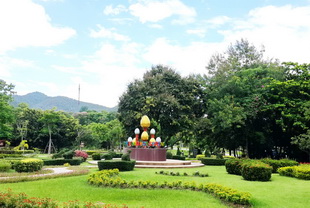 If you are hungry you can also stop and eat something at the restaurant, ice-cream stand and other eating points dispersed throughout the premises of Sankampang Hot Springs, Chiang Mai. People interested in sightseeing in Chiang Mai must visit this springs.
This place is the perfect destination for people who are conscious about their health and physical well being. The water at Sankampang Hot Spring, Chiang Mai contains high sulphur content and it cures many diseases and improves blood circulation. The temperature of water at Sankampang Hot Springs, Chiang Mai is around hundred degrees centigrade. The water comes from a deep source many attempts have been made to harness this energy but all had been in vain.
The popular things to do at Sankampang hot springs.
1 Soak your legs and feet in the hot spring water
Soak your legs and feet, head over to the hot spring watercourse, sit on the edge of the 'canal' and dip your feet in the hot sulphur water that supposedly has healing properties.
2 Boil an egg in the water at the source
You are able to buy an egg in a little wooden basket; then you can then enjoy a naturally cooked egg. This creates a unique and interesting experience.
3 Enjoy picnic in the beautiful garden
This place is popular for Thais for picnic every weekends, actually Sunday.
4 Swim in the mineral pools or rent your own room, and take a hot bath
You can go swim in the mineral pools or rent your own room, and take a hot bath. I opted for the bath and felt like a brand new person when I came out. The bathing areas are separated by women and men, and groups of people can also use the bathing rooms together.
5 Spa options such as foot massage
Thai massage and scrub are available ranging from 150-200 Baht/hr.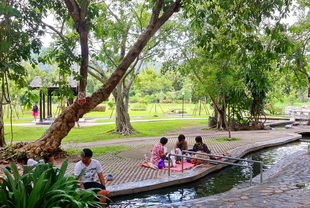 The Sankhampang Hot Springs are about a 45 minute drive from Chiang Mai on Highway 1317. The drive there is lovely and very pretty with views of the mountains and rice paddy fields. The roads are good and well sign posted so it is very easy to find. A visit to Sankampang Hot Spring is an excellent idea for a day trip especially if combined with a visit to Sankamphaeng Handicraft Village offers a range of handicrafts but specializes in weaving and fine Thai silk and Borsang Umbrella offers a wide range of Thai handicrafts but is most famed for its parasol umbrellas. If you plan to go shopping in Chiang Mai, Thailand and save your money to buy the quality craft pieces and handmade products, Borsang and Sankampang Village is the best answer. And next stop at Muang On Cave, The Cave system is just as fascinating and is not as full of tourists. It's best to take one's time exploring the cave's many nooks and crannies.
Sankampang Hot Spring is one of the popular tourist destination in Chiang Mai that attracts numerous tourists every year and helps in promoting tourism in the city to a great extent.
Note : Wheelchair user is accessible
Our services :
Sankampang Hot Spring Map