Chiang Mai Gardens and Parks
Although Chiang Mai is filled with extraordinary dining and extravagant gifts, the city's natural setting reigns as supreme. Chiang Mai is large and busy, which makes its many tranquil parks and gardens all the more appealing. Take advantage of winter's cooler temperature and take a walk in one of Chiang Mai's great green parks, whether it would be in or outside of town.
Offering a range of recreational activities, seating areas, natural palm trees, native wildlife, winding pathways and usually an array of striking exotic flowers, the main parks in Chiang Mai are popular at any time of the day and you can easily purchase refreshments at snack vendors.
We've rounded up five of our favorite outdoor spaces that are perfect for an afternoon stroll.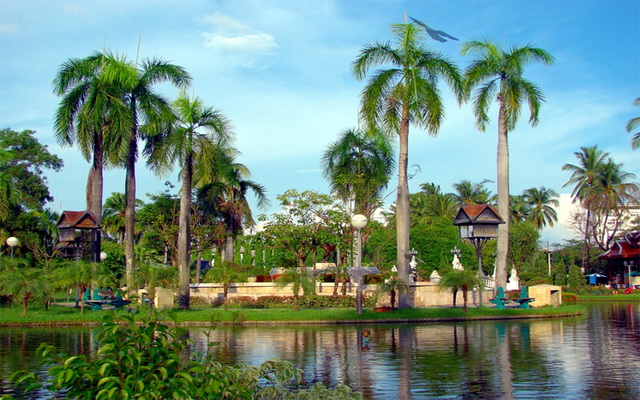 1.) Nong Buakhad Park
Sited on the south-western side of Chiang Mai's historic old city district, Nong Buakhad Park is a particularly attractive setting, where you can relax and enjoy the serene surroundings. This park is very artistically designed and maintained, with large expanses of lawned areas, many eye-catching seasonal flower displays, water features, food stalls and endless picnicking opportunities.
Morning highlight: don't miss watching the Chinese community doing Qigong (a Chinese practice of exercise) every morning at around 6.30 am. Everyone is welcome and it is free of charge. Evening highlight: many groups of Thai men play Takraw (traditional Thai sport) at around 6 pm.
2.) Phuping Palace
Phuping Palace is located a few kilometres past Doi Suthep temple. It is the royal winter residence in Chiang Mai where the royal family used to stay during the seasonal visits in the North of Thailand. The palace is also the royal guest house for prominent state visitors from abroad. The palace's garden is always filled with plenty of flowers and plants; the fresh air from this hilltop place is unforgettable. Tip: start your day at this beautiful and cold place, then drive to the Hmong Village for a delicious coffee and stop by Doi Suthep temple on the way back. 
3.) Royal Park Rajapruek
Royal Park Rajapruek is situated 10 km southwest of Chiang Mai. Nestled in a lush mountain landscape, this 400 rai of land (about 200,000 sqm.) is a really picturesque setting, a delicate work of art and architecture which enriches the mind of the visitors with its seductive natural beauty along with various plant and flower species. In 2006, the garden was the site for the Royal Flora Expo, on the occasion of His Majesty The King's 60th aniversary of coronation. Ever since, the garden has been maintained and developed. It has become a resource for agro-tourism as well as being a learning and research centre for the public. December and January are the months when Ratchaphruek come into bloom. A visit is a must whilst in Chiang Mai.
In addition to visiting the garden, don't miss driving up to Wat Doi Kham temple, which is about 3 kilometres away. The temple offers a superb view overlooking the garden and surrounding areas.
4.) Queen Sirikit Botanic Garden
Home to a large and impressive collection of tropical plants and exotic flowers, the Queen Sirikit Botanical Garden lies on the very outskirts of Chiang Mai and features attractive mountainous scenery.
The garden, which was established in 1992, covers a mountainous area of 560 acres. It is located around km 12 along the Mae Rim- Samoeng route. It features a wonderful collection of Thai and foreign plants and it is set up to exhibit plants according to species and climate (including orchids, cactus, lotus etc…). Visitors can drive around the area and for those who like the exercise, the garden offers three beautiful walking trails: 1/ Rock Garden-Thai Orchid Nursery, takes around 30 to 60 minutes on foot. 2/ Arboreta (plant study trail), showing more than 10 species of plants including banana, palm, fern and ginger. This trail takes around 45-60 minutes; 3/ Climb takes around 1-2 hours to climb the mountain. 
5.) Tweechol Botanical Gaeden
Tweechol Botanical Garden is a place to visit, relax, rejuvenate and experience the beauty of nature. The garden offers one of the largest plant collections in Thailand. Located some 10 km. North East of Chiang Mai, Tweechol Garden is near Doi Saket village.
Tweechol offers bicycles for rent at the entry of the garden. Highlights include 4 domes displaying various kinds of plants such as orchids, bromeliads, anthurium, colocasia, cacti and succulents, along with waterfall, palm garden (with 58 kinds of palm), a museum, and a traditional Thai house. You can easily spend the day there as Tweechol Garden has a delicious restaurant at affordable prices and a large swimming pool.