Tweechol Botanic Garden: 'Lovely and beautiful flowers'
If you are a one who love colors of flowers, then you must never miss a botanic garden in Chiang Mai. In the province, there are a lot of botanic gardens, for instances, Queen Sirikit Botanic Garden, Royal Park Rajaphruek, and, of course, Tweechol Botanic Garden. 
Today, let's talk about Tweechol Botanic Garden, as this name may doesn't ring a bell to you.
Tweechol Botanic Garden was established by Mr.Taweesak Sesawech, who spent many years to collect the most wonderful plants, including those rare species, in order to create this fabulous garden.
Tweechol Batanic Garden was start from being a fruit garden and a milk cow care learning centre. However, as time went by, the garden was reformed into a big botanic garden instead, with many incredible trees and flowers. Now, it is one of the best natural learning sources.
The garden area is about 480,000 square metres wide. This is quite enormous. As soon as you arrive at it, you will see beautiful colors, mostly green, around you. There are countless of plant species there, including cactus, town plants etc. Also, there is a big pond within the area, which the water looks so cool and clean. You may want to grab your smartphone and take a few selfies around there, with the water as your background.
One of the most stunning point is, some plants were cut and decorated into many shapes, for examples, Naga shape, round shape, wavy shape etc. This even provides more value to the garden.
Some plants are displayed outdoor, but some plants are displayed within a dome, for an example, cactus.
Beside of plants, there are also some animals at Tweechol Botanic Garden. If you explore a little bit further, you will see camels. Or, near a pond, there is a cage in the water with a group of white swans. They are really lovely and glorious!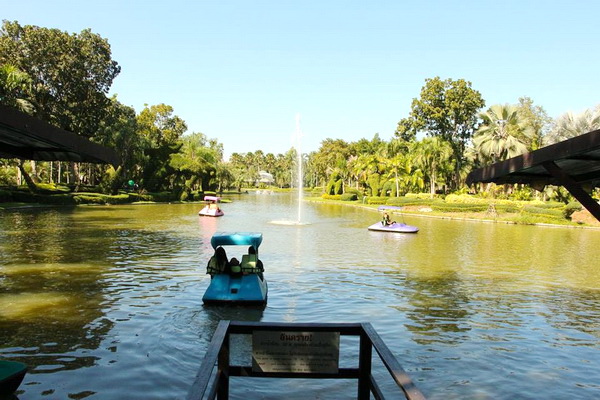 That is not the end of that! There are still deers and ostrichs. Now, you may start to think that Tweechol Botanic Garden is not an ordinary garden, but it is also a heaven of living things, both plants and animals. Just try to watch the image of swans, ostrichs, camels, and deers live happily in the middle of nature.
On top of that, there is a museum inside Tweechol Botanic Garden. This museum may be small, but it is defenitely valuable. The museum exhibits many ancient items, for examples, Lanna-period weapons, amulets etc.
Let's repeat, Tweechol Botanic Garden is not small at all. You may have to be a little bit patient to finish touring the whole area. You may want a bottle of water to fill your energy during walk. However, if you don't want to get too exhausted, you should never travel to Tweechol Botanic Garden during summer, as the weather will be very hot. From that point, you may collapse on your knees because you're too tired.
In case you don't want to walk, you can rent a bike and ride it around the garden instead.
Open time : Tweechol Botanic Garden is available everyday from 8:00-16:30. If you visit Chiang Mai, you may want to get up in the morning, to travel from your shelter to the garden. That will be nice, as the air in the morning is best. You should love filling your lungs with the sweet smell of plants in the garden.
Admission Fee
Adult = 86 Baht/Person
Child = 43 Baht/Person
Kindergartner = 22 Baht/Person
Grade 1-6 Student= 33 Baht/Person
Grade 7-12 Student and Vocational Certificate Student = 44 Baht/Person
High Covational Certificate Student – College Student= 54 Baht/Person
International School Student and Teacher = 64 Baht/Person
Normal Person/Elderly Group(More than 20 people) = 70 Baht/Person
Pre-Wedding(Limited to 4 people only and photographer is not included.) = 1,200 Baht
Vehicle Fees
Antique Bicycle = 30 Baht/2 Hours
Personal Bicycle = 30 Baht/One
Water Bicycle = 50 Baht/1 Hour
Club Car(5 seats) = 300 Baht/1 Hour
Electronic Tricycle = 300 Baht/1 Hour
Fitness and Swimming Pool
Adult = 130 Baht
Child(Less than 135 cm.) = 70 Baht
Fitness(Adult only) = 100 Baht
How to get there
Tweechol Botanic Garden is located in Muang County of Chiang Mai. The first way to go is to drive along the route Chiang Mai-Doi Saked. Be steady, try to head for Doi Saked County. Finally, you shall pass the outer-road intersection.
Note : Wheelchair user is accessible
Our services :
Private tour to Tweechol Botanic Garden
Price/Car

Pickup Time

Depend on your requirement
Tweechol Botanic Garden Map