Wat Phrathat Doi Saket or Doi Saket Temple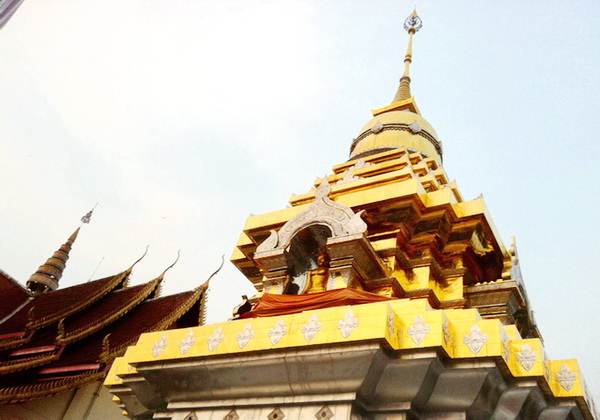 Doi Saket Temple Nice Temple on the outskirts of Chiang Mai
Doi Saket temple is very beautiful and enriched with amazing decorating styles. The paintings on the walls of the Vihan, the entrance to the temple, and the statues all truly reflect the long, glorious and vibrating culture and history.
The temple at Doi Saket is similar to the Doi Suthep Temple, yet smaller in size. The entrance to the temple (as is the case at Doi Suthep) has a steep set of stairs leading to the temple. The most prominent feature of the Doi Saket Temple is the giant golden sitting Buddha (Phra Buddha Pathimakorn), visible from the road leading to the temple. The interior walls of the temple are decorated with modern spiritual murals, painted by Khun Chaiwat Wannanon. Normally modern art is not featured in Buddhist temples in Thailand, so this is somewhat unique to Doi Saket. There is also a monastic school located on the grounds of the temple.
History :
The temple at Doi Saket is said to have been built in the year 1112. The legend is that the Lord Buddha had come to Doi Saket for a short time, and was visited by naka whom he offered his hair for the purpose of worship. Shortly after he is said to have dissapeared, and this is the reason for the location of the temple. Thai artist, "Khun Chaiwat Wannanon" began painting the interior of the temple walls with spiritual Buddhist murals in the early 1990s. It took over 4 years for the murals to be completed. This is something that is unique to the temple at Doi Saket. Most Buddhist temples in Thailand do not have any modern art in a modern style.
How to get to Wat Phrathat Doi Saket :
Wat Phrathat Doi Saket is located in the Doi Saket district, just outside the city of Chiang Mai. Travelling to the temple by motorbike or car will take approximately 30 minutes from the center of Chiang Mai. Doi Saket is located on the road north to Chiang Rai (Highway 118), just before the climb up the mountain on the right hand side. The Doi Saket district is predominantly a rural farming area, with plenty of rice fields in the valley as well as orchards and other farming on the mountainsides. I have attached a map to this article showing how to get there from Chiang Mai. Just drive straight for about 15 km until you see the sign to turn right for Doi Saket or you will see a large seated Buddha image, called Phra Buddha Pathimakorn can be seen from far. Keep following this road right through the middle of the little town and you'll see an intimidating Naga staircase leading up to the temple. Other choices are more comfortable, you can contact travel agency to provide a car with driver to this temple or can combine program with Private tour Chiang Mai to Chiang Rai.
Note : Not accessible for wheelchair user
Private tour to Wat Phrathat Doi Saket
Price/Car

Pickup Time

Depend on your requirement
Phrathat Doi Saket Temple Map