The Hidden Village Chiang Mai: 'Tour the mysterious village and the land of dinosours.'
Chiang Mai doesn't only have traditional or historic tourist attractions, but there are also fun and entertaining tourist attractions too. 
These fun and entertaining tourist attractions in Chiang Mai are suitable for people of all ages, from small children to elderly people. Children can have fun for their childhood. Adults and elderly people will feel like they are about to travel back to their youth again. 
There are many fun and entertaining tourist attractions in Chiang Mai. By saying 'fun and entertaining' here, it means some places like amusement parks, theme parks, or something similar, but it doesn't mean pubs or bars. 
Now, let's talk about one of these tourist attractions, which everyone in a family can have a great time together. 
Let's go to 'The Hidden Village Chiang Mai'!
The Hidden Village Chiang Mai has been open for service since April 4, 2017. It is not exactly and amusement park, as amusement parks always have exciting and noisy playthings, but The Hidden Village doesn't have anything like that.
The Hidden Village can be called as a them park, in fact. It is a peaceful but living tourist attraction. The area was decorated as a fantasy world of dinosours. As soon as you arrive at the place, you should see a series of dinosour statues around you, all of which you can take photos with.
The area is full of grass, trees, and many natural things. That is the reason why this place is good for both children and adults. Everyone can relax themselves at The Hidden Village. Even if you don't want to play with anything, you can just sit still or have a sightseeing to make yourself feel comfortable. Because, however, it's good to move yourself to a new location sometimes.
There are two different zones of The Hidden Village.
The Statue Zone : By vising this zone, you will have a chance of taking lovely selfies with a bunch of animal statues. The only thing that you have to be extra careful, is that you have to look after your children closely all the time. Don't let them climb or kick the statues, because that will be dangerous and your children can damage the statues.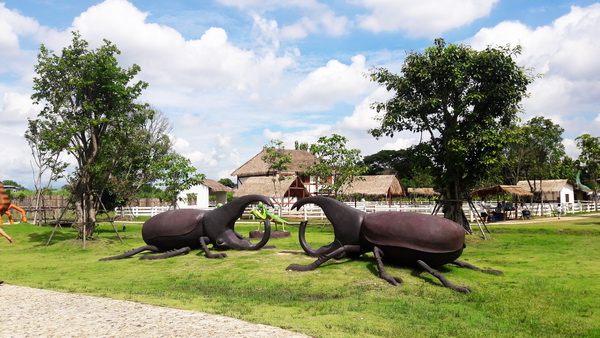 The Dinosour Village : This zone consists of many dinosour statues, all of which are enormous. You and your children will feel absolutely surprised, as these statues are so realistic.
Anyway, there are other minor zones withing The Hidden Village: restaurant, playground, sheep house, pigmy horse zone etc. You should visit them all, as they are very fabulous. You may want to befriends those lovely sheeps and little horses, or find something to eat during your tour.
The admission fee : For a foreign tourist, it will be 200 Baht. Small children who are shorter than 100 centimetres can go in for free.
How to get there 
The Hidden Village is located near the restaurant Chiang Mai Ruan Pae 2, in San Phee Sua District, Muang County. The fastest way to go is to hire a red truck and tell the driver where you want to go. The admission fee is not fixed, but depends on the consideration of the driver.
Note : Wheelchair user is accessible
Our services :
Private tour to The Hidden Village
Price/Car

Pickup Time

Depend on your requirement
The Hidden Village Chiang Mai Map