Doi Suthep – Pui National Park : Attractions in Chiang Mai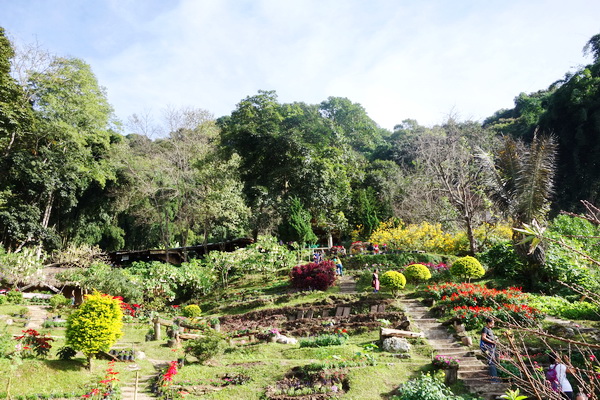 Doi Suthep Mountain was formerly known as Doi Oi Chang. Its present name comes from a hermit who trained his meditation in this mountain a thousand year ago. The forest was combined with other 13 forest nearby for establishing a national park in 1981 and the country's 24th national park was established in 1981. A year later, more area was combined into the park's boundary. Doi Suthep-Pui National Park stretches over 261.06 square Kilometers area in Amp hoe Mae Rim, Mae Taeng, Hang Dong and Mueang, Chiang Mai.
Geography
As part of upper Phi Pan Nam Range, the park features rugged mountain. Its significant peaks include Dot Suthep. Doi Buak Ha and the highest Ooi Pui at 1,685 metres above sea level. The watershed mountain range originates streams namely Huai Kaeo, Huai Chang Khian and Huai Mae Hia, which are tributaries of Mae Ping River.
Climate
The average temperature is 16 degrees Celsius. It has cold winter season and comfortable summer season.
Flora ami fauna
The park features hill evergreen forest, deciduous dipterocarp forest, mixed deciduous forest and coniferous forest. Its lush forest comprises various kinds of plants namely Shorea obtusa, S. siamensis, Dipterocarpus obtusifoiius. Lagerstroemia tomentosa. Dalbergia ssp., Dalbergia ssp., Dipterocarpus tuberculatus, Hopea odorata. Anisoptera costata and Pinus kesiya.
Dipterocarpus obtusifoiius
Unfortunately, wildlife in the park is bothered by the local and hilltriber. However, we can often find Common Muntjak, Sambar Deer, Macaque, Langur and over 200 bird species such as Large Hawk- Cuckoo, Red Jungle fowl, Silver Pheasant Black- naped Oriole, Vernal Hanging-Parrot, Asian Paradise- Flycatcher and Scarlet Minivet.
Attractions in Doi Suthep – Pui National Park
Doi Pui Mhong Village

: The village is about 4 kilometers away from Wat Phrathat Doi Suthep and despite being a key tourist attraction, and therefore probably not as authentic as it could be, it still offers an insight into how Thailand's tribes live. The villagers wear traditional Hmong clothes, sell traditional Hmong handicrafts, and live in traditional Hmong-style homes. However, those looking for a less contrived view of the Hmong may have to go deeper into Chiang Mai.
Khun Chang Kian Hmong village

: The very first thing that you need to see at Khun Chang Kian village is 'Thai Sakura', or 'Nang Phaya Sua Krong'. This kind of tree has pink flowers just like the Japanese Sakura, so beautiful and charming! As soon as you arrive at Khun Chang Kian village, you will see a bunch of Nang Phaya Sua Krong trees around. Pink color is all over you like cotton candies. Surely, the atmosphere like this is very romantic. Good to go with your love one. 
Phra Tamnak Bhubing Rajanives : Famed for its remarkable beauty, the hill-top palace is the northern royal palace for His Majesty the King and the royal family. The palace was built in 1961 in Thai style. Nature around the palace remains well conserved while flowerbed of various kinds beautifies the palace garden. The palace is 4 kilometers from the headquarters. read more
Wat Phra that Doi Suthep : The significant temple houses a stupa. Sacred architecture in Buddhism which shares history with foundation of Chiang Mai. Built in 1384 in Lanna style, the Naga stairs lead to the ancient temple whose stupa houses Lord Buddha's relic. The temple is quite a precious place for people and pilgrims.

Wat Phra that Doi Suthep : Pa Lad Temple is very beautiful. As soon as you arrive at it, you will find the amazing greenery view. There are trees, streams, mountains, grass etc. The area appears as not-too-steep hills. Therefore if you stand on some spots, you will be able to see the stunning scenery of Chiang Mai downtown from a great distance. The architectures within the monastery area are not luxury, as they are old and Pa Lad Temple is not a normal moastery. However, everything is valuable. They may not look so outstanding, but they are fabulous and memorable.


Khru Ba Si wtchai Monument : The monument was built to commemorate Khru Ba Si Wichai, Buddhist monk, who led the local people built the 12 kilometres uphill road to Wat Phrathat Doi Suthep in 1934.
Huai Kaeo Waterfall : Huai Kaeo Stream flows from Doi Suthep and cascades through the waterfall. A bit upstream is Wang Bua Ban where legendary love story of Chiang Mai lady occurs.
Montha Than Waterfall : The three-step waterfall is the most beautiful one in the park.
Mae Sa Waterfall

: It is one of the most beautiful waterfalls. The big waterfall cascades through 8 steps, each of which is 100-500 metres away from others. The other waterfalls from the same stream are Srisangwan, Mahidol, Tat Mok Wang Hang and Tat Mok Fa Waterfall.
Mok Fa Waterfall

: It is located in lush tropical forest and is extremely beautiful – if you are travelling the road you should certainly make a stop to visit it, and it would also make an excellent day trip from Chiang Mai. Escape the heat in the shallow pool and surrounding greenery of Mork Fa Waterfall.
Getting there
The park headquarters is 16 kilometres from Chiang Mai downtown. Motorist can use Huai Kaeo Road, passing Chiang Mai University and Chiang Mai Zoo
Doi Suthep – Pui National Park Map