Pa Lad Temple: 'A beautiful forest monastery in Chiang Mai'
Visiting a monastery is great, but visiting a forest monastery may sounds more interesting to you, as you may have never been to it before. 
A normal monastery is located within an area built with cement, glass, iron, and other kinds of construction materials. But, a forest monastery is located within a natural area, full of trees, grass, mountains, water sources etc. 
In fact, a forest monastery is a perfect place for those who love to practice Dhamma, as it is non-polluted, natural, and peaceful. These factors should make your mind feel comfortable and therefore can pray, do the maditation, or something similar. 
A forest monastery may not be easy to find, but there are still a lot, especially in Thailand, a land of Buddhism. Many provinces of this country, including Chiang Mai province, have beautiful forest monasteries, all of which you should never miss.
 Here let's talk about the ones in Chiang Mai, as it is a historic town and a very popular tourism centre. Beside, the province is surrounded with hills and valleys. Therefore there must be a lot of forest monasteries for sure. 
But, which one you should go? Don't worry. Here is a suggested one for you, 'Pa Lad Temple'.
Pa Lad Temple is located within Suthep District, Muang County, Chiang Mai. It is one of the three forest monasteries within the area of Doi Suthep-Pui National Park.
Pa Lad Temple is a historic temple, with over 500-year-old stories. It was built in the period of Phaya Kue Na, the legend said.
Even the monastery had been abandoned once, but later it was renovated. Now, it is available for tourists who want to take a sightseeing or practice Dhamma.
You may wonder how the name 'Pa Lad' came. Well, long time ago, there were people told that the monastery had been called 'Pa Lerd' before. However, it was changed into 'Pa Lad', following the waterfall's name.
Pa Lad Temple is very beautiful. As soon as you arrive at it, you will find the amazing greenery view. There are trees, streams, mountains, grass etc. The area appears as not-too-steep hills. Therefore if you stand on some spots, you will be able to see the stunning scenery of Chiang Mai downtown from a great distance.
The architectures within the monastery area are not luxury, as they are old and Pa Lad Temple is not a normal moastery. However, everything is valuable. They may not look so outstanding, but they are fabulous and memorable.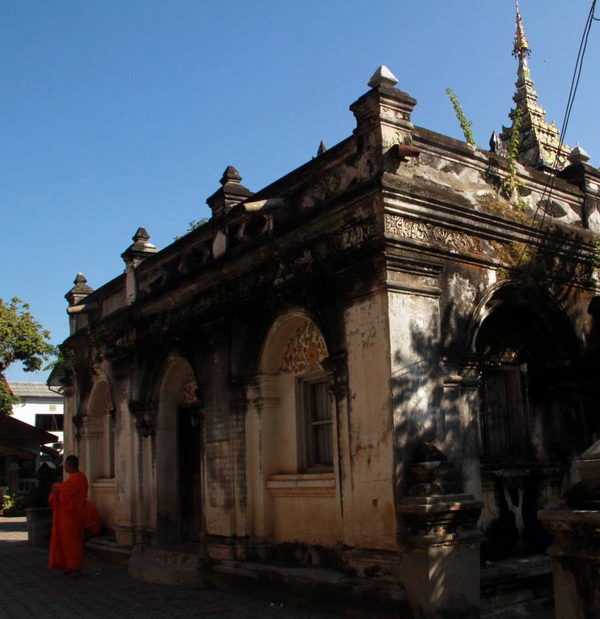 The atmosphere at this monastery is absolutely relaxing. If you don't know what to do on your holidays, you may choose to take a sightseeing at Pa Lad Temple. Or, if you feel nervous, you may want to practice Dhamma too.
Anyway, just don't forget to bring a camera with you too. You don't want to leave all these historic sights behind you.
For further details, you may want to call 054-401076.
There are many interesting architectures at Pa Lad Temple, for instances, a white Lord Buddha's statue, Naga-shaped stair railings, lion statues. Here are some of them.
1.) The Chedi : It was decorated by Burmese workers, with the art of Kruba Sri Wichai. You should see the appearance through it.
2.) The Well : Sometimes people call it 'Bo Namthip'. It was probably built in Sukhothai period.
3.) The Lord Buddha Statue House : There are old but valuable Lord Buddha's statues inside, all of which are holy and consist of long-time stories.
4.) The Vihara of Phaya Kue Na : Located near a stream, this is a small house decorated in traditional style and dark red colors. The interesting part is that there is a mark of a pond in front of the vihara, which may tell us that long time ago, there was water flowing through this way.
Credit pics : https://www.facebook.com/watpalad/
How to get there
The address of Pa Lad Temple is 101, Area 1, Sri Wichai Road, Suthep District, Muang County, Chiang Mai province.
In order to get there, you should follow the route to Doi Suthep. Just keep driving along that path until you find the destination, which is about 5 kilometres away from Kruba Sri Wichai Monument and another way for more comfortable, we recommend you to book the private tour for your trip.
Entrance fee & opening hours : Open from 6.00am to 7.00pm. The admission is free. 
Dress Code: Conservative with long pants and covered shoulders.
Note : Not accessible for wheelchair user.
Our services :
Private tour to Pa Lad Temple
Price/Car

Pickup Time

Depend on your requirement