Hiking at Doi Suthep : The Route to Wat Pa Lad
Go hiking at Doi Suthep and walk on your feet to Wat Pa Lad
As Chiang Mai is a province that surrounded with mountains, therefore going hiking is not an activity that you should miss. If your health is good enough, you should pack your bags and start to get ready for your new experience. 
Going hiking doesn't only get you a sightseeing, but you will also get an exercise at the same time. Ordinary excercises may cause you to feel exhausted, but an exercise in the middle of nature like going hiking should make you feel fun so much that you forget about your exhaustion. 
There are countless hiking paths around Chiang Mai, all of which you can choose to suit your convenience. 
And one of these paths is 'Wat Pa Lad Hiking', which will be started around the area of Doi Suthep – Pui National Park. This path is not too long and not too short, but it it definitely a good path, as the scenery is so beautiful.
To go hiking at Doi Suthep trip, first you should get ready just behind Chiang Mai University, on Suthep Road. Do nothing else except for keep going until you see a intersection. Yes. That means you are heading for the right direction. Just turn right and continue straight.
Not so long after that, you will find a junction, left and right. That's right. Just turn left, as the right side is the route to locals' village. It's true that the path you're going to walk is quite large, but you're not gonna feel too exhausted. There are trees and other beautiful natural surroundings all the way. These should make you feel comfortable.
After about 30 minutes, you should see the starting spot of your hiking trip, which is a woodland. You have to be very cautious. Don't run or bounce around if you don't wish to get hurt.
Remember one thing, you should dress properly when you go hiking. A pair of trousers, a pair of sport shoes, and a t-shirt will do best. You shouldn't wear slippers or shorts.
You keep going through the wood. Try to notice how beautiful it is. You will feel totally different from your normal days. High trees and other greenery are all around you. Inhale their fresh smell into your lungs. Beside, you should apply sunblock even during the winter, as there is still the sunlight anyway.
On your way, if you see some tree with yellow fabric tied around, they are 'Tree Ordinarion'. Tree Ordination is a ritual that Buddhist monks will tie yellow fabrics around trees. By doing so, people believe that the trees will protect everyone from great dangers.
However, not so long after walking through the wood, you will see a rugged stone bridge, which is the entrance of Wat Pa Lad.
Yes. Now you make it! You make it all the way to this peaceful temple. Just be happy and go inside. Wander around the temple to see it quiet atmosphere. Relax yourself by sitting near the streams. Or, you can take out your camera to snap some nice shots. You can also admire the valuable architectures of the temple. These architectures were decorated in various types of arts. Just see them for yourself.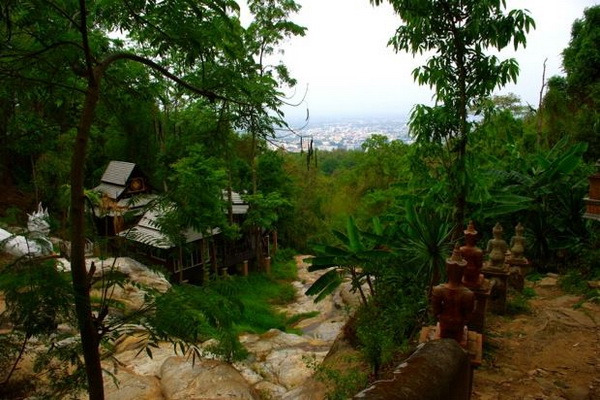 Spend some time in the temple before leaving. On your way back, there is nothing complicated. You just have to walk along the descending path of the mountain, just walk down. That's it.
Another thing that you should know, you must be in perfect health only to go hiking like this. Your legs, you arms, you joints, your heads, and everything must be strong. Mountains are high and therefore they are not good for whoever have heart diseases or bone diseases. Not only yourself, but people who go with you, maybe your parents, you friends, or your cousins, you should also see whether they are in perfect health or not. If they don't look good enough, don't let them walk on the a mountain, or they will get worse.
Exclusive Hiking at Doi Suthep – Wat Pa Lad Route
Overview : Experience the beautiful Doi Suthep-Pui National Park on this exclusive hiking through the jungle to Wat Pha Lad.
Pick-up from your hotel or guest house in Chiang Mai city center is between 8:00 AM and 8:30 AM.
Start to hike along a trail that for many years has been used by Monks to ascend Pa Lad temple around an hour. This trail is one mile long when you arrive at the jungle monastery known as Wat Pha Lat. The trail is steep in sections, but shaded most of the way. Emerging from the trail for a first glimpse of the monastery is impressive. Take some time to walk around the complex. Its a great place to catch your breath.
Later on, going up more steeply from Wat Pha Lat to the main Doi Suthep Temple. This section will take 2-2.5 hours. Doi Suthep temple is one of Thailands most revered Temples and must be visited. It is situated on top of the Eastern mountain in Doi Suthep-Pui National Park.
After lunch (lunch box), we would trek down hill to Mon Tha Than waterfall. Along the trail, we will meet Pha Ngeb Waterfalls with the beautiful view of Chiang Mai City, Wang Bua Ban Waterfalls and finish the trail at Huay Kaew Waterfalls, we can enjoy swimming at waterfall as well.
Then transfer to hotel in town around 15:30-16:00.
Noted: It is an medium to hard trekking on steep way which is suitable for an experience trekker or physical fitness.
This is a full day tour and is only offered during the morning.
Exclusive Hiking at Doi Suthep – Wat Pa Lad Route
Price/Person (Minimum2pax.)

Pickup Time

08:00 – 08:30 a.m.

Return Time

12:00 – 01:00 p.m.
Include
Licensed English speaking tour guide
Lunch box
All listed activities
Accident insurance
Transport by truck
Pick up and drop off at your hotel
Exclude
Items of a personal nature
All kind of drinks
What to bring on tour
Long pants for visit the temple, Walking shoes, Insect spray, Sun cream and Water, Swiming suit