Sri Suphan Temple: 'Have you ever seen a silver ubosot before?'
Speaking of the most outstanding tourist attractions in Chiang Mai, surely we can never skip this one, 'Sri Suphan Temple', as the temple has something really unique and valuable.
Sri Suphan Temple, or Wat Sri Suphan Aram, is one of the eldest temples in Chiang Mai. It was probably built in the year 1500.
As soon as you enter the temple, you will see how peaceful the atmosphere is. Just take a look around, the atmosphere is really relaxing, surrounded with the clear sky. You may want to walk around, having a sightseeing, or something like that. Or, you can take a look at all important architectures of the temple.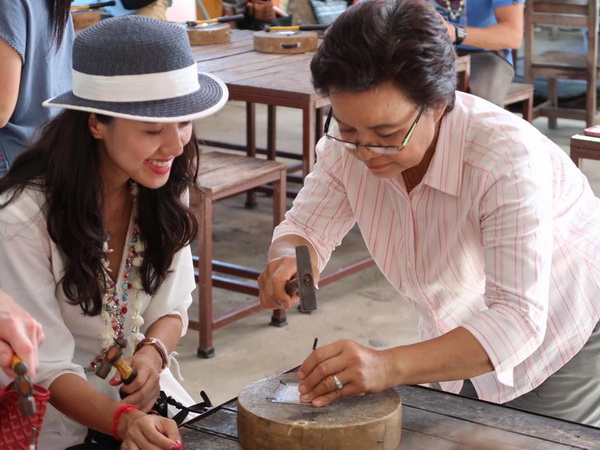 Ancient Thai Art Education Centre Sala Sib Mhoo Lanna Sri Suphan Temple and Silverware Handicraft&Ornament Training Centre : This area will give you some kind of special knowledge. By visiting it, you will how artists make marvellous ornaments. Of course, everything is all free. That means you don't have to pay even a single Baht at all. But you can donate your money if you want to.
Sala Akhanthuka : If you walk around and happen to get sore, then you must go into this pavillion. This pavillion is a massage parlour. You can get ancient-style massage like foot massage to feel better.
The Silver Ubosot : The main highlight of the temple is this Silver Ubosot. The villagers built it with over 30 millions Baht of budget! Yes. That is a big amount of money. But that was worthy, however. The ubosot is really beautiful. It was decorated with sparkling silver color, looking so luxury. In fact, this is the very first silver ubosot of the whole world. You should see it at least once in lifestime, or you will regret it.
Phra Buddha Patiharn : Phra Buddha Patiharn, or Pha Chao Ched Tue, is the golden priciple Lord Buddha's statue of the ubosot. There was a story of the statue long time ago. At the time of world war, some Japanese soldiers set up their base at Sri Suphan Temple. When they were attacked by enemies' guns, the bullets hit the foot of the statue. If you notice carefully, the marks are still visible.
The Lanna-Style Vihara : The red vihara was probably established in the year 1799, the legend says. You will see it in contemporary art style, Now, if you explore around, you will see glorious murals of the 12 zodiacs. Let's see which one your zodiac is.
Phra Barom That : Don't forget to admire this Lanna chedi too. It was built by royal workers. The chedi is in round shape, just like a bell and upside-down lotus.
Sala Sib Mhoo Intellect Museum : Lastly, this small but valuable museum is totally unforgettable. You will have a good chance of learning about local intellect. The exhibitions inside are something like ornaments, utensils, or some other small items.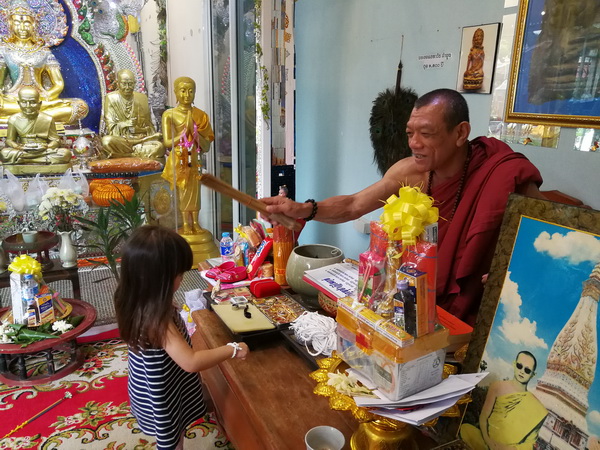 Conclusion is, Sri Suphan Temple is a perfect place for sightseeing and learning about Chiang Mai history. Just try to find some time and go.
Also, you don't want to forget your camera behind, or you don't get beatiful photos of all these and you will regret it. Try to bring your friends, your children, your family, or whoever you love to Sri Suphan Temple on your holidays.
How to get there
The temple is located on Wualai Street, Muang County. The name Wualai Street probably sounds familiar to you, as it is the very same location of the famous 'Wualai Saturday Walking Street'.
If you know to way to Wualai Saturday Walking Street, then traveling to Sri Suphan Temple is not going to be much different. The first way to go is to hail a red truck and tell the driver where you want to go. The travel fee can be about 30-50 Baht. That is not fixed, but depends on the driver's consideration or if you need more comfortable, we can provide the private tour or car rental with driver with air-con vehicle and if you need more information, you can travel with the tour guide that a good choice.
Another way is to drive a car or motorcycle. You just have to follow Wualai Street. Drive for about 600 metres before you see the sign that tells you the direction of 'Sri Suphan Temple'. Just follow that direction, to the right side. Later on, you keep going for about 50 metres and you will see the temple.
Entrance fee & opening hours : Open from 6:00 am. until 6:00 pm. The admission is free.
Note : Wheelchair user is accessible