Discover Vibrant Chiang Mai Markets for Authentic Finds
Where to shopping in Chiang Mai ?
Chiang Mai has a great selection of markets that delight residents and visitors alike. This guide is a summary of the main markets in Chiang Mai organised by type. Some of the markets merit a page all to themselves. There is the famous night bazaar, Baan Tawai wood carving village, Bosang Sa paper and umbrella village and Sankampang with its many handicraft factories.
People always ask – what is a good purchase and where?  Here are some guidelines that may help you.
Craft and Walking Markets
The Night Bazaar
Chiang Mai Night Bazaar (daily open from late afternoon till midnight) is one of the city's main night-time attractions, especially for families, and is the modern legacy of the original Yunnanese trading caravans that stopped here along the ancient trade route between Simao (in China) and Mawlamyaing (on Myanmar's Gulf of Martaban coast). Today the night bazaar sells the usual tourist souvenirs, like what you'll find at Bangkok's street markets. In true market fashion, vendors form a gauntlet along the footpath of Th Chang Khlan from Th Tha Phae to Th Loi Kroh. In between are dedicated shopping buildings: the Chiang Mai Night Bazaar Building is filled mainly with antique and handicraft stores. Across the street is the Galare Night Bazaar selling upmarket clothes and home decor. Behind the collection of shops is the Galare Food Centre. The Anusan Market is less claustrophobic and filled with tables of vendors selling knitted caps, carved soaps and other cottage-industry goods. Deeper into the market is the Anusan Food Centre. The quality and bargains aren't especially impressive, but the allure is the variety and concentration of stuff and the dexterity and patience it takes to trawl through it all.
Sunday Markets (Walking Street Only Sunday)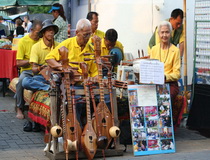 The Sunday Market (or Walking Street) is a large market located right in the centre of the old walled city area of Chiang Mai. Starting at the Tha Phae Gate at one end the Sunday Market extends for roughly 1km down the full length of Ratchadamnoen Road. You can go to the Market every Sunday from 4pm till midnight.
Ratchadamnoen Road is always closed to traffic while the Sunday Market is open. This allows shoppers to browse the goods on display, bargain with vendors for a good price and wander freely all around without watching over their shoulder for a motor bike zipping past.
At the Sunday Market you will find lots of tourists and Thai locals all gathered together having a good time looking for bargains. The Sunday Market is growing bigger every year and has now started to spread down many of the side streets off the main road, as well as the big open area around the Tha Phae Gate itself.The goods available are made from an incredible array of materials including: wood, metals, ceramics, fabrics, paper, coconuts and much more besides. The products are truly authentic and original and are the perfect place to find gifts or beautiful things to decorate your home. If you are purchasing, don't forget to bargain. Any item that is not marked with a fixed price is open for negotiation and is all part of the fun. The stall holders, many of whom have other jobs and only trade at the market, love banter and as long as you smile and barter in a good natured way you will have a great experience. 
Food and drink is also available in glorious abundance at the Sunday Market. There are a number of temples along Rachadamnoen Road and their grounds are open to vendors, many of whom sells fabulous local treats fresh cooked before your eyes.
The Sunday Market is the best place in Chiang Mai to see genuine Thai style street entertainment. Right along the length of the Ratchadamoen Road are pavement artists of all descriptions, traditional musicians, Thai dancers, living statues, puppet shows and rock bands. This all adds to the festive nature of the market and makes it an unmissable event.
The Sunday Market differs from the "night Bazzar" which is open every night further west, where the products are somewhat less interesting and the products more limited in terms of originality.
Saturday (Wua Lai) Market
Chiang Mai Saturday Market or Wui Lai Market is located to the south west of the old city opposite the Chiang Mai Gate. The Saturday Market extends for roughly 1km down the length of Wua Lai Road.
The Saturday Market is open every Saturday from 4pm till midnight. The road is closed to all vehicular traffic so you can browse the goods on display, bargain with vendors for a good price and wander freely around without traffic worries.
For the sheer volume and variety of goods on display the Saturday Market easily matches the more well known Sunday Market and the Night Bazaar. Wua Lai Road is full of Silversmith shops to visit and there are plenty of silverware and aluminium sculptures on display.
Besides silverware you will also find handicrafts, bags, clothing, perfume, shoes, belts, lanterns, street performers, food stalls, wood carvings and woodwork, sketch artists, ornaments, candles, housewares etc.
There are no permanent restaurants in the Saturday Market street but there are plenty of food and drink stalls and eateries. There is also a 7-Eleven Supermarket. Nearest restaurants are located on the main street just outside Saturday Market.
The Market really comes alive from dusk when all the vendors turn the lights on in their stalls and the street entertainers, puppeteers and musicians start to perform. If you get sore feet wandering around, you can get a Thai Massage for 60THB for 30 minutes. Your feet will thank you.
The whole place has a very festive nature which makes the Saturday Market – Wua Lai Market a must see thing to do in Chiang Mai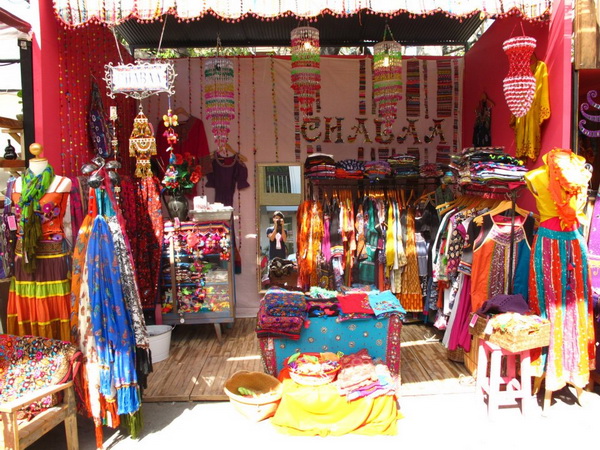 Nimman Walking Street is a very lively commercial district. There are many tourists both at daytime and night time. Everyone likes to wander around there and find something delicious to eat, or grab some souvenirs. There are many types of shops at Nimman, for examples, cloth shop, restaurant, souvenir shop, coffee shop etc.
In fact, this place is something like a heaven of modern-age people, as it gathered lots of convenient things. The atmosphere looks joyful, unique, and memorable. Believe this, just call your friends and ask them to meet you at Nimman. Surely you guys will have a great time together. You may take photos at some spots you want. Or, you guys may hang out in a coffee shop together, just order some sweet dishes and cups of drinks, and talk to each other about this and that.
Even you don't want to buy anything, you can still have a sightseeing at this marvellous place.
Kad Sum Murd, which means Midnight Market, takes place in front of Kad Suan Keaw department store on every Thursday to Saturday from 6 p.m.-11 p.m., This much smaller market is set up in front of the Kad Suan Kaew shopping center on Huay Kaew Road from Thursday to Saturday every week and while small, still has quite a few clothes and handicrafts for sale. There is an excellent open air food market that opens up on the second level outside at the same time and is worth sampling the many delicious foods on offer.
Food and Household Markets
Warorot Market or Kad Luang
Worarot Market, known locally as Kad Luang, is the main local market and is a busy bustling place where you can see the 'real' Chiang Mai. It is located centrally at the top of Chiang Moi Road along the Ping River. Worarot Market is set in and around a huge rambling building and is a place to go to find almost anything!
On the ground flood of the main building there are a number of food stalls selling both fresh, dried and packaged food. Northern food specialties like Chiang Mai sausage, kaep moo (deep fried pork rinds), nam prik (spicy dipping sauce), as well as herbs and spices aplenty make Worarot Market especially popular with Thai visitors to the city.
Many stalls and shops around Wororot Market sell all kinds of household goods often at a fraction of the price you will find elsewhere. Cooking equipment, utensils, crockery, glassware everything you need to set up home here is available so it is the perfect place for people just moving to Chiang Mai.
There are also a number of fabric shops with a bewildering array of materials suitable for making anything from a suit to a cushion cover. If you see something you like take a sample of the material to one of the nearby tailors (Sopa is recommended) and have something made up to you exact specifications.
Warorot Market is a real taste of "old Chiang Mai". Kad Luang is found at the end of Chang Moi Road where it deadends into Chang Klan Road and is open all day. At night, sellers set up street side stalls selling still more goods.
Perhaps the best thing about Worarot Market is that it is a chance to see Chiang Mai life close up, a real experience that is highly recommended.
Muang Mai Wholesale Market
The Muang Mai Market is the main wholesale area for fresh produce in Chiang Mai and for anyone interested in food it is a must visit. Muang Mai market is located to the west of Wang Singkam Road (which runs along the west side of the Ping River) to the north of Warorot Market.
Muang Mai market is a mix of small stalls, permanent shops and pick up trucks. Much of the food has come straight from the farm and in some parts of the market the farmers sell their wares direct from the back of their vehicles. You will be amazed at how much garlic, cabbages or other vegetables can be piled in the back of one of these vehicles. Most of the vendors specialise in one or two items of produce so buying a basket of food will mean working your way around the market. The majority of the market is made up of an enormous range of locally grown fruits and vegetables – one stall will sell watermelons, another pineapple, another lettuce and so on. The variety and freshness is astonishing to those used to buying from a western supermarket.
To the western edge of Muang Mai market is a section for fresh meat serving mainly pork and chicken but with some beef although used to buying meat cling wrapped on polystyrene plate the standards of hygiene may be a little off putting!
A little up from the meat section are stalls selling fresh seafood laid on ice. There are not only fish but a huge variety of shellfish, prawns, squid and crab much of it heading for Chiang Mai's many restaurants.
To the north of the seafood section are a couple of stalls that specialise solely in curry pastes and then some shops selling dry goods.
The market bustles with activity; street-wise sellers and buyers followed by trolley boys that wheel sack trucks fitted with giant baskets to carry your shopping.
The prices at Muang Mai market are cheap by any standards and will absolutely astonish westerners used to paying high prices in supermarkets. Although Muang Mai is mainly a wholesale market selling in bulk all the stalls will sell smaller amounts and shopping for fresh food will save huge amounts on the weekly budget!
Excellent quality fresh produce, fruits, very colorful flower stalls. Good prepared foods, especially northern-style dishes. Within walking distance on Moonmuang Road are many fruit stalls. Excellent place to buy seasonal fruits-vendors will give you a sample for tasting.
Sompet Market is located right in the middle of the Old City, making this style open-air market a popular attraction for tourists. For this reason, and because many of Chiang Mai's cooking classes bring their students to Sompet to buy ingredients for the day, prices can run a little high compared to similar goods in other markets. Avoid the vendors right on the Soi to get better prices. Inflation aside, Sompet offers a large variety of local fruits, vegetables, meats, and spices all day long, making a visit well worth your while for an edible souvenir or a fresh breakfast, all cheaper than at a restaurant.
A large market where almost everything can be found especially fruit and fresh vegetables. Prices tend to be a bit lower as it is a farmer's market selling direct to homemakers.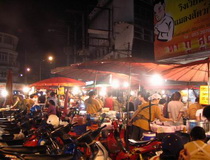 Changpuak Market located near Changpuak Gate, that's why the name of this market. The Market open all day all night, in a day, there is the fresh market for people come to buy ingredient to cooking at home. and in the night, there is the food market that have many of food with good taste. The food market sets up late afternoon and continues until late, so you can still get a good feed at midnight.
As we all know some of the best Thai food can be found in markets and street stalls. In Chiang Mai, the night market at Prathu Chang Puak or Chang Puak Gate market, is one of the best food markets we know of in town. It's located on the exterior side of the northern moat road, Sri Chum Road, immediately west of the Gate itself. Food is no-frills, traditional Thai market fare. You'll find fruit vendors, juice and coffee stands, and dishes including a range of noodle soups and fried noodles, all the usual chicken, pork and duck dishes, and cooked-to-order classic stir-fries such as pak boon fai deang (morning glory — either vegetarian or with crispy pork), pat kha pao (the ubiquitous stir-fry with chilli and basil), pat prik gaeng… (hot and spicy…), tom yam, and standard fried rice.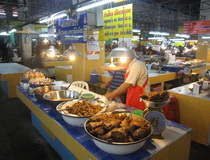 Located on Charoenmuang Road sells meats, seafood as well as prepared foods and a place to shop for household and plastic items. Produce, meats, seafood as well as prepared foods available at this day market. Good place to shop for household and plastic items. Avoid the busiest time at evening rush hour.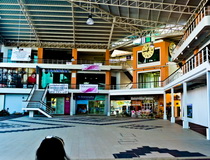 Very handy if you are visiting the Rim Ping Supermarket off the second ring road (Highway 1011). The market is right next to the supermarket and offers an alternative source of fresh produce.
Rim Ping stocks a wide variety of high quality fresh produce with an excellent selection of fruits and vegetables, fish and seafood and every store has a butchers counter serving local and imported meats. There is also a good selection of imported cheeses and other delicatessen products.
Rim Ping has perhaps the widest variety of imported products in Chiang Mai and is usually the best place to locate difficult to find items although because of the rarity value expect to pay a higher price.
The stores offer an excellent free delivery service and have a rewards scheme for regular customers.
Thanin Market. The old name is Siri Wattana market, located on the north of Chiang Mai. There're lots of fresh food, vegetable, fruits also instant foods (cooked food). Therefore, this market are lots of dress/clothes for man andm woman because its located near the Rajabat University.
Siri Wattana market or the people in Chiang Mai called "Kad Thanin" is the market that located in the city center near Chiang Mai University and Chiang Mai Rajabhat University. This market established in Chiang Mai long time ago. They are the big market that can provide all you need such as flowers, fruits, food etc., that everything were good quality and low price. whether in morning, afternoon or evening, they will attend to served you with comfortably. with shopping center for teenage and surrounded with many delicious bistro.
Plant & Flower Markets
Ton Lamyai Flower Market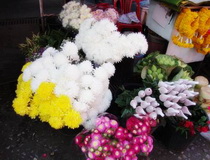 The main Chiang Mai Flower Market is called "Ton Lamyai", and can be found next to Worarot Market and runs along the Ping River towards Thapae Road.
The market is the very best place in Chiang Mai to buy fresh cut flowers and is always vibrant and abounds with every colour under the sun.
The market is open 24 hours a day / 7 days a week, but the very best time to visit is during the evenings when you can witness thousands of fresh blooms arrive on the back of pick up trucks just hours after being cut at the local farms all around Chiang Mai area.
If you are looking for a display or bouquet as a gift this is definitely the place to come to and the many vendors will make you something special at unbelievably low prices. It is great fun just to wander through the various specialist stalls at Ton Lamyai (normally on the river side of the road) and select your own individual flowers and bouquets.
The whole area is incredibly relaxed, and makes for a really pleasurable hour or two.
There are flowers of every description at Ton Lamyai Flower Market, from Roses to Chrysanthemums, Lilies to the highly exotic "bird of paradise" all in perfect condition & ready to reach their absolute prime.
Of all the different varieties for sale, to the Western eye it is probably the Orchids that really steal the show !.
These stunning flowers are available in hundreds of varieties and colours, and probably symbolise Thailand more than any other variety.
It is truly amazing to see piles of fresh cuts Orchids several feet high that would cost a fortune back home but can be bought for a pittance at the Ton Lamyai Flower Market, Chiang Mai.
Khamtieng Plant market is a gardener's paradise. Located behind Tesco Lotus on the Superhighway, Khantieng Market consists over over 100 plant and garden shops. Some of the shops are general garden stores with all kinds of planters, fertilisers, tools and the full variety of equipment required by the home gardener. Others have all the necessary hard landscaping materials, paving, rocks, ponds and water features, garden ornaments – everything you could need to create the base for a beautiful garden. However the real joy for the horticulturalist is the array of plant shops which stretch over several roads covering more than a square mile. Generally the plant vendors specialise in certain varieties. To the north of the market (closer to Tescos) there are traders who specialise in trees, most of them still young, although there are more mature examples. Other specialise in climbers and hangers, some in shrubs and still more in seasonal flowering plants. The shops that sell plants suited to shade are covered with shade netting and often their wares seem to be taking over the simple wooden buildings in which they are housed. Branches shoot off in all directions and when purchased there is frequently some delicate untangling to be done. These are wonderful places to browse and wander especially if you have time at your leisure before buying..
On the furthest street from Tesco Lotus you will find the orchid shops. At any time throughout the year there are always several varieties in bloom of these stunning and delicate flowers with their trailing roots. It is always best to purchase the ones that are in bud but now yet bloomed; that way you get to enjoy the full flowering season once you get the orchid home.
Within Khamtieng Market are a number of coffee shops and juice bars set in beautiful garden settings where you can relax in the shade.
For the plant and garden lover Khamtieng Market is an absolute must!
If you love wood then Ban Tawai is a must-visit in Chiang Mai. Located abot 12kms to the east of the city, off the Hang Dong Road, Ban Tawai is home to dozens of wood working shops and factories. At the rear of many shops it is possible to watch the craftsmen at work. This fascinating and patient art has been practised by generations and it is no exaggeration to state that some of the carvers at Ban Tawai are among the best in the world.
Furniture manufacturing is one of the mainstays of Ban Tawai. There is wooden furniture to suit all tastes and styles from the rustic to the very latest styles. Furniture of all types is available at Ban Tawai from beds to cabinets and from luxury dining tables to outside benches. Much of the furniture is made from farmed or reclaimed teak and is for sale at a fraction of the price in the west. If you see a piece you like, it is worth looking at having it shipped home as even with haulage costs the savings are considerable. There are many shipping agents around Ban Tawai that can make arrangements for you but please be careful to check import regulations.
Ban Tawai also has some wonderful woodcarvings from the small and intricate to impressive life sized statues of elephants! Many of the carvings, while still being made by hand, are mass produced but there are equally some great examples of unique and individual artworks on which hundreds of hours have been lavished.
There are a few genuine antique retailers in Ban Tawai with very sophisticated showrooms and high value objects on show. However, if your budget won't stretch to the real thing don't worry because the reproductions are equally stunning.
Ban Tawai has grown rapidly over the past few years and attracts many tourists as well as importers from around the world. This high volume of traffic has resulted in other manufacturers locating here and now there are a wider range of other handicraft factories and showrooms which make it the premier place to look for handicrafts of all types in Chiang Mai.
The Chiang Mai-Sankhampaeng Road runs for 13kms out of the city to the north and is lined with factories and showrooms selling craft goods of all descriptions. Sankanpaeng is the most popular area for tourists to do their souvenir shopping and is very busy with tour buses throughout the year. The large numbers of tourists generally leads to locals to avoiding the area for fear of high prices but with knowledge of comparable goods elsewhere it is possible to negotiate reasonable prices.
There are an enormous variety of craft goods on offer. Each factory specialises in one craft and in many it is possible to see demonstrations of artisans and craftsmen at work. Some silk factories for example show the whole process from the rearing of silkworms to the fine finishing of the final product. Similarly, jewellery shops have demonstrations of gem cutting, setting and polishing.
Factories on the Sankhampaeng Road specialise in silk, cotton, jewellery, silver, ceramics, lacquerware, leather, woodwork, furniture, reproduction and a few genuine antiques.