Baan Tawai the Village of Wood Carving Center
Baan Tawai is the village of wood carving handicrafts. It has been known as the major cultural attraction of Chiangmai for Thai and foreign tourists.
The best quality and bargains of wood carving items can be found in Baan Tawai. If you're just here for a little souvenir shopping you won't regret squeezing a half day tour in to your Northern Thailand schedule. Baan Tawai is the cheapest place in Thailand to find silk, antique reproductions, incense, candles, oil and soap gift packs, ornaments, lamps, bamboo products, wall hangings, frames, vases and much more. They can all be found on market stalls at tourist centres in Bangkok, Phuket and Samui, but the range is far less and the mark-up almost 200 per cent. Most the items on display at Baan Tawai are uniquely Thai, many characteristically Northern and hand made from natural materials.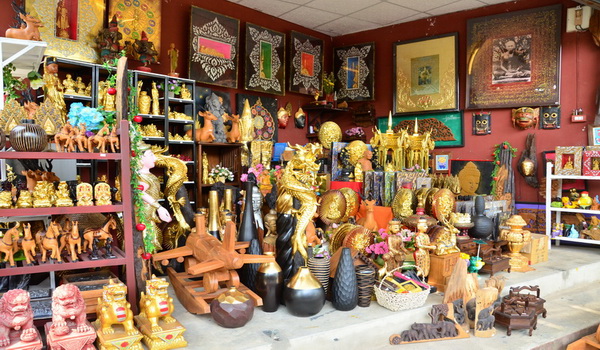 Wood is definitely the spirit of the place, with a wide variety of wood carvings and others decorative items e.g. wood carving, wood-strips, gold leaf wood, antique wood, silverware, lacquer ware, hand-woven textile, basketry,earthenware,Buddhist art pieces, decor items and wall hangings. But the Thai have a knack for creativity and the range has diversified incredibly in recent years, introducing contemporary designs and ideas. Many of the shops construct teak furniture, made to order, at stunning prices. And although a bedside table doesn't exactly fit into your suitcase, a professional packing and shipping infra-structure has developed which means you simply have to show up with your credit card.
Baan Tawai is also famous for Asian antiques, some of which rank among the world's best. Chiang Mai is possibly one of the best places in the region to find not only valuable pieces but very authentic looking reproductions. After all, for 200,000 baht you can become the proud owner of a late-eighteenth century Burmese Buddha head made from marble or you can outfit your entire apartment with equally impressive looking copies for the same price.
You can contact Chiang Mai Travel Agency to arrange transport and many offer Baan Tawai as part of a day trip.
Tourists visiting Baan Tawai will be presented with demonstration of every process of its handicraft creation.
Wooden merchandise making

Lacquerware demonstration

Cultural show

Carpentry contest

Look Kaew Procession at Buddhist novice group ordination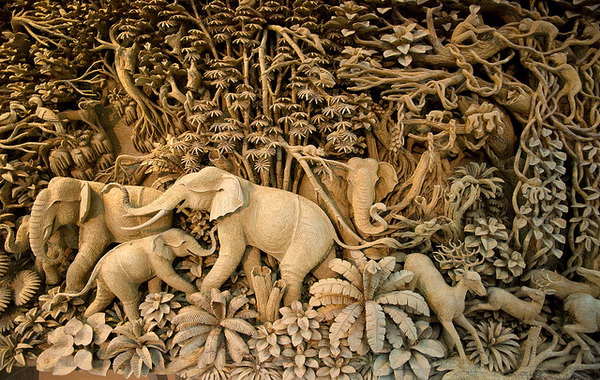 If you love wood then Baan Tawai is a must visit in Chiang Mai. Located abot 12kms to the east of the city, off the Hang Dong Road, Baan Tawai is home to dozens of wood working shops and factories. At the rear of many shops it is possible to watch the craftsmen at work. This fascinating and patient art has been practised by generations and it is no exaggeration to state that some of the carvers at Baan Tawai are among the best in the world.
Note : Wheelchair user is accessible
Our services :