Nimman Walking Street: 'Enjoy one of the best shopping district in Chiang Mai.'
If you love to walk around to do a little shopping, then Chiang Mai is one of you best answers. In the province, there are many shopping districts, for examples, Wualai Walking Street, The Pae Walking Street, Bumrung Buri Market, and, of course, Nimman Walking Street.
Nimman Walking Street is a very lively commercial district. There are many tourists both at daytime and night time. Everyone likes to wander around there and find something delicious to eat, or grab some souvenirs. There are many types of shops at Nimman, for examples, cloth shop, restaurant, souvenir shop, coffee shop etc.
In fact, this place is something like a heaven of modern-age people, as it gathered lots of convenient things. The atmosphere looks joyful, unique, and memorable. Believe this, just call your friends and ask them to meet you at Nimman. Surely you guys will have a great time together. You may take photos at some spots you want. Or, you guys may hang out in a coffee shop together, just order some sweet dishes and cups of drinks, and talk to each other about this and that.
Even you don't want to buy anything, you can still have a sightseeing at this marvellous place.
However, as soon as you enter Nimman, you may feel like you want to be there all day. You know, everything is there. Beside of restaurants and souvenir shops, there are still beauty salons, shopping malls, spas, clinics, additional ability schools, etc. You will never get tired of Nimman.
Nimman is available both at daytime and night time. If you want to eat quietly, you may want to go during daytime, as there will be nothing loud and noisy. On the contrary, if you love something fun and exciting, you should go during night time. At night time, there will be lots of live performances, for examples, dancing, music performance, dinner show etc. It will look colorful for those who are night time lovers.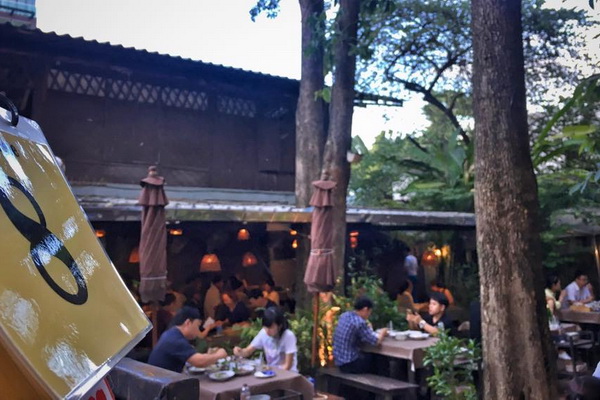 The shops at Nimman were divided into various blocks, about 17 blocks. You can walk from each block to another, which means all blocks connect to each other. If it's you first time at Nimman, you may feel like it's a labyrinth. You may get lost somehow. Anyway, if you give yourself a little time, you will get used to Nimman and you will walk to any block freely.
One of the most interesting things at Nimman is, there are some parts that still reflect the unique of Lanna art, for an example, the Block 1. If you want to grab something back to your home, there are lots of traditional souvenir shops. These souvenirs are mostly handicrafts, which are valuable and you should purchase some.
For the foods, there are most every kinds of foods at Nimman, Japanese food, Chinese food, western food, bakeries, Thai food etc. Enjoy your eating all day and forget about your diet.
How to get there 
No need to go far, as Nimman is in Muang County. As long as it is a famous shopping area, getting there won't be difficult at all.
The first way to go is to drive a car. Just start your engine in Chiang Mai downtown and keep going along Huai Kaew Road and pass Central Kad Suan Kaew. Then you should reach Rin Kam Intersection. From that point, just look for the MAYA building on the opposite side of the intersection. As soon as you find the building, you will find Nimman too.
Beside of Huai Kaew Road, you can use Suthep Road also. If you choose this road, you need to pass Maharaj Hospital and Wat Suan Dok first, before reaching Public Health Office of Chiang Mai. Finally, not so long, you will see the right side that leads you to Nimman.
It's OK if you don't have a car. In that case, you just hail a red truck and tell the driver that you want to go to Nimman. The travel fee starts from 20 or 40 Baht. The prices are not certain, as each driver charges different amounts of money. Anyway, the price won't be expensive, so don't worry.
Nimmam Walking Street Map