Phu Chi Fah : 'Have a sightseeing above the clouds.'
If you're tired of having a sightseeing on the ground, then why don't you have a sightseeing above the clouds instead?  A sightseeing above the clouds will be absolutely more interesting and stunning. 
You don't have to have a pair of wings to fly up to the clouds. That won't be necessary at all. You just have to walk up to a mountain area that is very very high, and you're done.  But, which mountain is high so much that its peak sticks through the clouds? There are so many.
Therefore, if you don't know any, then let's visit 'Phu Chi Fah' in Chiang Rai, Thailand.
Phu Chi Fah is one of the most well-known and popular tourist attractions, due to its beauty. It is a mountain area and a national park located in Toeng County of Chiang Rai. A part of it connects to Laos, a neighbour country of Thailand. It is about 1,628 metres higher than the sea level and millions square metres large. Its peak points directly up to the sky, sticks through the clouds. That is where the name 'Phu Chi Fah' came from. The word 'phu' means 'mountain' in English, 'chi' means 'point', and 'fah' means 'sky'.
You will feel absolutely stunning! The national park is so high that it almost look like a roof of Chiang Rai. You will want to take your camera out and capture this marvellous image. Take a lot of photos and upload it to your Facebook to show them to your friends. 
The landscape of Phu Chi Fah mostly consists of large fields. Below the cliffs, there is also a village named Chiang Tong, which is located within the border of Laos.
Most tourists, both Thai and foreigns, love to travel to Phu Chi Fah to have a sightseeing. The best season for doing so is winter. During winter, Phu Chi Fah will be extremely beautiful. You will see fog around you. But, if you want the best view, you should stand near the border of Laos.
If you're planning to have a trip to Phu Chi Fah, you don't want to be there for just one day. On the contrary, you should spend at least one night there. There are some shelters available for tourists at Phu Chi Fah, with 400 Baht as the starting price.
Spending the nights at Phu Chi Fah will be great. In the morning, you can wake up early, probably about 5:00am to see the sunrise and the thick fog. Then you may do a little exercise by wandering around. The weather in the morning is perfect. You will love it.
Long story short, Phu Chu Fah is a great place for everyone to go and have a memorable time with your love ones. A family can go to spend a long vacation together.  A group of friends can relax themselves and do all goofy things together. A couple can use Phu Chi Fah as the place for their romantic honeymoon.
Don't waste your time. Just book a plane ticket, pack your luggages, and tkae off!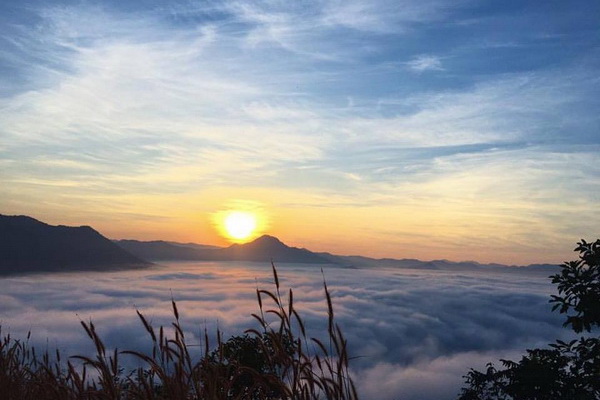 How to get there 
To get to Phu Chi Fah, you will want to drive along the road Chiang Rai – Thoeng and Thoeng – Ban Yee. Then switch to the Highway No.1155 and keep going for 42 kilometres. Soon, you should see Phu Chi Fah. 
You can also go to Phu Chi Fah by driving along the Highway No.1021(Toeng-Chiangkam-Ban Huag). As soon as you find a junction just before Chiangkam, you should turn right and keep going for about 30 kilometres before you can reach your destination. If you do not have car, you can contact travel agency in Chiang Mai to provide a private tour or car rental with driver for your group to get more comfortable and no worry about traveling.
Opening hours and Entrance fee : Opens daily from 8 am until 4.30 pm. Admission is 50 THB
Note : Not accessible for wheelchair user